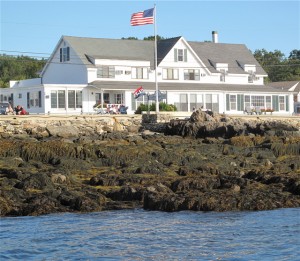 Woke to the chorus of gulls cackling and lobster boats chugging the other morning, a natural alarm clock at the Ocean Point Inn in East Boothbay, Maine. My dad and I took advantage of the deal I told you about the other day at this oceanfront inn, lodge, and cottages, and I'm here to report that it's a steal.
Location, Location, Location: The Ocean Point Inn is a sprawling oceanfront complex on the sunset side of the peninsula. It's in the summer colony of Ocean Point, a sleepy enclave of summer homes and cottages tipping East Boothbay, Boothbay Harbor's lesser known, ultra-quiet sibling. It's an easy walk to the point itself, a granite-and-spruce vantage point that screams Maine: Windjammers! Lobster boats! Lighthouse!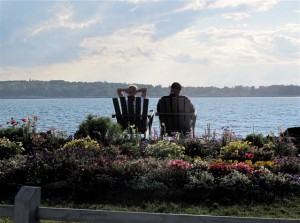 I could feel stress peel away on the drive through East Boothbay to the point.  Once here, well, I just wanted to park myself in one of the Adirondack chairs perched just so along the seawall and watch the afternoon fade into evening, the sun set and the moon rise.
The inn is that kind of place, a throwback where time stands still in many ways. It's unfussy, unadorned, simple. One of the few nods to fast times is Wi-fi, but guests come here not to connect, but to disconnect. And at that, it excels.
There's an old-time, easygoing ambiance here that keeps guests returning generation after generation; the kind of folks who really don't abide well with change, and the property reflects that. It's well cared for, but dated—and most folks wouldn't have it any other way.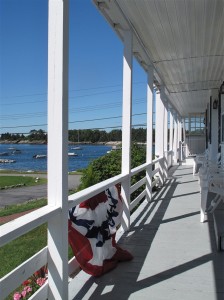 The inn isn't one building, but a campus with a hodgepodge of eclectic buildings—inn, lodge, motels, apartments, cottages—all oriented to the water. All rooms have mini-fridge, phone, cable TV, and air-conditioning; some have kitchenettes, some fireplaces; most have some sort of ocean view (from oh, there it is to wow!). Some accommodations are a bit fancier, but not crazily so.
Also on the premises are a restaurant and tavern with to-die-for sunset ocean views, a community pier, an outdoor heated pool, hot tub, and Adirondack-style chairs set just so on the water's edge. Technical point: a road divides the property, separating the lodging buildings from the actually water frontage.
My room in the Farmhouse A motel had an angled ocean view;  my dad 's room in the Lodge face dead on; nice! Both were nicely sized and had comfy arm chairs, and in both the bathrooms were standard motel issue (standard a generation ago, on the small side now). The white cotton curtains and Venetian-style blinds dressing the windows let the outdoor lighting on the property brighten the room at night (my dad considered this a plus; I didn't, it was way too bright). Yes, these rooms could use updating, but the rates, which include a light continental breakfast, reflect that. (You can upgrade to a full hot-breakfast buffet for $6, well worth it).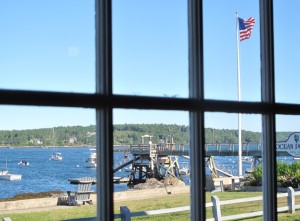 Dining: The package included a $25 coupon toward dinner in the restaurant. We began with glass of wine (generous pour) in the living room adjacent to the bar. This is a lovely space, with a nice fireplace an big windows framing the ocean views. The dining room, too, is set up so that nearly every table has the sunset view. And yes, as the sky turned from blue to smokey gray to rose, more than a few guests whipped out cameras and started shooting.
We came on a Thursday night, which is tavern night, so the inn wasn't serving its full menu. No complaints! I'd been told the inn had Maine's best lobster stew, and while I considered it, I opted instead for one of the other kitchen prizes, the all-meat/no-filler crab cakes paired with Caesar salad. The other winning dish was the lobster mac-and-cheese, which had an amazing amount of lobster in it. It wasn't gooey with cheese; just enough to hold it loosely together. That allowed the lobster flavor to come through; delicious. For dessert, we split a piece of mighty fine blueberry pie (made fresh daily) topped with ice cream and whipped cream.Frankly, with a setting like this, the kitchen probably could get by with lesser quality fare, but the OPI deserves kudos . If I were staying in the harbor, I'd venture over for a sunset dinner.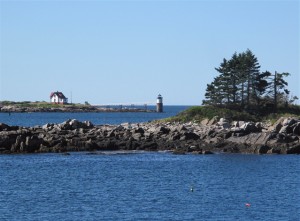 I walked off breakfast the next day by circling the point, with a detour out on the ledges to get the best views of sailboats,  windjammers, and lobster boats to-ing and fro-ing past Ram Island Light. I passed dozens of other pedestrians, and my informal assessment is that if you're going to venture here on foot, you must either carry a camera, be walking a dog, or be jogging/running. No simple gawkers anywhere. (If you're not staying at the OPI, there's a small public parking lot on the corner of Rte. 96 and Grimes Road, perhaps 100 feet from the point, and some marked roadside slots as 96 curves around the point.)
When we checked out, the woman ahead of me was making reservations to return the next year. It may be an older property, but the guests keep returning. And yes, I will, too.
Note: The inn messed up our reservation for two rooms, one in the Farmhouse A motel, the other in the inn. OPI confirmed one room via email; I called and was assured that both rooms were reserved under the same confirmation. When my dad arrived, the inn had only one reservation. Thank goodness, a woman remembered our conversation. The inn room was unavailable, but another prime ocean view room was substituted. So it worked out, but if I returned (and I hope I will, I really liked this place), I'd want to see email confirmations of both rooms and not rely on an oral confirmation number.