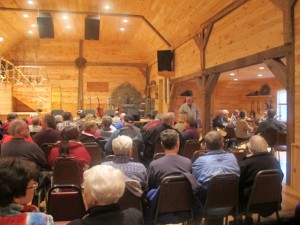 Psst, I'm going to let you in on a little secret, Skye Theatre, in Carthage (get out your Delorme; trust me, GPS won't help you find with this spot). West of Farmington, about a mile up, up, up a good ole Maine dirt road, inside a Tyvek-covered barn, Phill McIntyre has created a first class performing arts venue where he showcases world-class Celtic talent. "People know when they arrive here that it's going to be a different type of experience," he says.
And different it is. Skye Theatre is a volunteer-driven operation. When you arrive for a concert, you'll see folks — jeans and flannel shirts is the dress code — getting out of their cars with plates of cookies and other sweets to be sold at the snack bar to help raise funds.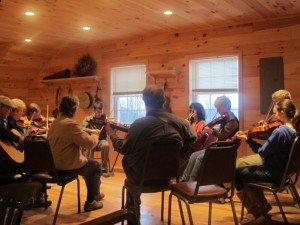 You'll also see folks arriving with musical instruments. Every concert begins with a jam session open to anyone. Usually about 20 local traditional musicians pull up a chair in the circle and play familiar tunes, mostly classic reels and jigs. "We allow kids in free if they jam with an instrument and are here by 6:30," McIntyre says. When it ends, the chairs are cleared away and the space, off to the side, is used for dancing.
Make no mistake, though, what draws the audience are the guest artists. "Our basic premise was that artists come to Boston from Scotland and Ireland, but they didn't come north, and artists from the Canadian Maritimes went to directly to the mid-Atlantic, D.C., and Carolinas," McIntyre says. To remedy that, over the last 10 years, he's worked to develop a network of performing spaces in Maine and New Hampshire for midweek concerts. "We don't bring in the artists, but we provide more venues while they're here," he says.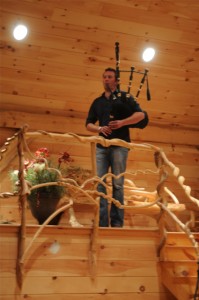 McIntyre designed Skye Theatre specifically for Celtic music. "We're the only venue in the country with a piping stage," he says, pointing to the balcony above and accessed from the stage, "and we have a dance stage and a performance stage." The room is almost entirely wood, and it was built by volunteers "from the inside out," he quips.
While the exterior remains to be finished, the main theater is a work of art. He incorporated elements that call to mind Scotland, Ireland, and Cape Breton in the onstage fireplace. The  stonework is reminiscent of a Scottish neolithic site, the arch was inspired by a graveyard in Ireland, the sunburst represents Maine as the sunrise state, and the keystone is a fossil from Cape Breton. A Celtic Cross is the stage's backbone. "Performers love this stage because they can see the audience and feel the energy," he says.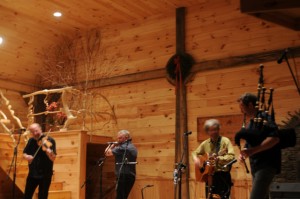 At 7 p.m., McIntyre takes the stage to introduce Tannehill Weavers, Scotland's top-rated traditional band. "This room has a heartbeat. They'll feel it on stage," he says. People begin stomping their feet, and you can feel the room's energy.
When the band starts, I'm blown away by the acoustics. One musician compared it to playing inside an instrument. Bagpipe, fiddle, guitar, penny whistle, flute, bodram — you can hear ever note, every bow, every beat.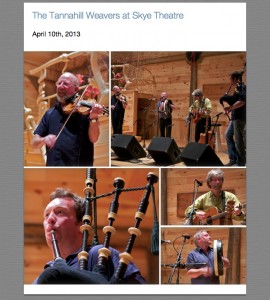 During intermission, McIntyre asks for a show of hands during intermission to indicate how far people had driven to attend the concert. Many had come from more than an hour away. Then hats are passed for donations. "That's what keeps the doors open," McIntyre says. "The ticket revenues go mostly to the musicians."
And given the bargain that tickets are — usually around $15 — most concert-goers are happy to donate what they can to keep the music playing.
Concerts are usually held on Wednesday evenings, beginning at 7 p.m. and are over by 9 p.m. Do yourself a favor and plan a road trip. It's worth it.