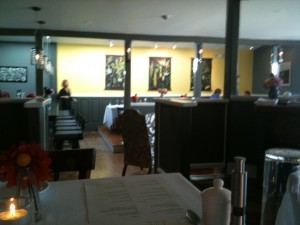 Ooh-la-la! A chef told me about Fromviandoux, the new French-inspired restaurant located in Zaddik's old space in Camden, Maine.  I went last night with a friend, and am still savoring the memory. For a restaurant that's been open just over a month, this place is already exceeding expectations. Go now, before getting a reservation becomes impossible.
Setting
From the glassware to the artwork, it's obvious a lot of thought went into creating the decor. Crisp white tableclothes, votive candles, and a pewter with yellow accents color scheme set a refined mood, but then there's that living room-like seating area smack dab in the room's center: an inviting couch and wing chairs with white fur throws are grouped around a tree-ring table. Dining tables are arranged around the room's perimeter, with the sleek bar taking up part of one wall. Big vases of fresh flowers add splashes of color and help divide the space. Even the water service is well thought out, with tap water served in a bottle and left at the table for refills.
Drinks
Wine offerings filled one side of the menu, with a nice selection of Bubbly, Pink, White, and Red priced by the 1/2 glass, full glass, and bottle, with notations for organic and organic/biodynamic ones. In a nice touch, wines ordered by the glass are poured at the table, with a tasting sample first. I wasn't crazy about the Riesling—too sweet for my taste—and the waiter quickly returned to the bar, consulted with the bartender, and returned with two other options to taste. Beer, cocktails, and sipping liquors fill the other side of the menu. The cocktails are creative, with some created with house-made infusions.
Food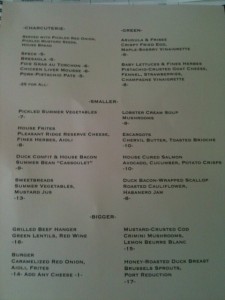 That settled, we went on to peruse the food options. One side of the menu is divided into sections for charcuterie, green, smaller (plates), and bigger (plates). Sharing is encouraged. Smaller temptations ($7-13) included duck confit and house bacon summer bean "cassoulet"; lobster cream soup with mushroom; pickled summer vegetables; house-cured salmon with avocado, cucumber, and potato crisps; house frites, with Pleasant Ridge Reserve cheese, fine herves, aioli, and more. Bigger options ($14-17) included a burger, mustard-crusted cod, and honey-roasted duck breast.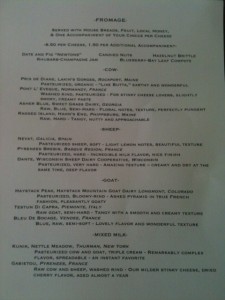 An impressive and thoughtful selection of a dozen local, domestic, and international cheeses, listed by cow, sheep, goat, and mixed milk, filled the other side. The cheeses, $6.50 per selection, are served with house breads, fruit, local honey, and one  accompaniment chosen from date and fig "newtons," candied nuts, hazelnut brittle, rhubarb-champagne jam, or blueberry-bay leaf compote ($1.50 per additional choice). I loved the descriptions, obviously someone put a lot of time into creating this selection.
Experience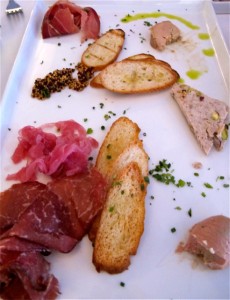 Since sharing is encouraged, we began by ordering the charcuterie platter, comprising speck, bresaola, foie gras au torchon, chicken liver mousse, and pork-pistachio pate accompanied by pickled red onion, pickled mustard seeds, and thin slices of lightly toasted house bread ($25). We paired that with a salad of baby lettuces & fine herbs, pistachio-crusted goat cheese, fennel, and strawberries dressed with a champagne vinaigrette ($8). We planned to return to the menu afterward to decide our next courses.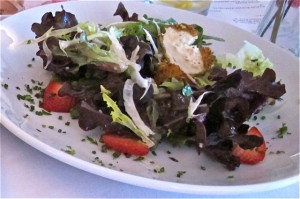 A gougere amuse, a light cheese puff-like French pastry, tickled our palates and had us salivating for more. Next came a bread service, with a focaccia and roll. The charcuterie platter and salad arrived simultaneously, as we expected, and practically filled the table. Both were beautifully presented; my pics, taken after we'd dug into both, don't do either justice. The foie gras and the chicken liver stole the show; the speck and bresaola were wonderful; the pork-pistachio pate was okay–not a lot of flavor and a bit dry. The salad was bright, crisp, ultra fresh, and delicious.
After that we were too full to consider more, although the frites and escargots were on our minds. Then our waiter asked about dessert. My friend started to decline, but I jumped in eager to at least see the menu. Oh. My. The house-made ricotta doughnuts served with a lemon sorbet were everything I thought they'd be and more. I'd return for these alone.
If all that wasn't enough, two bite-size flourless, hazelnut chocolate cakes were presented with the bill.
Was everything absolutely perfect? No. There's was a long lag between when we sat down and when we ordered. Maybe our waiter wanted to give us time to enjoy our drinks, but I was beginning to wonder if he was going to return to our table. That's a small complaint in an otherwise perfect experience. Kudos!
What else
Fromviandoux also serves afternoon tea and light fare in the afternoons, and Sunday brunch.