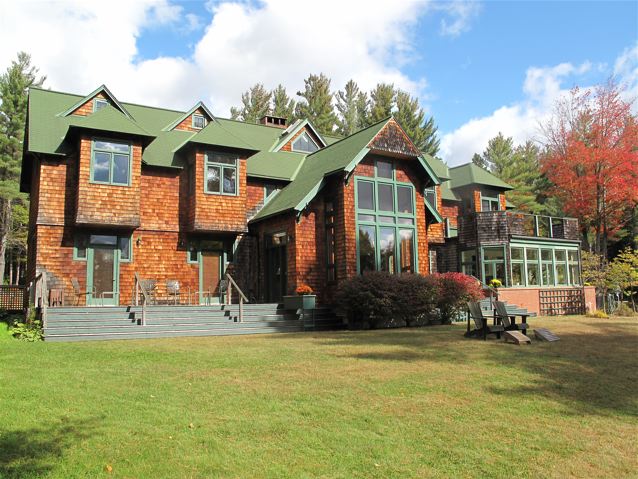 Dusk's smoky skies are descending as I motor along the North Road, a rural byway paralleling the Androscoggin River's eastern shoreline between Bethel and Gilead. Lacelike flurries, the advance scouts of an approaching storm, tat the windshield and dance in the headlights. The woods framing the road are disappearing into shadows, but I can still see the flakes filtering through the treetops as the float by. The scene evokes memories of Robert Frost's "Stopping by Woods on a Snowy Evening,"
The woods are lovely, dark and deep/But I have promises to keep, And miles to go before I sleep/And miles to go before I sleep.
Fortunately, my resting place is at hand. A blaze of light shining through mature evergreens signals I've arrived at the Crocker Pond House, an architect-designed bed-and-breakfast in rural wilds of Bethel, Maine.
Innkeeping by the seat of the pants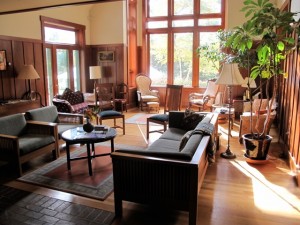 Serendipity brought  Stuart and Ellen Crocker to innkeeping. Neither had a lifelong dream of operating an inn; they hadn't had careers in the hospitality, marketing, or tourism industries from which so many innkeepers come; nor did they purchase an existing inn as a way to move to a sought-after location. "We just went by the seat of our pants," Ellen says.
Stuart, an architect, planted the seed that grew into the inn 20 years ago. Ever since vacationing in the White Mountains as a child, he had pined to return, but life had rerouted him to British Columbia. During a visit east in 1979, a friend recommended he look at some land on the outskirts of Bethel. "It was the central part of an old farm owned by a French Canadian logger from Berlin," Stuart recalls. "There was a cleared spot from an old farmhouse that burned, a small pond and woods. I offered him what he wanted, $33,000 for 50 acres. It was a lot of money at the time."
Flash forward to 1990, when Crocker, a widower with two young daughters, followed his dream and moved his family across the continent to Bethel. Within months, he met Ellen, a psychotherapist. After a whirlwind courtship—"My friends thought I was crazy," Ellen quips—they married and began designing their future home. In the back of his mind, Stuart was tinkering with the idea of a B&B. "I thought building an inn would be a good form of supplemental income, a way to meet people, and a chance for me to show my work to potential clients," he says. And with that, the Crocker Pond House took root.
Inn by design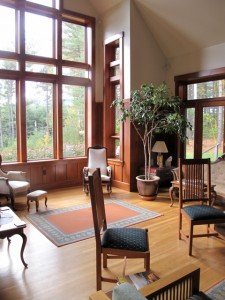 For Ellen, designing and building the inn was an education in itself. "I didn't understand how much thinking went into a design like this. Every little piece was decided before a hammer was raised," she says. "There were squeaky moments when I thought the project could be done much faster. Now I understand; if a house isn't out of square, nothing needs to be redone."
"That's why you hire an architect," Stuart shoots back. He transformed their ideas and vision into reality. "We wanted to have a Maine lodge feeling without being really rustic. We wanted it to be more finished, to fit the land, and to fit Maine," he says. "It's kind of a shingle style, which I felt was a way to achieve the feeling of a woodsy lodge."
He succeeded. When first glimpsed through the giant white pines sheltering it from the drive, the Crocker Pond House seems comfortably settled, as if it's been there for a century or more. But a longer gaze reveals architectural elements that give it 20th-century pizzazz.
The inn's multiple bay projections are elements of Stuart's style. "They make you feel more surrounded by the environment," he says. "They give you three-way views and allow light to enter a room from multiple directions." Playing with form is another hallmark. "It makes architecture interesting when you have different sizes and shapes," he says.
Inside, a loft library extends over the front part of the living room, creating an intimate space by the downstairs fireplace before the room opens to a soaring 18-foot ceiling and a wall of glass projection framing mountain views. The design preserves privacy while fostering camaraderie. "We can have 30 people in here and have a great party but still have an intimate feel," Ellen says.
His & her style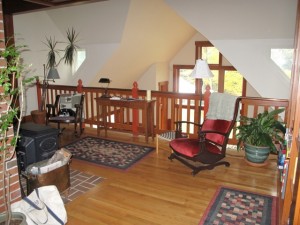 It's an intimate group of one, the night I arrive, but after a day of outdoor play, it's hard to imagine a more comfy place than settling either in front of the fireplace with a glass of wine or by the woodstove in the loft library with a good book. Cherry-toned walls and floors make it all quite warm and cozy. Two resident cats are my only company, the occasional pshiu, pshiu as they pad across the floor the only sounds.
The inn's decor marries Stuart and Ellen's eclectic furnishings and styles. "It's his and hers," Ellen quips.  "You can tell Stuart is very precise, and I'm more slap-dash. I brought the Victoriana with me, and Stuart likes straight lines." In less skilled hands, in tighter quarters, the soft curves of her antique sofas and chairs would jar with the precise lines of Stuart's preferred Crafts-style pieces; the muted shades of her Florentine oil paintings and Chinese scrolls and paper-cuts would clash with the simple forms and bright colors of his prints by Haida and Tsimshian First Nations artists.
Many of Ellen's pieces reflect her Norwegian heritage. Her parents immigrated to a small Norwegian community in Berlin, N.H., and she inherited some of her father's handcrafted furniture and her mother's linens, along with a passion for Norwegian embroidery, a variation on needlepoint. Her embroidered pillows add color to Stuart's furniture. In one corner of the living room, a Norwegian "good luck" troll, another nod to her heritage, rests upon a coffee table. "It's all very important to me, and Stuart puts up with it," Ellen says.
The storm that threatened earlier is a no show, and by early evening moonlight is peeking through the clouds. My first-floor room happens to be fully accessible, but like all five guestrooms, it has no TV or phone. There are blinds on the door opening to the outside, but not on the windows, which are placed high enough for privacy. I fall asleep under the watchful eyes of the moon and stars serenaded only by pervasive silence.
Slow down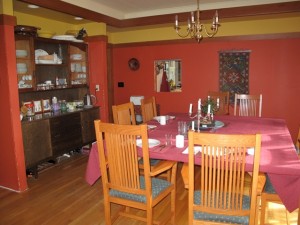 On a sunny morning, it's easy to comprehend the beauty of Stuart's designs. Light and shadows dance inside the rooms as if filtered through a prism. Stepping into the living room's bay projection truly is like being part of the wintry world outside. Looking at the new dusting of snow, I want to grab a sled and zip down on the inn's sloping front lawn. But breakfast is ready.
"When we started out, I had delusions of grandeur. Stuart was going to cook and I was going to clean," Ellen says, setting down a mounded plate of Stuart's blueberry pancakes. "That lasted two weeks. We hired someone to clean." Stuart laughs and fires back, "but I'm still cooking." Breakfast isn't one of those elaborate multi-course extravaganzas, but it's abundant, delicious, and quite filling; perfect for fueling a day of dog sledding or skiing. "We have four dishes—blueberry pancakes, French toast, Norwegian waffles, and an egg dish," Stuart says. "If someone's staying more than four days, we tell them, 'You've exhausted our repertoire, what you like to repeat?'"
On busier mornings, the shared breakfast table encourages easy camaraderie. Guests swap ski and travel stories, and often pick Stuart's brain for his insider tips on getting the best out of their Bethel visit. Occasionally, the conversations can get pretty deep. "Sometimes people are more forthright with strangers," Ellen says. "I think in our society, people are gyrating faster and faster in their own little individual circles, and if we can provide a place where people can connect and slow down, that's a real service. The dining room table is the focus of that."
She gazes from the dining room out at the undeveloped woods and mountains beyond. "I'd always loved having people in and entertaining, but I didn't know how I would feel about having people I didn't know," she says. "It's turned out to be wonderful. We're at the end of the world here, and the world comes to us."