Enlighten the dark days of winter with a visit to one of Maine's museums. The summer crowds are gone, but the shows go on and many have special programs that complement them.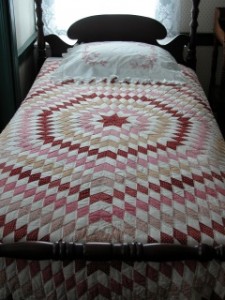 Bet you didn't even think the PMM was open in winter with an especially appropriate exhibit. Keeping Warm explores how Mainers worked and played in the harsher past winters and features the museum's collection of 19th-century quilts along with 19th- and early-20th-century clothing, fiber art tools and crafts, toys, sports equipment, and historic photos showing Maine in winter.
The exhibit was co-curated by members of the Friendship Sampler Quilters chapter of the Pine Tree Quilters and also  includes quilts by their members.  A resident quilter from the group will be demonstrating during the exhibit and there will be an opportunity for adults and children to learn quilting and work on a quilt in progress.  Those who work on the quilt may put their names into a raffle for the finished quilt.
Keeping Warm can be seen in the Museum Gallery every Saturday and Sunday through Feb. 24. In addition, the exhibition is open Dec. 27 and 28 and Feb. 21 and 22.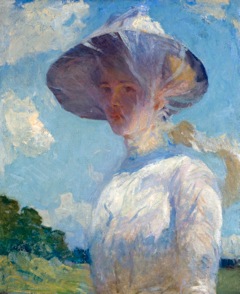 For starters, Impressionist Summers: Frank W. Benson's North Haven and The Homestead Project has been extended through Dec. 30, so you still have a chance to see this major show. Also on view are Jamie Wyeth, Rockwell Kent and Monhegan (through Dec. 30) and Andrew Wyeth: Pencil Drawings and Watercolor Sketches (through Apr. 7, 2013). The pencil drawings and watercolor sketches in this exhibition offer an intimate look at some of the working studies for several of Andrew Wyeth's major tempera paintings.
Decorating the Everyday: Popular Art from the Farnsworth, opens in the museum's Crosman gallery Dec. 29 and continues through Sept. 22, 2013. On view will be furniture, paintings, and textiles reflecting mainly 19th- and early 20th-century regional life in Maine and New England. Included in the exhibition are paintings by the nationally renowned Grandma Moses and portraits attributed to Maine-born William Matthew Prior, whose patriotic subjects include George and Martha Washington. Other highlights include an early 19th-century tall case clock with wooden works by Connecticut clockmaker Riley Whiting; a scrimshaw sperm whale tooth incised and inked by Seaman John G. Fish on a voyage between Boston and San Francisco in 1869; carvings by Laban Smith Beecher and John Haley Bellamy; a portrait of Abraham Lincoln framed in a wreath of seashell; and a miniature replica of the United States Capitol by an unknown maker.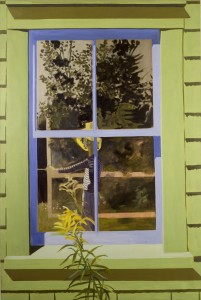 PMA's celebration of Winslow Homer continues with two current exhibitions, The Portland Society of Art and Winslow Homer's Legacy in Maine (through Feb. 3, 2013) and Between Past and Present: The Homer Studio Photographic Project (through Feb. 17, 2013).
Opening Jan. 17 is Lois Dodd: Catching the Light (on view through April 7, 2013), featuring 51 works ranging in date from 1955's Pasture to 2010's self-portrait Shadow with Easel. This first career museum retrospective for American painter Lois Dodd will feature paintings that define the places and subjects that have mattered most in her nearly 60-year career—views of New York City's Lower East Side from her apartment windows; of the woods and gardens of Midcoast Maine; and wintery scenes near her family home in New Jersey. Dodd was a key member of New York's postwar art scene and part of the wave of modern artists who explored the coast of Maine in the latter half of the 20th century.
Voices of Design: 25 Years of Architalx(Feb. 2-May 19, 2013), an interactive exhibition  showcasing the power of design, celebrates the silver anniversary of Portland's Architalx lecture series.  It will include a 17-foot-tall tower (designed by architects Tim Ventimiglia and Jennifer Whitburn of Ralph Appelbaum Associates, New York). A dynamic image projection will light up two sides of the tower by using projectors embedded in the interior of the tower. The tower will make use of infrared light sensors, so that visitors can touch the screens and thus create a rippling response of images on a massive scale.  The images are organized into 12 architectural themes: Nature, Place, Expression, Material, Process, Responsibility, Light, Structure, Space, Craft, Optimism, and Culture. In addition, on either side of the tower will be two 10-foot-tall sound portals with thematic audio clips from the Architalx lecture series.