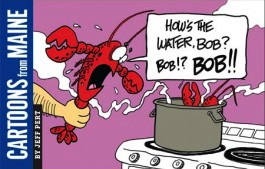 I've been a fan of Jeff Pert's cartoons for years. The man knows Maine and Mainers, and he knows how to tickle our collective funny bones. Many of his the best cartoons—those that adorn tee shirts and coffee mugs—are collected in the new paperback book, "Cartoons from Maine" (Down East, $12.95). Even better, my all-time favorite Maine cartoon is on the cover.
His wry humor addresses everything from cabin fever to gigunda mosquitos, seagull tactics to moose therapy. Anyone who's spent a winter in the state will nod in agreement with his jabs at cabin fever, snowfall, and potholes. He has a special talent for anthropomorphizing lobster, moose, and gulls.
If you want to introduce someone to Maine humor, this book would make an excellent gift. If you're looking for a easily packable souvenir, you've found it.