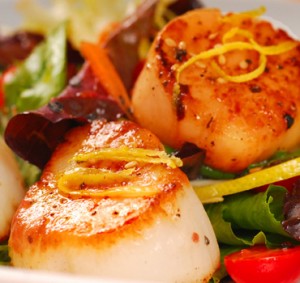 If you're heading to Mount Desert Island, Maine, this summer, there are a lot of changes in the local food scene in Bar Harbor. Jeff Anderholm, innkeeper of the Bass Cottage Inn, in Bar Harbor, has updated me with the latest on new restaurants, closed restaurants, and picnic options for those planning a picnic in Acadia National Park or stocking a rental home.
• 10 Tables, at the Bass Cottage Inn, opens June 10, 2011, serving a daily (closed Mon. and Tues.) three-course fixed price menu focused on fresh and local, with French, Italian, and regional accents. (see photo).
• Fathom, going into the former location of Maggie's, which has closed (sniffle, loved Maggie's–that's a loss).
• Eden Vegetarian Cafe is back, going into the former location of the Bar Harbor Hostel (So happy Eden is back, it made many a non-vegetarian realize that vegetarian cuisine could be quite delicious; sorry to hear the hostel is gone, though. That was a good budget option for the island)
• Pat's Pizza, the 15th pie parlor in the popular Maine chain, has opened in the former Rodick Street location of Miguel's Mexican Restaurant, which has closed.
• Hannaford, the local downtown supermarket, has had a major renovation and now offers a far better selection of picnic oriented fare.
And one more off island:
• Pectic Seafood, in Trenton (and previously in Hall Quarry), has closed and is in Chapter 11 bankruptcy. (That's another loss).