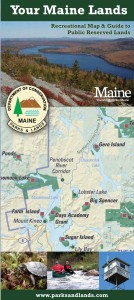 Maine has more than a half-million acres of public reserved lands, and the Maine Bureau of Parks and Lands has just published a free map detailing these. Your Maine Lands: Recreational Map & Guide to Public Reserved Lands describes each of Maine's Public Reserved Land units and the recreational opportunities available on them. What a fabulous resource, and one you can download now and use to begin planning everything from a day  hike to a week-long escape.
In comparison to state parks, Maine's public reserved lands are remote, un-staffed lands managed for variety of resource values, including recreation, wildlife, and timber harvesting. BPL owns more than 500,000 acres of public lands, organized into 29 units ranging in size from 500 to more than 43,000 acres and many other smaller scattered lots. These lands are available for recreation and offer unique, back-country experiences.
"We have so many special places in Maine besides our 48 state parks and historic sites," says Will Harris, director of Maine Bureau of Parks and Lands. "We want to help Maine folks find their own special places to experience, to go camping, hiking, fishing and hunting, and in general to have a great time and create wonderful memories."
Many of these public reserved lands offer outstanding landscapes and vistas, such as the Bigelow Preserve, which includes the entire Bigelow range, and many provide remarkable hiking and camping opportunities, such as the Cutler Coast in Washington County overlooking the Bay of Fundy. Some areas, such as the more than 41,000 acres of the Seboomook Lake area, offer excellent hunting, fishing and boating. A number of the units also have unique habitats, such as the alpine landscape at Mount Abram, the Great Heath peat bog, and the wild Atlantic salmon run of the Machias River Corridor.
The map is available free online as a PDF. For a hard copy,  contact the Maine Bureau of Parks and Lands.