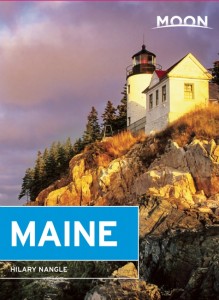 The new, 2014, edition of Moon Maine is barely off the press, and already I have a few updates for you from Down East, Maine.
First, though, a bit of shameless self promotion: The new edition of Moon Maine is jampacked with info about the entire state, from Kittery to Fort Kent, Fryeburg to Calais. I've added new restaurants, attractions, adventures, and accommodations based on my first-hand travels. Over the next few months, I'll be sharing some of those here, but for the full immersion, buy the book, please.
Now, a few updates from my current travels Down East:
• Woohoo! Vasquez Mexican Restaurant, a food truck serving Milbridge and catering to the migrant community in Deblois, now has a permanent home on Main Street in Milbridge. The take-out restaurant will not close down during the picking season. Expect handmade tortillas and salsas along with tacos, gorditas, toastadas, guaraches, burritos, chimichangas, tortas, tamales, and specials such as as enchiladas. Burgers, salads, and ice cream round out the menu.
• Jonesboro: Sorry to report that both the Smoky Toast Cafe and Aunt Millie's have closed.
• Campobello Island: Don't forget your passport if you want to cross the bridge from Lubec onto Campobello Island, home to Roosevelt Campobello International Park. The park is celebration its 50th anniversary with the opening of  Fireside, a restaurant named for President Franklin Delano Roosevelt's fireside chats. It's located in the former Adams Cottage (longtimers might remember the Lupine Lodge).
I had dinner there last night from a set menu with a group, and it was excellent. What a wonderful addition to the island. A blazing fire in a large fireplace anchoring one end of the room added just the right coziness on a rainy, cool night. The atmosphere is casual, the service friendly, and the food excellent. Note: fans of the former Pickled Herring in Eastport might recognize the hand of the sous chef, Gary.
An appetizer bruschetta was a tastebud teaser. My curried squash soup with coconut milk was far lighter than I expected and rich in flavor, spicy without being hot. The rack of New Zealand lamb was perfectly seasoned and cooked; I'd return for this alone. And the raspberry cobbler with ice cream was too good (I tried to resist, honest). Now, it's only been open for about two weeks, if that, so it's way too early for a formal review, but I really liked what I experienced. Without question, the best fine food I've had in the Lubec/Campobello region. Kudos to the park! (Note: Currently only the lunch menu is on the site, but that should be updated, soon).