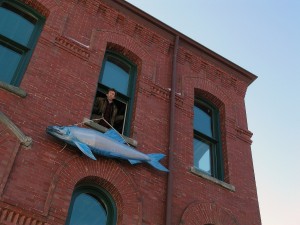 Sure, you can go to Times Square and watch the ball drop on New Year's Eve, but for a real Downeast Maine experience, head to Eastport for the annual Great Sardine and Maple Leaf Drop. Even better, you get to celebrate twice: The12-foot red maple leaf drops at midnight Atlantic time (11 p.m., Eastern time) in honor of Eastport's Canadian friends across Passamaquoddy Bay; the eight-foot sardine follows one-hour later at midnight Eastern time. Both are lowered from the third floor of the the Tides Institute and Museum of Art to Bank Square, and both were created by sculptor Bill Schaefer, of East Machias.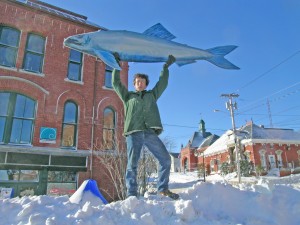 Go ahead, make a day and night of it.
• Shop: Several downtown businesses, including The Commons, Eastport Gallery, Port O'Call, Breakwater Gallery, and Dancing Dogs Pottery and Art, will be open.
• Dine: My pick among the downtown restaurants open that night is the Pickled Herring (two five-course dinners, 5 and 8 p.m. seatings) Other options are the Rose Garden (live music at 9 p.m. and a midnight buffet) and the Happy Crab (D.J., no cover).
• Play: Reserve tix to Stage East's production of six one-act plays by David Smilow, Mark O'Donnell, Rich Orloff, Paul Dooley and Winnie Holzman, and Mark Harvey Levine. The one-acts will run in two 45 minute sets performed, first at 8:00 pm and the second starting at 9:30 pm at the Eastport Arts Center. Tix are $5 per person.
• Sleep: Book a room at the Kilby House Inn B&B or Motel East (but avoid the basement level rooms).