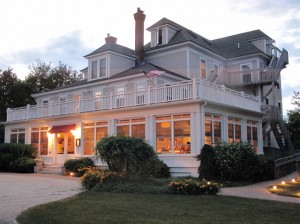 I began researching a new edition of my Moon Acadia National Park guidebook with an overnight at Maine'se Bass Cottage Inn, in Bar Harbor, and dinner at its new restaurant, 10 Tables. Kudos to innkeepers Jeff and Terri Anderholm for this nice addition to the Mount Desert Island dining scene. 10 Tables fills a niche. It provides well-prepared and beautifully presented fare in an intimate setting.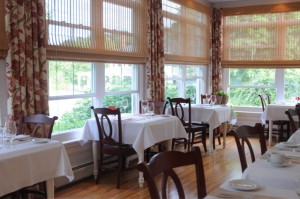 The Bass Cottage Inn is tucked in a quiet, off-the-beaten-path area downtown. It's convenient, yet quiet, and just steps from both Main Street and the Shore Path.  The restaurant in a section of the inn's glass-enclosed wrap-around porch. Hardwood floors shine; floral drapes add texture;  tables are topped with white cloth, beige mats, and a small vase of fresh flowers; bamboo shades filter out the late afternoon sun; soft music provides a gentle cover for conversation. Our waitress was eager to please and attentive without being obtrusive.
Terri, a professionally trained chef, is the maestro in the kitchen. Currently the restaurant serves a prix-fixe menu comprising three courses for $45, but Terri said she plans to begin offering a la carte selections later this summer.
The menu changes weekly. On the night we visited, the choices were: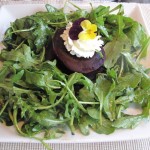 Starters:
• fresh citrus & garden greens, candied pecans, ricotta salata
• grilled asparagus, frisee, prosciutto, shaved parmesan, lemon oil
• roasted beets, goat cheese mousse, garden greens, candied pecans, balsamic vinaigrette
(all served that evening paired with garlicky spinach and creamy potato cake)
• Atlantic salmon, herb-horseradish crumbs, dill beurre blanc
• pan-roasted chicken breast, lemon, garlic, summer herbs, natural jus
• stout-braised short ribs, caramelized red onion, applewood bacon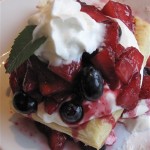 Desserts:
• cream puffs with MDI "Very Vanilla" ice cream, mocha sauce
• strawberry napoleon, whipped mascarpone cream
• lemon-lemongrass and blackberry sorbets, fresh blueberries
I ordered the grilled asparagus starter and the short ribs entrée; Tom had the roasted beet salad and the salmon; we split the strawberry napoleon. This was one of the better meals we've had on the island, and thanks to its limited seating (10 tables—or maybe 11, but who's counting),  it provides a far more intimate and personal dining experience than other top spots.
My only quibble is that the service felt a bit rushed. We'd barely finished our appetizers when the entrées appeared. When I mentioned this to Terri, she was thankful for the feedback. At that point, the restaurant had only been open a few weeks. With a bit more seasoning, that timing should improve.
Bottom line: 10 Tables provies a quiet retreat from the hubbub of the harbor and a far less frenzied atmosphere than most other finer dining choices on the island, but with only 10 tables, advance reservation is a necessity.