Hungry? Here's some delicious news from around Maine. And don't forget that Maine Restaurant Week, March 1-10, 2013, is just around the corner. A few restaurants have already posted their menus. Start planning now for this annual feeding frenzy.
White Barn adds Winter Bistro dining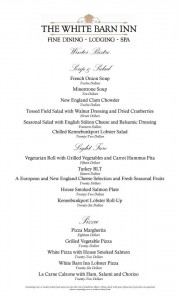 Through April, 2013, you can experience the White Barn Inn dining experience without the fuss or the price. The five-star/five-diamond, haute, haute, haute Kennebunk restaurant is adding bistro dining on Wednesday through Friday and Sunday evenings.
While it's not inexpensive, it is a bargain compared to the usual $106 pp fixed-price menu.
The White Barn Inn's Winter Bistro menu includes soups and salads, such a French onion soup and chilled Kennebunkport lobster salad ($10-22); light fare, including a vegetarian roll and house-smoked salmon plate ($15-26); and pizza, with choices such as grilled vegetable or lobster ($18-22).
Dinner at the Palace returns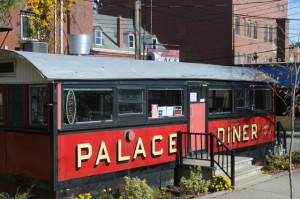 Unless you're on Biddeford's Palace Diner's email list, you probably don't know that specialty Dinners at the Palace are now being offered. And if you don't know, you won't be able to snag one of the few stools in the 1926 Pollard, which has rested on its current spot since 1927.
The diner, Maine's oldest, is a treasure. It's been run by the Capotosto family since 2011. They pride themselves on making everything from scratch and using locally sourced foods whenever possible. They've managed to give traditional diner fare a healthful twist, and have added some unexpected surprises.
On Feb. 2, the Capotostos are preparing Feijoada, which they say is the Brazilian national dish. It's a slow-cooked stew comprising black turtle beans, beef, and pork. They're adapting it a bit and using linguica, hot Italian sausage, and corned beef. The stew will be served over rice with sides of sauteed collard greens, roasted manioc flour, and sliced oranges and limes. Filling out the menu are a traditional cheese read ball, tropical green salad with hearts of palm, and a Brazilian flan.
The cost is $30, plus tax and tips. Chances are, you've missed this one, but get on the mailing list so you know about future Dinners at the Palace.
Catena Family Wine Dinner at the Inn by the Sea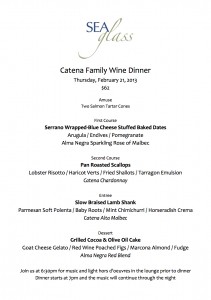 Reserve now for the Catena Family Wine Dinner, at the Sea Glass, located at the Inn by the Sea in Cape Elizabeth, on Thursday, Feb. 21, 2013.
This annual Argentinian wine dinner, prepared by Chef Mitchell Kaldroich, begins with music and hors d'oeuvres in the lounge at 6:30. Chef Kaldrovich was raised in Argentina, so this should be an especially delicious meal.
The four-course menu with wine pairings is $62 per person.
Recipe testing for Salt Water Farm at Union Hall
This spring, Lincolnville's Salt Water Farm is opening a cafe and marketplace in downtown Rockport in the historical Union Hall building.
According to chef-owner Annemarie Ahearn, all food will be locally sourced. Plans call for brunch to be served on Saturday and Sundays and a family style chef's menu in the evenings. Want to salivate? Check out the recipe-testing pics, such as acorn squash, Lincolnville pig, vinegar, honey  and tarragon-cured halibut, shaved beets, escarole, that Ahearn has posted on her blog.