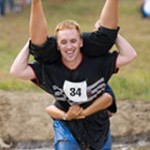 Yessiree folks, it's that time of year. When the foliage peaks, it's time for the annual North American Wife Carrying Championships at Sunday River. Winners here qualify for the World Champsionships in Finland, next July. This Saturday's even (Oct. 9, 2010) is just ideal for spectators: The 278-yard course includes uphill running, log hurdles, and a 10-meter long waist-deep water obstacle. That alone should be enough to pique your interest.

Based on Finnish history, wife carrying for sport originated in the 19th century after the practice was used to require strong physical standards on men looking to join the local band of arms. To qualify, men had to complete a course with a heavy sack on their backs, which was often substituted for a woman from a neighboring village.
If you think you want to participate, you can register up to the day of the event. Be forewarned, some teams take this very seriously and train hard for the competition. Better idea: Go watch. Should be worth quite a few guffaws.