Sun's shining,  birds are singing, grass needs mowing, and Maine is open for the summer. Here's a round-up of news, upcoming events, and interesting notes from around the state: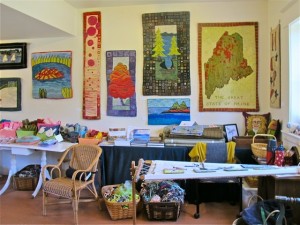 Open House at Chapter Two, Corea, May 27,2012,  2-5 pm:Works by more than 50 local artists and artisans will be on view and refreshments will be served at this combination bookstore, gallery, studio, and workshop space. Workshops slated for 2012: Dennis Corso (stone sculpture), Dan Miller (woodblock printing) J. Fred Woell (jewelry), Pat Wheeler (painting & journaling), Betsy Thompson (book signing), Margo Klass (book making) and Sarah Doremus (book arts).
Wine Dinner, Tavern at Brunswick Station, May 31, 2012: Executive Chef Kevin Cunningham is teaming with Hugh Davies of Schramsberg Vineyards on a five-course menu; Davies will be on hand to discuss the wines. The evening begins at 6  p.m. and costs $100 per person, plus tax and gratuties.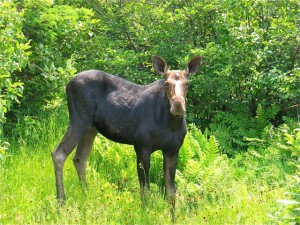 Want to see a moose? New England Outdoor Center offers three-hour moose-spotting tours for $49 per person. Spring is a great time to view the gangly beasts. NEOC is located in Millinocket, near Baxter State Park, where moose far, far outnumber people. While there, add on a whitewater rafting trip down the Penobscot River for a thrills.
Malaga Island,Fragmented Lives: is now on view at the Maine State Museum, Augusta. The exhibition shares the controversial story of the poor, mixed-race community that lived on Malaga, a 42-acre island at the mouth of the New Meadows River in Phippsburg, Maine, through archaeological artifacts, historical photographs, objects, documents, and news stories from the time. The residents were evicted by the state in 1912. The exhibit can be seen through May 26, 2013.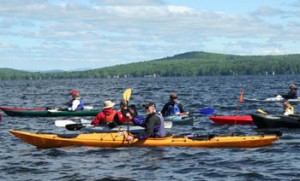 Paddle for Pine Tree Camp, June 2, 2012: This annual event helps fund Pine Tree Camp, a very special, barrier-free summer camp in the Belgrade Lakes region for children and adults with physical and developmental disabilities. Camper tuition is $1,900 for a six-day session, and the camp is committed to making the experience to all, regardless of ability to pay. This event helps achieve that goal. Paddlers are asked to raise at least $100 per person. The day begins with a $5 pancake breakfast before the safety briefing and paddle, and concludes with a barbeque lunch with music.
Spring savings at Oakland House Cottages by the Sea: Take advantage of special rates and packages at Oakland House through early July. I love this old-time summer cottage colony on Eggemoggin Reach, in Brooksville (at the tip of the Blue Hill peninsula). And new this year is free Wifi throughout the seaside campus.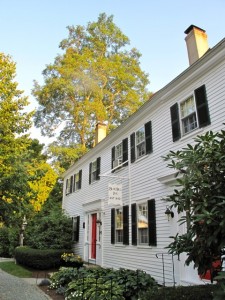 Spring Savings and Summer Saturday Suppers at the Blue Hill Inn: Through June 30, get three nights for the price of two at the Blue Hill Inn, in Blue Hill. And enjoy family-style, Saturday Suppers in the Garden on the third Saturday of each month, from June through September. Chef Devin Finigan is back in the kitchen. The inn is also open to the public for breakfast and dinner.
Plan Ahead: PORTopera, Maine's only company  performing fully staged operas with nationally and internationally acclaimed artists, is staging Puccini's Madam Butterfly, July 26-27, at Portland's Merrill Auditorium. Tickets are available through PortTix.
New manager and chefs at the Asticou Inn, in Northeast Harbor: Mark Phillips is the new GM at the historic hotel overlooking the harbor. Steven Barck is now executive chef at Peabody's, the hotel's restaurant. The new menu will focus on regional New England cuisine. The restaurant is open to the public, and guests can dine inside or on the waterview porch. The Asticou is a Maine classic, a seaside hotel dating from 1883 that's been gently updated over the decades.