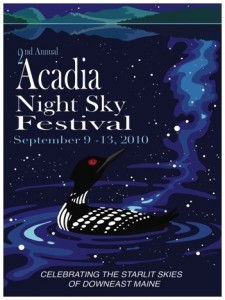 September is one of my favorite months in Maine, and it's an ideal time to visit, especially if you want to check out the night skies. Both Bar Harbor and Acadia National Park are committed to protecting Maine's star-filled skies, and Mt. Desert Island is one of the best places to view the Milky Way and other nighttime wonders, so you might want to ink the  Acadia Night Sky Festival, scheduled Sept. 9-13, 2010, on your calendar .
What's on the agenda? Plenty, with 21 events scheduled over five days, including discussions, photography workshops, nighttime boat cruises, stargazing sessions with Acadia's rangers, a presentation on the night sky from the Wabanaki point of view, star parties atop Cadillac Mountain and at Seawall, even a sunrise party.
Note: You might also be interested in the Maine Starlight Festival.