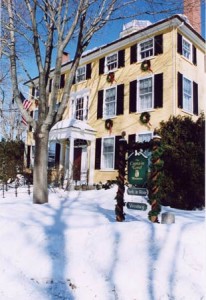 Yes, I know it's November and that February and Valentine's Day seem sooooo far away, but if you want to take advantage of the 28 Days of Romance Package at the Captain Lord Mansion, in Kennebunkport, you should get crackin' (and besides, a gift certificate for this would make a might nice holiday present). The Capt. Lord is one of Maine finest bed and breakfasts, and it can be pricey. This off-season package is a good deal, and K'port in winter can be quite lovely. Some of Kennebunkport's boutiques are open year round, you can walk the beaches in solitude, and dine out without needing reservations far in advance (except for Valentine's Day, of course).
The package includes:
•  A bottle of Canella Prosecco di Conegliano sparkling wine
•  Lindt Chocolate truffles
•  Fantastic Fortune Cookies, a decadent treat (trust me, they sent a sample and it was rich and delicious), and each one contains one of these special offers: $10 or $25 coupon, coupon for a Capt. Lord coffee mug, coupon for a Swedish massage, and—the big kahoona—couple to return for complimentary night in February 2012.
The package is available throughout February. Rates begin at $199 per room (two-night minimum on weekends) and includes breakfast.