If you're thinking about or planning a visit to Maine, here are a few choice events to keep in mind as you finalize your schedule.
• Super lodging deal at the Blue Hill Inn to benefit Blue Hill Heritage Trust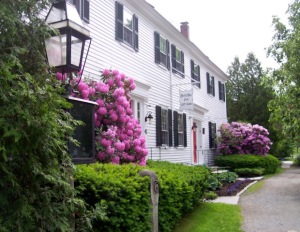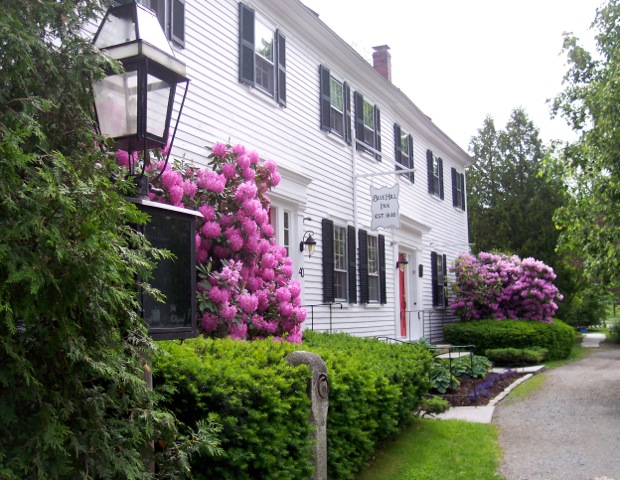 Save 50% on a room, May 25-June 11, at the lovely Blue Hill Inn with a donation of $50 to the Blue Hill Heritage Trust. Since its founding in 1985, BHHT has protected more than 7,000 acres peppering the peninsula, including shorelines, mountains, wetlands, and forests.
Guests staying on Sunday, May 31, have an opportunity to watch the alewives returning at high tide. BHHT is offering an outing, with guide Ted Ames, to learn about the traditional alewife in Patten Stream. The program is open to the public, 10-11:30 am (high tide) at Surry Landing.
"Many of our guests come to this area to enjoy the natural beauty. A lot of them climb Blue Hill Mountain, some leaving from the inn itself to use the trail behind the post office to reach Mountain Road, a lovely 4.5 mile hike," says innkeeper Sarah Pebworth. "They go birding at Kingdom Woods and launch their kayaks at Peter's Cove. Supporting this organization let's us celebrate what Blue Hill has to offer."
Reservations must be made in advance and a donation check is due at check-in.
• K'port's Nonantum Resort launches Progressive Dinner via Trolley series
Nibble and sip your way through the Kennebunks on a new Progressive Dinner via Trolley tour presented by 95 Ocean at the Nonantum Resort. Each of the five tours (May 31, June 21, Oct. 25, Nov. 15, and Dec. 6) will vary, offering different dining experiences and prices.
The May 31 tour includes one course and a beverage at Jillyanna's Woodfired Cooking School; Old Vines Wine Bar, Craft Cocktails & Kitchen; Bandaloop; and 95 Ocean. In addition, guests will walk through Jillyanna's gardens with outdoor wood-fired oven and a pastry-making demo at 95 Ocean. The tour is limited to adults 21 and older. Tix are $125 pp price, including gratuities.
• Pop-Up for Nepal dining event in Portland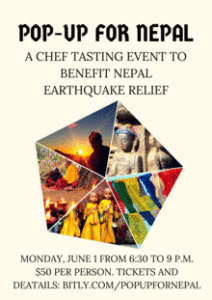 Eat well and feel good about it on June 1 during Pop-Up for Nepal at O'Maine Studios. Every penny raised from ticket sales will benefit the United Nations World Food Program's Nepal earthquake relief efforts.
Tickets ($50 p.p.) include tasting bites and sample cocktails from local restaurants and food trucks including: David's, Empire Chinese Kitchen, Eve's at the Garden – Portland Harbor Hotel, Eventide Oyster Co., Local 188, Love Kupcakes, Mainely Burgers, Tempo Dulu – Danforth Inn, The Sinful Kitchen, TIQA, Union Restaurant – Press Hotel, Vinland, Walter's and The Well. A cash bar also will be available.
• Maine Foodie Tours adds Rockland itinerary
Fact or fiction?  Mid-coast culinary lore has it that; a  diner owner in Rockland created of the first lobster roll; a former town resident invented, not the doughnut, but the hole in the doughnut; and  a man known as the "father of coffee breaks" in the early 1800's hails from Rockland. Learn all about the local food scene while on Maine Foodie Tours new Rockland Lunchtime Culinary Tour, a three-hour, guided, walking feast. Samplings may include seafood chowder overlooking the ocean, Maine peekytoe crabcakes, craft brews paired with french fries, Headacre Farm fare, local Italian sausages and peppers, estate fruit and grape wines, and chocolates. Tix for the tour are $55.
• Puttin' on the Pig at Maine Huts
Pig out at the Summer Kick-Off Pig Roast at Maine Huts & Trails' Stratton Brook Hut on Sat., July 11. Locally raised pork will be smoked on site and dished out along with specialty barbecue sauces, homemade macaroni and cheese made with Cabot cheeses (why, the Maine Travel Maven wonders, Vermont cheese when Maine has so many fabulous cheesemakers), local Marfax baked beans, seasonal vegetable sides, homemade cornbread and local craft beers. The meal is $15 adult, $7 kids 17 and younger, but if you volunteer to get your hands dirty and work on the trails that day, your meal is free and you can bunk at the hut for half price.
• PORTopera to stage Tosca
Tickets are now on sale for PORTopera's July 30 production of Giacomo Puccini's Tosca. The performance will be presented as a staged concert, with the orchestra sharing the Merrill Auditorium stage with the singers. Performers include: Alexandra LoBianco, soprano, Tosca; Adam Diegel, tenor, Cavaradossi; Thomas Hammons, bass-baritone, Sacristan; Robert Mellon, baritone, Angelotti; and James Morris, bass-baritone, Scarpia.  Tickets range $41-130.
And speaking of PORTopera, the organization's annual A Night at the Opera Gala is slated June 5 at the Westin Portland Harborview Hotel. The evening includes cocktails, hors d'oeuvres, a live auction, formal dinner, and arias performed by PORTopera young Artist alums. Tix from $130 pp.