I've always thought one of the prettiest and most easily accessible fall foliage drives is Route 1, between Brunswick and Bath. There's something about the rolling topography, the rivers, and the mix of trees that make for eye-popping color: deep crimson, fire red, burnt and day glow oranges, sunshine yellow and autumn gold; they're not only all there, but there interspersed brilliantly. Now add just enough pines and spruce for balance and depth. Wow!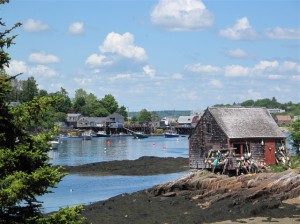 Of course, that's just a short stretch of road, but the color show continues in both downtown Brunswick and Bath as well as down the peninsulas reaching seaward from each: the Harpswell islands and Phippsburg, and across the Bath bridge, the Georgetown peninsula. Or head inland, and mosey up along the rivers converging into Merrymeeting Bay through Bowdoin, Bowdoinham, and Richmond, perhaps circling back through Wiscasset. Now that's a slice of heaven.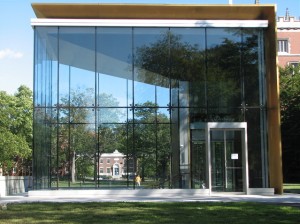 What's more is that there are enough sights, shops, and activities to keep things lively and fun, including the free museums on the Bowdoin College campus, the Museum of Art and the Peary-MacMillan Arctic Museum (closed through Oct. 18), as well as the Pejepscot Historical Society Museums, all in Brunswick, and the fabulous Maine Maritime Museum in Bath.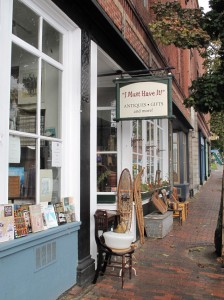 Both Bath and Brunswick have great downtowns with a nice blend of independently owned specialty shops, making browsing fun. Walk through downtown Brunswick and neighboring Topsham tonight, Friday, Oct. 8, and you can visit 18 galleries and creative businesses that are opening their doors and strutting their works as part of the Second Friday Artwork. Pair that eye candy with a graze through restaurants on both sides of the bridge (perhaps trying the newly opened Flipside pizza parlor, on Maine Street—it's owned by the same folks who operate the delicious El Camino restaurant).
And tomorrow, Saturday, Oct. 9, is Bath's Autumnfest, with a craft show, live music, and all kinds of other fun, family activities and entertainment.
Snooze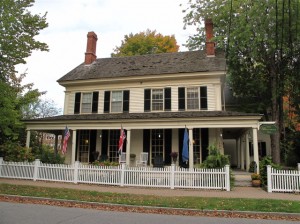 In Brunswick, call it a night at The Brunswick Inn. Under new ownership just over a year ago, it's really settled into a nice groove. Innkeeper Eileen Horton has made balanced and updated the rooms, adding her own touches to the handsome decor. Cozy with a drink fireside in the bar, relax in the living room, and it's all smack downtown facing the town green (a.k.a. The Mall). The inn is family friendly.
If you want more whistles and bells—full-service restaurant and spa, for examples—also nicely improved under new ownership is the Captain Daniel Stone Inn, fewer than five minutes walking distance from Maine Street's shops and restaurants.
Over the bridge in Topsham, the Black Lantern B&B is an 1860's home-turned-B&B on the river, and yes, you can walk to downtown Topsham and onto Brunswick from it.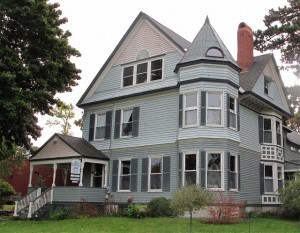 In Bath, for a completely restful and rejuvenating experience, book a room (and spa services and dinner) at the Kismet Inn, an especially peaceful B&B overlooking Library Park. Innkeeper Shadi Towfighis caters to her guests needs, creating divine organic breakfasts (and by reservation, dinners) and offering rooms with either steam showers or deep soaking tubs. Emphasis here is on organic and local, from soaps and linens to foods. There's a yoga studio, too.