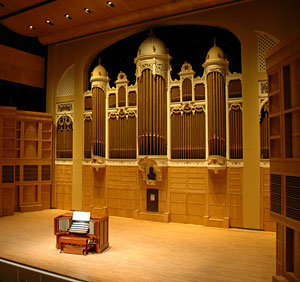 The Kotzaschmar Organ, the first municipal organ in the country to be designated a municipal organ and one of only two still in existance (the other is in San Diego), is celebrating its 100th anniversary this month. Even better, the Friends of the Kotzschmar Organ are throwing it a party. The Kotzschmar Centennial Festival, Aug. 17-22, is open to everyone.
Named after German musician Hermann Kotzschmar, who resided in Portland from 1849 to 1908, the organ was a gift to the city from publishing magnate Cyrus H. K. Curtis. When installed in Portland City Hall in 1912, the 50-ton organ, built by the Austin Organ Company in Hartford, Conn., was the second largest in the world. Over the last 100 years, it's survived moves, repairs, enlargements, and building renovations.
Some trivia: 225,000 people attended a Kotzschmar Organ concert during its first year. The organ's narrowest pipe is 1/8 inch, the biggest is 32 feet. The city has employed 10 municipal organists since 1912, Ray Cornils has had the title since 1990. Kotzschmar has 102 ranks, 6,862 pipes in eight divisions: Swell, Great, Solo, Orchestral, Antiphonal, Echo, Pedal and Percussion. The Echo and Antiphonal divisions can be heard emanating from the large grid in the ceiling near the rear of Merrill Auditorium
Why you want to hear it now: On Aug. 22, the organ will begin a two-year cleaning and repair. It won't return to Portland's stage until 2014.
Kotzachmar Centennial Festival Events
Concert tickets are available through PortTix. For non-concert programs, book here.

Aug. 17:
• Opening Wine and Cheese Mixer
• Concert: Silent Film Night with Tom Trenney; $15
Aug. 18:
• Performathon, tours of the organ, and workshops: 9:30 a.m.–3:30 p.m., with Michael Barone; free. Organists performing include: Clarissa Brown, John Corrie, Katelyn Emerson, Bruce Fithian, Terrie Harman, Ed Larson, Albert Melton, Randall Mullin, Peter Plumb, Peter Stickney, Harold Stover, Janice Stover, John Sullivan, Mark Thallander, Nancy Wines-DeWan and Jay Zoller. Organ tours noon- 1 p.m.
• Concert: POPS Goes the Kotzschmar! Walt Strony and Scott Foppiano; $15
Aug. 19 :
• Enjoy Portland! 4-hour cruise to House Island for a lobster and chicken bake; $75
Aug. 20 :
• Workshops, conversations and Master Classes
• Opening Plenary with host Michael Barone
• Concert: The Three H's: Felix Hell, Thomas Heywood and Frederick Hohman; $15
Aug. 21 :
• Master classes and workshops
• Concert: Two Masters: Fred Swann and John Weaver, $15
Aug. 22 :
• Master Classes, workshops and closing Plenary Session
• Gala Celebration Dinner at Holiday Inn By the Bay; $55
• Kotzschmar Centennial Concert with Peter Richard Conte, Grand Court Organist of the Wanamaker Organ at Macy's in Philadelphia, and Portland Municipal Organist Ray Cornils with the Kotzschmar Festival Brass; reception immediately following