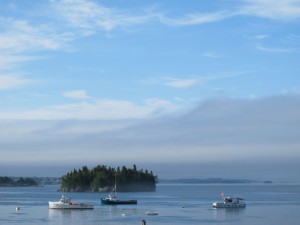 Every summer, I swing through Down East, Maine, en route to and home from the Grand Lake Stream Folk Arts Festival, held on the last full weekend of July. Most years, little changes in the don't-blink villages and small towns along or off Route 1, from Milbridge to Princeton. This year, I found a few surprises, some good and some sad. Here's the skinny, by town.
Cherryfield
I adore Cherryfield, a charmer anchored by a 75-acre National Register Historic District with 52 architecturally stunning buildings. Once the winter home of sea captains and shipbuilders, Cherryfield now proclaims itself  Wild Blueberry Capital of the World, thanks to the expansive barrens in neighboring Deblois. It anchors one end of the Black Woods Scenic Byway and is on Maine's Ice Age Trail, the Downeast Fisheries Trail, and the Sunrise Multi-use Trail.
In recent years, downtown buildings were being rehabbed to hold antiques and specialty stores. One of my favorites was the Cherryfield General Store, in the crooked building. Royal Montana had turned this gem into community resource, a true general store with produce and handmade objects from locals, antiques, penny candy, and all kinds of fun finds. It was one of the few places selling locally made Cherryfield Chocolates. My jaw dropped upon finding it closed, not just for the day, but gone. It's been sold. According to a local source, new owners plan to reopen it as a general store, but with a bit different focus. Also gone is Cherryfield Chocolates (sniffle, sniffle).
Cherryfield retains its architectural charmers, including the Englishman's B&B, right on the Narraguagus River, and it's always fun to browse the handful of antiques galleries and specialty shops as well as the  Catherine Hill Winery.
Lubec: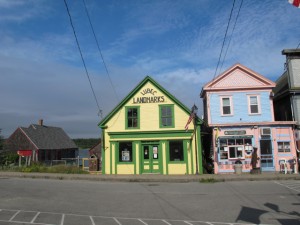 Like Eastport, Lubec is looking better and better. Although it took a blow with the closing of its high school a couple of years ago, the shops and restaurants lining Water Street have been spruced up and painted. This season, historical McCurdy's Smokehouse added interactive children's exhibits. Not sure when Cohill's added the second-floor deck, but it's a fine place for a drink or dinner — we watched the seals cavoring in the channel's tidal rips while sipping drinks.
We checked out another new spot, Becky's Seafood, a food truck near the historical society on the way into town, for excellent fish and chips. Great spot for fried fish and similar fare, and it also sells Maine-ly Smoked Salmon's products (smoked salmon kebobs!), made in nearby Perry.
Also of note: Atlantic House Downeast Coffee has a new owner and is now serving full breakfasts.
Campobello Island
New this season  is Jocie's Porch, a coffee shop where owner Robert Calder roasts beans daily and prepares light fare. It overlooks Friar's Bay.
Eastport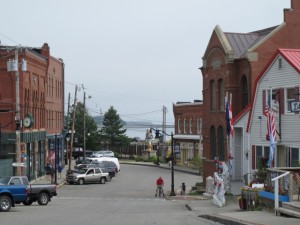 Eastport is lookin' mighty fine these days. When I first started visiting the first city to see the sunrise (yes, despite a population of only 1,331, it's officially a city), despite being wowed by the location, I found it dismal. The majority of downtown storefronts were boarded up and many buildings appeared unkempt and shabby, if not derelict.
Not so anymore. Downtown buzzes with galleries and specialty shops as well as restaurants. New in town is Sweetie's Downeast, a by-the-pound candy shop filled with all the sweets from your childhood and mine as well as those of today's kids, along with nuts and novelties. Great spot!
I've noted a few of these changes earlier, but to recap, the Pickled Herring restaurant has closed; the Westphal B&B has closed; the Wa-Co restaurant has reopened; Dastardly Dick's  has new owners, but no real changes other than that Rapunzel's closed. Bank Square Pizza  & Mexcetera is closing this fall (do yourself a favor and go, now. Marilu makes excellent and authentic Mexican fare–no cheesy glob, no Tex-Mex, no Cali-Mex, no Southwest Mex, just authentic Mex). She does plan to reopen in another form, stay tuned.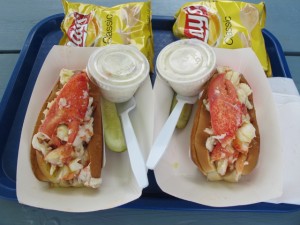 Speaking of restaurants: Others praise a mid-coast shack as having Maine's best lobster rolls, but Quoddy Bay Lobster, wins my vote. The meaty rolls are available in three sizes and every one is topped with a claw. And now there's indoor dining in addition to picnic tables on the waterfront.
Also  impressed by the Moose Island Bakery, with a pastry case that I'm sure has been the end of the best diet intentions. And I like the Greek fare at the Liberty Cafe. Service can be a bit slow (snore!), but it's worth the wait. I didn't get to the Irish Cow Bakery, in Perry, but I'm hearing really good things about the homemade breads, danish, and cookies.
And if you're in Eastport soon, check out the Vorti-scope, a way-cool camera obscura with a 356-degree spy camera.
Wondering where to stay? Options are slim, but the Kilby House shines.
Calais
One of the few bright spots in downtown Calais is The Wapohnaki Museum in the Downeast Heritage Center, which opened late last year. Ask the attendant at the information center to open it for you, although admission is free, drop a few bucks in the donation jar. Frankly, I wasn't expecting much. Surprise! The exhibits are professional, educational, interactive, interesting, and fun. It's well worth a visit to learn more about Maine's Native Americans.
Princeton
For most visitors Down East, Princeton is a pass through between Calais and the Grand Lakes. It's home to a section of the Passmaquoddy Indian Reservation, but other than a few gas stations, a grocery, and a few lodges catering to anglers, there's little here. But if you're hungry, pull into the Old School Family Restaurant, which opened earlier this month at 46 Main St./Route 1 . Nothing fancy, but good home cookin' in a spotless restaurant. I had breakfast there two mornings, and both times service was prompt and pleasant. Two words: homemade toast. That alone will bring me back in.