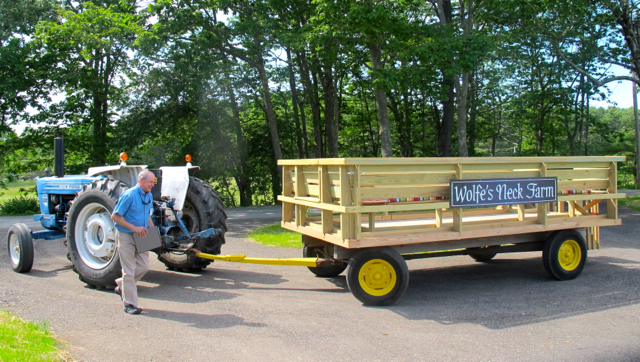 Freeport's Wolfe's Neck Farm is a gorgeous chunk of real estate. The 626-acre property comprises an organic saltwater farm; one of my favorite campgrounds, Recompence Shores; walking trails; and barnyard programs. It also offers bicycle, canoe, and kayak rentals, family programs, lobster bakes, and new this season, history tours on a tractor-pulled haywagon. I joined one to learn more.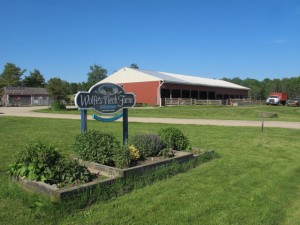 During the 2-hour ride down the neck and back, volunteer guides Jim DeGrandpre, Judy Higbea, and Kathy Smith shared stories about the farm and the region's early history and heritage, as well as the flora and fauna. They told us about the first settlers, the state park, and tidal estuary; explained rotational grazing techniques; and pointed out historical homesteads on the property. Wolfe's Neck Farm, named for settler Henry Wolfe, was acquired by Eleanor and Lawrence Smith in 1947. The couple made the farm an early pioneer in organic and sustainable farming and left quite a legacy.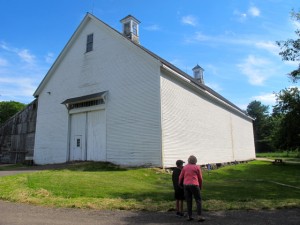 At a few spots, we stopped and explored the site on foot. First was the Mallett Barn, constructed by Edwin Mallett in the late 19th century. Measuring 100-feet long, by 45-feet wide, and 43-feet tall, it's one of if not the largest post-and-beam barn in the country. And we explored it inside and out.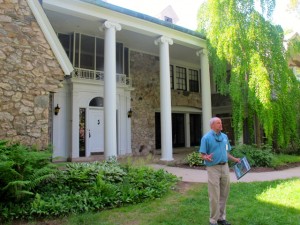 Next we stopped at the Stone House, built in 1922  for Stanley Wood and designed by noted Maine architect John Calvin Stevens. Now owned by the University of Southern Maine, it's a gem that deserves love and investment. We peered into the windows and briefly looked at the rhododendron garden and the site of a former walled garden. When the Smiths lived here, the house was full of life, love, and celebrities, and the guides tell some funny stories (I won't spoil the experience by sharing them here). Another stop is the Capt. Greenfield Pope house, built in 1761 in Falmouth and brought by barge up the Little River and then hauled by oxen up to its current location. It's one of the oldest houses in Freeport.
The Wolfe's Neck Wagon Ride into the Past tours are offered on Saturdays, 10 a.m.- noon, through Aug. 31. The fee is $14 ages 13 and older, $8 ages 3-12. Reservations are recommended, but walk-ons are accepted if space is available.