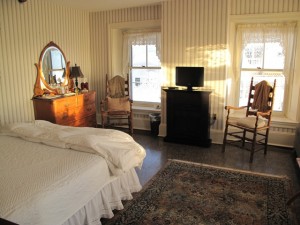 After an afternoon of nibbling my way through downtown Rockland, sampling pie after pie after pie last Sunday, innkeepers Ed and Joan Hantz invited me to call it a night at the Granite Inn, a bed-and-breakfast and member of the Historic Inns of Rockland, Maine.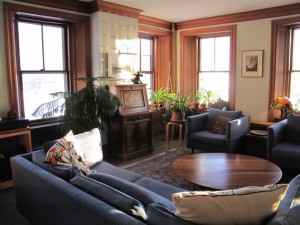 The Granite Inn, located on the northern end of Main Street opposite the ferry terminal, opened as Rockland's first B & B in 1984, but its history predates that by a long shot. Built in 1840 as a private home, it served as the local Elks lodge beginning in the 1940s, and wasn't converted to a B&B until 1984.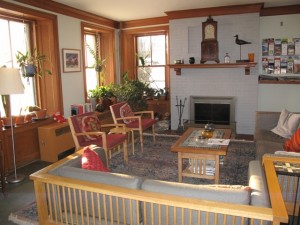 I've toured the inn over the years, and previously it was a bit dowdy and frumpy, and many of the rooms shared baths. That's not longer the case. The Hantzs have given the building the loving care it craved, investing in much-needed updates without losing the architectural niceties, such as terrazzo floors and a granite interior wall.
Joan, a graphic designer and the daughter of two architects, has done a smashing job with the décor, blending family antiques with mid-century-modern furnishings, adding original artwork, and doing so in a way that keeps the atmosphere light and airy. An especially spacious living room—essentially an open double parlor—has two separate seating areas, one facing a fireplace. The backroom, formerly the Elks lodge, is the dining room, where there are always cookies as well as hot drinks available.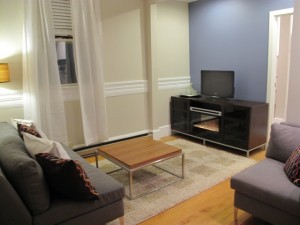 Guest room are upstairs. Most are spacious. Those in the front of the house, with views over the ferry terminal and working harbor, are more traditional in furnishings (if you're especially noise sensitive, despite the views, these might not be the right choice for you).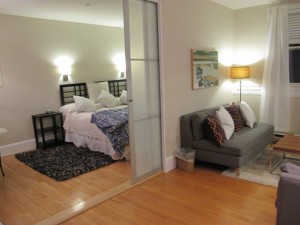 Suites are especially  family friendly. A few rooms have electric fireplaces, and one newly renovated suite also has a whirlpool bathtub. All rooms have private baths (all but one en suite), TVs, there's free Wifi, and a rave-worthy breakfast is included in the rates ($85-125 off season, $95-195 high season).
Cheap sleep: The least-expensive room qualifies as a cheap sleep, as it comes in at less than $100—deal!. It's small, has a queen-size bed, an although it does have a private bath, it is down the hall (still, quite the deal for downtown Rockland and an inn of this caliber).
Let me tell you about that breakfast. It always includes a buffet sideboard as well as a hot entrée that's served to the table (guests have a choice of a central shared table or satellite private ones). On the morning I feasted, the buffet had lemon crepes with a wild blueberry compote and a side of  lemon curd, fresh fruit, and homemade granola. That alone was plenty—especially those crepes! But then, poached eggs with asparagus and prosciutto atop whole wheat bread was served, too. If I'd preferred, eggs to order as well as bacon or sausage and toast were also available. The inn's equally famous for its scones and its lobster quiche (recipe).
What else: The inn is pet friendly, and Zack is the resident springer spaniel.
Location: Of course, the ferry terminal across the street makes an island day trip easy. This end of Main Street used to be quite lack luster, to put it kindly, but over the past year, this has changed. Now, within a two-block walk are some of Rockland's hottest restaurants (Suzuki Sushi, In Good Company, Lily Bistro), as well as Fiore (more on this later, but if you've never tasted chocolate balsamic vinegar, well do stop in), and Rheal Day Spa. The Farnsworth Museum is just another block or so down the street.