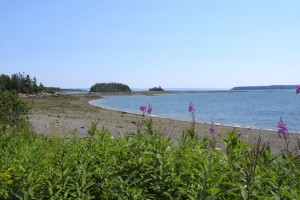 When I cross the bridge spanning the Lubec Narrows and arrive on Campobello Island, I can feel the last kinks of any remaining stress deflate. If Down East Maine is remote, then Franklin D. Roosevelt's beloved Canadian island is one step removed from remote. This sparsely populated, 9-mile-long New Brunswick orphan seduces me with its quiet disposition, soaring cliffs plummeting to churning seas, calming vistas of lobster and fishing boats chugging around nearby islands, and gentle network of hiking trails and carriage roads.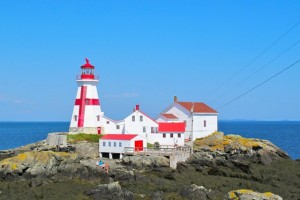 Being here is like being of the world, but not in the world. Tethered to Lubec, Maine, by the Franklin D. Roosevelt Memorial Bridge, the island is only accessible from its motherland by seasonal ferry. Tide and weather govern life on Campobello, which lies in Passamaquoddy Bay and at the mouth of the Bay of Fundy, home to some of the world's biggest tides. At low tide, the ocean bottom reveals its secrets; at high tide, whales can by spied from the shore.
Roosevelt Campobello International Park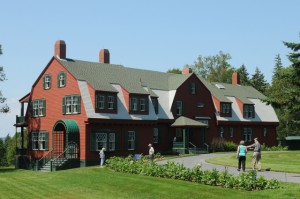 During the late 18th and early 19th centuries, Campobello, like Newport, R.I., and Bar Harbor, Maine, was a summer colony for well-to-do families who came for fresh air and clear water. The island is perhaps best known for its long association with President Franklin Delano Roosevelt. He summered here during his boyhood and later with his wife, Eleanor, and their children, and it was here that he was stricken with polio in 1921.
The 34-room Roosevelt Cottage, built in 1897 and located about 1.5 miles from the bridge, along with four other restored cottages and a visitor center, are part of 2,800-acre Roosevelt Campobello International Park, celebrating its 50th anniversary in 2014 and administered jointly by the United States and Canada. The park's visitor center's exhibits and film (yes, it's dated, but plans for a new one are in place)  are an excellent overview of the island and the Roosevelts.
A self-guided tour through the adjacent Roosevelt cottage offers a window into their lives. It appears as if they've just stepped out, perhaps for a picnic or a sail. A hand of cards is face down on the table; a hat rests on a bench; a knitting basket is topped with an unfinished project; toys scatter the playroom. Interpreters, stationed throughout, answer questions and help tell the story.
New programs rooted in history: Tea with Eleanor and Fireside Chats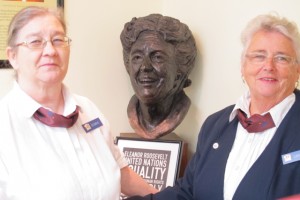 To scratch beneath the surface and to become less voyeurs and more invited family guests, sign up for the Tea with Eleanor experience (expanded this season, whew!).
Offered in the Hubbard Cottage, Tea with Eleanor is a treat — I think it's a must-do Campobello experience. Enthusiastic park interpreters, many with family memories of the Roosevelts, share anecdotes and stories of Eleanor's trials and triumphs in an engaging, well-researched presentation, while guests sip tea and nibble cookies. No two presentations are the same, as the interpreters bring their own experiences and histories and audience questions often take the conversation in different directions.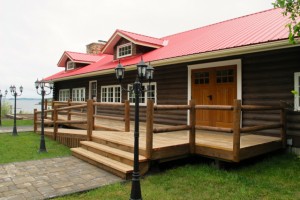 New in 2014 is the Fireside Restaurant, located within Roosevelt- Campobello International Park at the former Adams Cottage (once home to Lupine Lodge).  I dined here one evening from a set menu with a group just 1.5 weeks after it had opened and I was thrilled with both the food and the service. If it can maintain both, it easily will earn a reputation as the region's best dining.
Fireside, named after Roosevelt's Fireside Chats, offers elevated ocean views and a huge hearth, where a fire warmed us on the damp night we visited. Park officials plan to offer fireside chats, and there is live entertainment on Friday and Saturday evenings, when it's open for dinner; lunch is served daily.
Beyond the Roosevelt cottage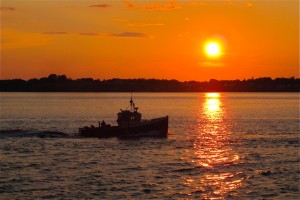 The Visitor Center also stocks maps and nature checklists for visiting the park's extensive grounds, split on both sides of the road. If time's pressing, an easy 1.2-mile round-trip hike to Friar's Head departs from near the visitor center and loops to the distinctive coastal land formation, where an observation deck provides expansive views over scalloped shorelines and fir-trimmed islands.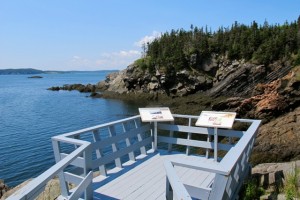 It would be easy to spend days exploring the park's Carriage Roads (open to cars, foot, and bicycles), boggy ponds and lush woodlands, rocky beaches and soaring headlands. Strategically placed observation decks deliver views to West Quoddy Head and Grand Manan Island. Listen for whales spouting and seals singing, but bring binoculars if you hope to spy either.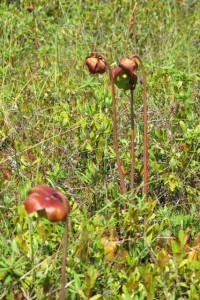 A cliff-edging masterpiece linking Liberty Point with Raccoon Beach headlines the park's 8 miles of hiking trails, but equally irresistible are the whispered promises of pitcher plants, scrub pines, sphagnum moss, and lichens on the boardwalk looping through Eagle Hill Bog.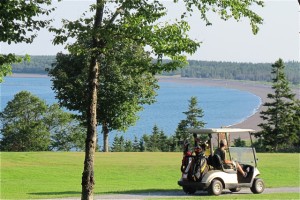 Trails also connect the international park with the abutting 1,049-acre Herring Cove Provincial Park, an underutilized sleeper with four additional miles of trails as well as a mile-long sand beach, freshwater lake, restaurant, campground, and nine-hole golf course.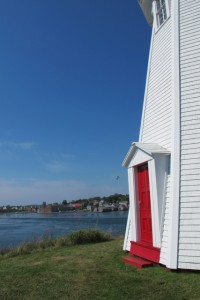 Mulholland Light, also owned by the park, is located just before the mainland bridge. A marine biology exhibit drawing from the New England Aquarium and Canadian Whale Institute is on view in the fishing shed. If the timing's right and the tide is changing: Seals cavort in the boils, eddies, and whirlpools of the turning tide and eagles soar overhead.
Head Harbor Light
The international and provincial parks are located on the southern end of Campobello, but another treasure,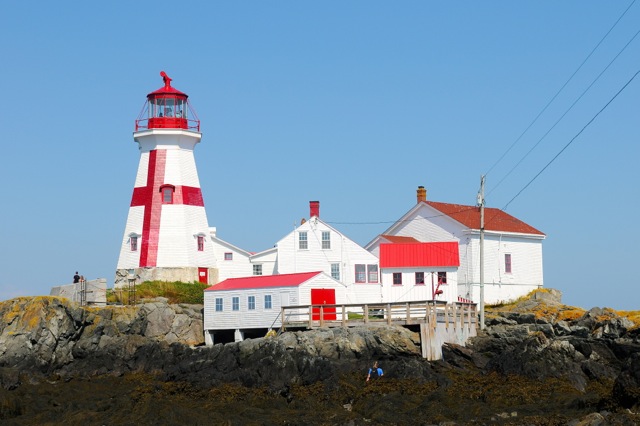 Head Harbor Light, is sited on the northern tip. The 51-foot-tall beacon, with its distinctive red cross, can be seen from the shoreline, but it's even better up close. It's located on an islet and accessible only during a four-hour window around dead low tide. Take heed to the warning sign:
Extreme Hazard. Beach exposed only at low tide. Incoming tide rises 5 feet per hour and may leave you stranded for 8 hours. Wading or swimming are extremely dangerous due to swift currents and cold water. Proceed at your own risk.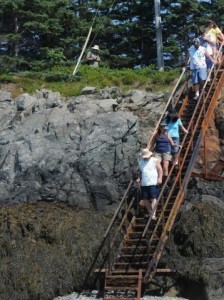 Accessing the lighthouse, constructed in 1830, is an adventure that requires clambering up and down metal ladders, crossed wooden bridges, followed paths across islet cliffs, and navigated the ocean floor through slippery, often rockweed-covered boulders. Trust me, it's worth it.
The keeper's house and tower have been restored by The Friends of Head Harbour Lightstation. Guide Deanna Baldwin explained the restoration's challenges on a tour through the house and up the to the lantern room. Volunteers lugged out almost all supplies and furnishings during those four-hour windows, except on the few occasions when the tides allowed a full day.
"This is the most magical place in the world," Baldwin said. "You can sit here and watch the whales, minke, finbacks, humpbacks, sometimes even right whales."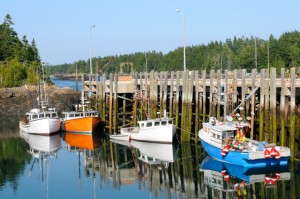 From the lighthouse, it's an easy detour to Head Harbor Wharf, a postcard cove where the island's fishing fleet docks.
Details, details:
• Campobello Island is on Atlantic Daylight Time (ADT), which is one hour ahead of Eastern Daylight Time (EDT), so if it's 9 a.m. in Lubec, it's 10 a.m. on the island. • A U. S. passport or passport card is required for the border crossing.
• The only direct access from the U.S. mainland is via the Franklin D. Roosevelt International Bridge from Lubec, Maine. A two-stage car ferry connects Eastport with Deer Isle, N.B., and Campobello.
• New Brunswick Tourism staffs an information center on Campobello, just after the bridge; check here for tide information. Head Harbor Lighthouse (sometimes called East Quoddy Head) can be accessed two hours before and two hours after dead low tide. Requested donation to hike to the lighthouse is $5 pp. Lighthouse and tower tours are available for $10 pp or $25 per family. Donations support restoration efforts.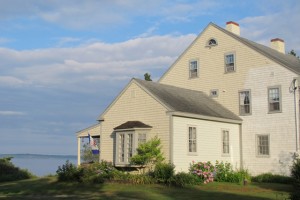 Lodging The Owen House ($110-210 with breakfast) is an oceanfront time warp, an early 19th-century inn decorated with antiques and family treasures on 10 acres.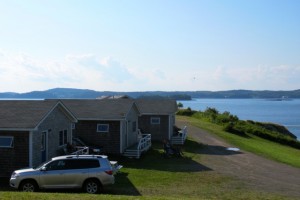 Pollock Cove Cottages ($75-175) comprises one-and two-bedroom cottages, all located on a grassy bluff with spectacular sea views.
Campsites ($25-40) are tucked in the woods near the beach at Herring Cove Provincial Park.
And of course, there's plenty of lodging in Lubec. My favorites include two masterful restorations:
The Inn on the Wharf ($100-150) in a renovated cannery on a working wharf just steps from downtown Lubec. Rooms and apartments on one level, and fish processing (lobster, periwinkles, etc.) continues below.
Quoddy Head Station ($130-300), studio to multi-bedroom apartments in a former Coast Guard lifesaving station on West Quoddy Head, near the lighthouse; panoramic views.