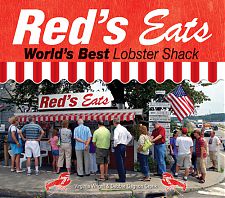 Hey all you Red's Eats fans: Saturday, June 19, my friend Virginia Wright, co-author with Debbie Cronk, of Red's Eats: World's Best Lobster Shack, will be signing copies at the official launch party Saturday, June 19, from 1-3 p.m. at Red's. Don't miss it—and if by any chance you're planning on driving through Wiscasset during that time, expect the traffic to be thick for the occasion.
And while you're in the region, don't miss the Fair at the Coastal Maine Botanical Gardens in Boothbay: tours; food, garden, and artisan vendors; talks; and much more. Of course, don't miss the new children's garden. Keynote address is "Eating from the Garden Year-Round, Even in Maine," by renowned four-season gardeners Barbara Damrosch and Eliot Coleman. Talk is at 5 p.m., it's free, but tickets are very limited. Reservations are being accepted beginning at 9 a.m. at the visitor center.
And in Ellsworth, stop by the Made in Maine Market, where artisans from throughout the state will be showing and selling their works at the Mill Mall on State STreet, from 9 a.m.-4 p.m.; admission is $2.