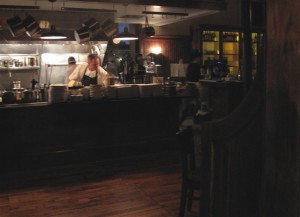 If I lived any closer to Shepherd's Pie it could be dangerous to both my wallet and waistline.
Chef Brian Hill's new li'l bistro-style pub (pub-style bistro?) opened in late spring with little fanfare, but with a huge fan base (thanks to his equally popular Camden restaurant Francine Bistro), and it didn't disappoint.
Big flavors come out of the small open kitchen. Located in downtown Rockport, it opens daily at 4 p.m., serving a reliable mix of familiar foods, but prepared with a twist and often flavored with an international accent.  I've been twice, and now that the snowbirds have flown south, I'm thinking it'll be easier to score a table at this justly popular spot.
First time, we went with friends. While waiting for a table, we sipped wine at the bar, admiring the soaring tin ceilings and the handsome woodwork. When we overheard a waitress mention that there was only one order of hot dogs left, we snagged it, figuring it had to be good. Oh yeah, and how. These aren't  just any hot dogs, mind you, but duck hot dogs prepared with curtido (sauerkraut with Salvadoran attitude) and red onion jam. Now I'm not a big fan of hot dogs, and I really don't like sauerkraut, but these I ate every last morsel of my pup serving. Wow!
That set the night off on the right note. Our good fortune continued when we were ushered to the back table, the one with a nice view over Rockport Harbor. Here's the odd thing about this restaurant, the best seats in the house are from the restroom throne and the dish-washing station (really!).
We continued our feast. I had the fried clam tacos, others ordered shepherd's pie and the spice-rubbed baby-back pork ribs. We shared a side of spinach prepared with smoked onion, almonds, and currants. And it wasn't just the din in the dining area that kept us from conversing (the space is loud and could use some sound-dampening features). No, we were too busy savoring our meals. For dessert: One slice of a blueberry/strawberry/raspberry cheesecake made with mascarpone, pepper, and cointreau. Divine!
Last week, we returned; just two of us this time. We began by splitting the smoked alewife Caesar, a classic with a Maine touch. This is a keeper. No question, I'd order it again. Then we shared an order of those winning fried-clam tacos and a side of mac and cheese. The tacos—a serving of three—were mounded with clams and prepared with avocado, cabbage, and green tomato. It will be hard for me not to order these again.
The mac and cheese, well, eh. It was good, but didn't have any depth of flavor. Maybe it's for any kiddies in tow, but it didn't meet our expectations. Well, at least that's one thing I can cross of the menu when I return. And I will. The warmth and coziness of the space, the intimacy of the decor, and the flavors coming out of the open kitchen are too good to ignore.
Shepherd's Pie doesn't have a website, but it does have a Facebook page.