So much happening this weekend in Maine, it's hard to know where to begin. Here are three events that piqued my interest:
• Eastport Historic Homes Christmas Tour, Dec. 4-5, 2010
Seven historic homes and the 1893 Romanesque Revival-style Peavey Memorial Library, in way down east Eastport, are opening their doors for a self-guided house tour.
Houses featured on the tour are: The Coolidge House, 49 Washington Street, built 1829; The James P. Wheeler House, 13 Washington Street, c. 1837; The Smith House, 32 Washington Street, c. 1830; The Hayden House, 17 Boynton Street, 1805; Peavey Memorial Library, 26 Water Street, 1893; The Poffley Residence, 10 Water Street, c. 1841; The Kilby House Inn, 122 Water Street, c. 1887; The Todd House, Capen Avenue, c. 1775.
The Eastport Garden Club is assisting with decorations, and area restaurants are helping with refreshments. The tour, sponsored by the Eastport Chamber of Commerce, benefits public restrooms. Tix are $15.
• Stone Mountain Craft Fair Dec. 4-5, 2010, Brownfield
If you're in western Maine, head over to singer/songwriter Carol Noonan's purpose-built entertainment barn to seek treasures hand crafted by New England artisans. Also available are horse-drawn carriage rides, massages, and food. (And if you're feeling nostalgic for the cucchi-cucchi girl, Charo is performing on Dec. 8).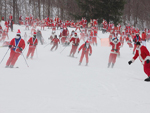 • Santa Sunday at Sunday River, Dec. 5, Newry
Ho, ho, ho: Ski and ride with 250 Santas on Sunday, Dec. 5. Best place to watch the Running of the Santas is from the South Ridge base lodge. And if you're considering joining them, it's too late. Registration closed within 12 minutes of opening; this is one popular holiday event.