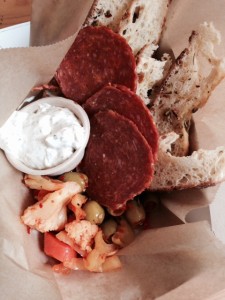 I've been a fan of Stephen Lanzalotta's baking and Mediterranean fare since I first wandered into Sophia's years ago. Enough that I bought his cookbook and it remains one of my top go-tos for recipes and inspiration among the 400+ I own (Yeah, I have a wee bit of a problem when it comes to cookbooks).
I mourned when Sophia's closed, but rejoiced when he found a new home as the inhouse baker at Miccuci's new bakery, although I  missed the broader luncheon specialties of Sophia's. He quickly earned a reputation for his Sicilian slab pizza, mammoth slices of chewy bread topped with his slightly sweet sauce and mozzarella and provolone. Enough so, that lines often formed as the kitchen couldn't keep up with lunchtime demand.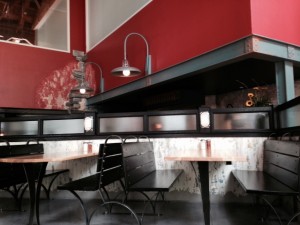 I mourned again when that relationship abruptly ended, but now, in a parntership with Jason Loring of Nosh, he's resurfaced at the aptly named Slab.
Located in the Preble Street building that once housed the Portland Public Market and Scales, the renovated space is industrial chic with a Mediterranean accent (where, you ask? Look up to see the Juliette balcony painted above the kitchen window). There are tables and large booths inside, and picnic tables on a large outdoor patio with a stage.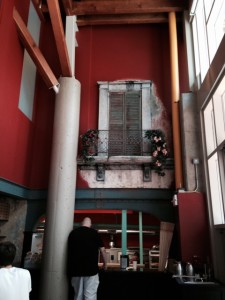 Usually, I refrain from posting anything about a restaurant so new — Slab opened last week and there are dozens of Greater Portland food bloggers who will be dissecting every bite over the next few days —  but I met friends there yesterday for lunch and must share my excitement about Lanzalotta's return and his menu of hearty and flavor-rich Sicilian street food.
My friend L, another Sophia's fan, took one look at the menu and exclaimed, "The caponata is back. I've been dreaming of this since Sophia's closed." The caponata ($9), a vegetarian open-faced sandwich is described as a "Meatless 'sloppy Joe' oven melt: imported Sicilian roast eggplant, onions, olives, capers, celery, sauce, cheeses" all on Lanzalotta's famed pillowy Luna bread. I ordered it too, as did our friend C. So nah, we're not going to provide broad reviews.
While we waited, a waiter offered a starter of salumi ($7), a practice round from the kitchen as the staff learned the ropes. It comprised Sicilian summer sausage, creamy herbed orange black pepper sheep's milk cheese spread (a mouthful of a name that's as rich as the spread), muffuletta relish, and Luna crisps. We accepted and nibbled happily.
When the caponatas arrived, I thought I'd be taking half of it home. Nope. Finished it all. No room for a cannoli, either.
I had planned to order a slab to take home, but forgot. I'll return for that, as well as to make my way through all the other delights — some familiar, others new. I didn't even turn the menu over before I ordered, but when I did, I found a few kitchen specials including a panzanella salad that I'm dying to try. FYI: There's a full bar.
A final note: Slab just opened. Go and enjoy, but give the kitchen time to ease out the kinks and get up to speed.