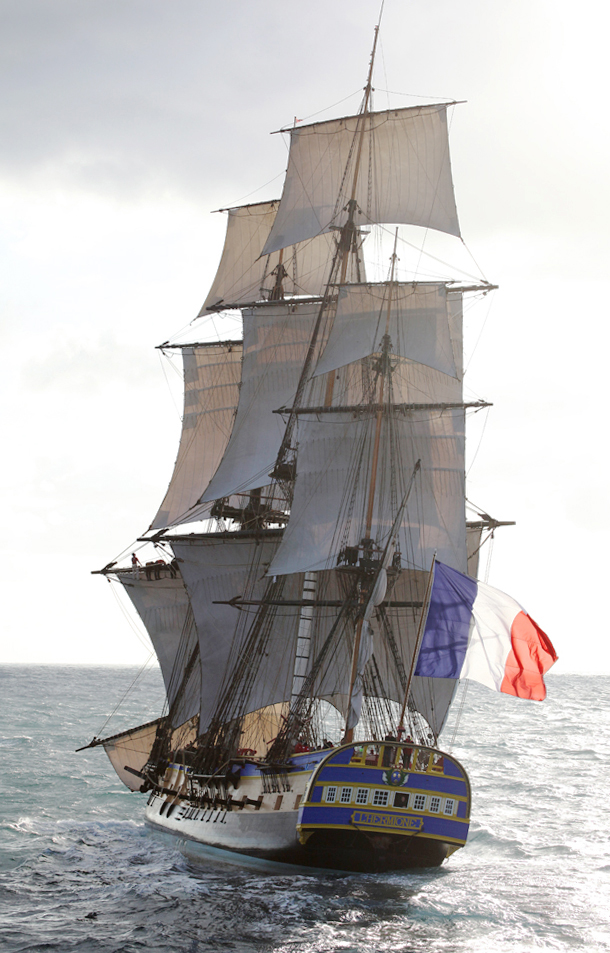 Castine is Maine's magical history town, a serene seaside village with a violently turbulent past. It tips a cape surrounded by water on three sides, including the entrance to the Penobscot River, which made it a strategic defense point. Over the centuries, Native Americans, along with the French, British, and Dutch fought over this prime chunk of real estate, and the town is littered with reminders of those squabbles.
That past will come to life this summer. The tall ship Hermione, a replica 18th-century historic frigate, departed Port-des Barques, France, on April 18, 2015, bound for North America to commemorate the original Hermione's role in the American Revolution. It's final U.S. port will be Castine, where it's due to arrive on Bastille Day, July 14, and be part of a family oriented cultural celebration spanning July 11-15.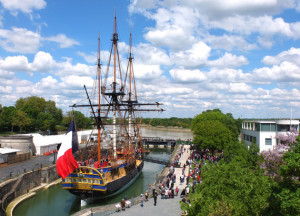 The 216-foot three-masted, authentically reconstructed Hermione, was built using 18th-century shipbuilding techniques by artisan craftsmen from throughout Europe over a period of 17 years. A ship of this type has not made an ocean voyage in the last two centuries.
A crew of 72 volunteers is sailing the 3,819 miles across the Atlantic to land in Yorktown on June 5, before continuing up the coast to 11 additional ports. The journey honors the original Frigate of Freedom, which in 1880 sailed from France to Boston, a 38-day journey. Aboard was the Marquis de La Fayette, who was delivering the promise of French military support for the Revolutionary cause to General George Washington
Activities celebrating the Hermione's visit to Castine include an exhibit at the host Castine Historical Society, workshops, storytelling sessions, nautical film screenings, historical and maritime lectures, and Revolutionary War reenactments at Fort George.
Visitors can board the Hermione's top deck from 9 am-5:30 pm on Wed., July 15.  Tickets for a 30-minute top deck visit go on sale June 1 for $12 ages 14 and older, $7 kids (must be accompanied by an adult); limit 4 tix per person. Note: Due to its historic nature, the Hermione is not wheelchair accessible.
Here's the schedule (check for updated info):
Sunday, July 12:
10am-4 pm: Revolutionary War encampments and reenactments at Fort George
11 am-4 pm: Music and art workshops on the Town Common
4-5 pm: Liam Riordan – "Why the French were Essential for the American Revolution, and Why We Should Care." Liam Riordan, Professor of History and Director, University of Maine Humanities Center
7-8 pm: Lou McNally: "Sailing and Surviving in the Weather of the 1780's." Lou McNally, esteemed broadcast meteorologist and associate professor at the University of Maine.
Monday, July 13
1-2 pm: Laura Auricchio: Author, The Marquis: Lafayette Revisited. Discussion and book signing.
2:30-3:30 pm: Don Cyr Storytelling at the Unitarian Universalist Congregation Parish House
4-5 pm: Paul Mayewski: "Timing Is Everything – Weather, Climate and the Course of Civilization". Paul Mayewski, Director, Professor, Climate Change Institute, University of Maine
Tuesday, July 14
11 am-10:30 pm: A Bastille Day Celebration on the Waterfront featuring: Franco-American and Acadian music, dance storytelling, local and Maine made vendors, delicious food and drink
2-4 pm: Parade of Boats accompany the Hermione
4 pm: Hermione arrives at the Castine town dock (time approximate)
6 pm: Welcome Parade down Main Street from the Castine Historical Society to the Waterfront
6:30 pm: Welcome Ceremony on the Waterfront
9 pm: Fireworks
Wednesday, July 15
9 am-10 pm: A Celebration on the Waterfront featuring: historic, nautical and Franco American music, dance, local and Maine made vendors, delicious food and drink
9 am-5:30 pm: Ticketed visits of the top deck onboard the Hermione
3-3:30 pm: Mt Vernon Portrait Presentation with George Washington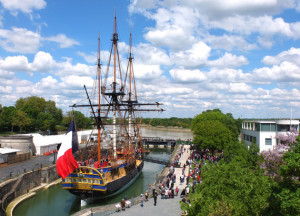 Here's full schedule for the Hermoine's North American ports of call.
June 5-7: Yorktown, Va.
June 9: Mount Vernon, va. (ship at anchor)
June 10-12: Alexandria, Va. (city dock)
June 16- 17: Annapolis, Md. (city dock)
June 19-21: Baltimore, Md. (adjacent USS Constellation & Pride of Baltimore)
June 25-28: Philadelphia, Penn. (with Tall Ships America/Independence Seaport)
July 1-4: New York, N.Y. (with educational ships from U.S. east coast) July 6, 7 Greenport, NY (with Tall Ships America )
July 8-9: Newport, R.I. (with Oliver Hazard Perry-Fort Adams)
July 11-12: Boston, Mass.-(Rowe's Wharf)
July 14-15: Castine, Maine
July 18: Lunenburg, Nova Scotia, N.B.
Visitors can join the festivities at any point along the route and enjoy tours on board or pier-side where activities are scheduled, including, historic shipbuilding crafts demonstrations, interactive conversations with the young volunteer sailors, and a lineup of cultural activities like costumed performances by seasoned re-enactors, concerts of period and contemporary music and food and craft exhibitions. A traveling photography exhibit covering the 17 years of the Hermione's reconstruction will accompany the frigate and will be free to the public in each port with companion exhibits at The New-York Historical Society, the Museum of the U.S. Navy in Washington, D.C., and The Athenaeum in Boston. Philadelphia will host a recreation of the meal aboard the Hermione that the Continental Congress enjoyed with Washington and La Fayette at City Tavern, the oldest tavern in America.