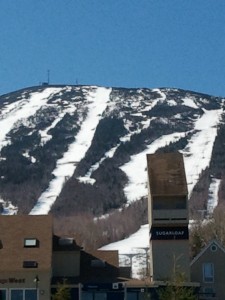 I know, I know: The grass is growing, the flowers are blooming, the golf course is open. Well maybe where you are, but not up at Sugarloaf. I just came off the hill, and the conditions are excellent. Yes, excellent. Sure, some of the trails with natural snow are sketchy, and yes, there are a few balding patches here and there, but so far, they're easy to avoid. Snow is holding up well.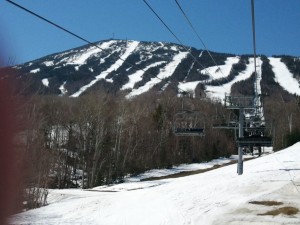 This morning I skied Skidder, Comp, Gauge, Sluice, Gondy, and Wedge—a couple of those twice. While Middle Wedge was excellent, where it merges with BubbleCuffer will likely require some creative maneuvering or walking in another day or so. Lower Gondy required a few quick turns, and Gauge had a rough patch, but everything was quite skiable. Forecast looks good, and the price is right. Springtime ticket rates are now in effect: $49 for adults, $39 for teens, and $29 for juniors and seniors.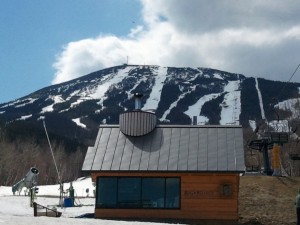 And if you're a sports fiend, ink the annual Ski and Tee on your calendar. On May 14-15, you can pair skiing with a quick nine on the golf course. Golf only is $39, show your lift ticket, and it's just $25. [cancelled].
If you're a real glutton for punishment, you can also run in the Sugarloaf Marathon that Sunday, May 15 (too long? there's also a 15k).
Heck, the river's running, why not throw the boat on the car and add a little whitewater!