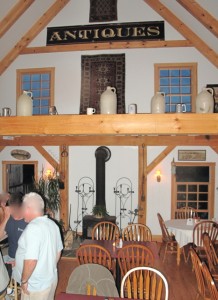 I have a new candidate for the best fish and chips in the Mid-coast/Penobscot Bay region: Hatchet Mountain Publick House. Never heard of it? Neither had I, until I started checking the participants in this year's Eat for Pete's Sake, a benefit in which local restaurants donate a percentage from one night's proceeds to the Knox County Humane Society. I asked around, I Googled, and I didn't discover much, so our group of eight decided to give it a try. Eureka!
The Hatchet Mountain Publick House is located in a beautifully renovated barn in Hope, Maine. The location, just up the road from the Hope General Store, doubles as the location for owner Brian O'Neil's antiques business, too. No surprise that the interior is decorated with antiques. The spacious barn is bright and airy and open, with a small bar area and tables downstairs and a small loft area, too. It's been around since 2007, but it keeps a low profile.
The menu emphasizes tavern fare, but they're elevated from the usual humdrum choices. Almost everything is made in house, including the breads. Consider papelbon poppers ($12), made with chunks of marinated boneless duck breast wrapped i bacon with cream cheese and fresh jalapeno peppers, grilled and served on a bed of dressed mixed greens. I snagged one nibble of these off a friend's plate, and I wouldn't hesitate to order them in the future. They were rich in flavor, spicy enough to have me suck air.
I was all set to order the fish-and-chips, when our waitress ticked off the specials. I opted for fish tacos instead. The fish was extremely fresh and not fried and accented by a nice minced salsa, and the tacos (2) were served with a large order of hand-cut fries, which I couldn't stop eating. I was quite content, until I snagged a taste of the fried fish off my friend's fish and chips order. The beer batter coating was crispy, light, and dry—not at all greasy; the haddock inside was fresh and moist. Again, it was paired with those wonderful fries. Our waitress later mentioned that on some nights, the restaurant offers duck confit tacos, made in house, as well. I'll be keeping an ear open for when these are on the menu, as I'm intrigued.
Owner Brian O'Neil checked on our table frequently. It's nice to see that kind of friendly attention and interest in his patrons opinions. Beyond tavern fare, there are heartier entrees ($11-21) such as bangers and mashed, chicken Marsala, shrimp Alfredo, and bourbon-marinated hanger steak, but none of our party got to that side of the menu.
The Hatchett Mountain Publick House maybe out in the boonies of Hope (lovely, boonies, I might add, an enjoyable ride with plenty of eye candy —barns, farmhouses, ponds—enroute), but it isn't a secret locally. Reservations are wise, before making the trip.