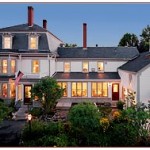 I love the Hartstone Inn, in Camden. It's not only a delightful inn, but also a culinary destination, with a wonderful dining room and even a cooking school program (Chef/co-owner Michael Salmon just cooked at The Beard House in New York with the chef from the Camden Harbor Inn).  Now March isn't Maine's finest month on the coast, but it's still a fine time to visit Camden and take advantage of the Hartstone Inn's March Madness special, which includes the best available room and a five-course dinner for two for $195 (Sunday through Friday nights, or $225 on Saturday night). Wait, it gets even better, add a second night for $95. As always, the rate includes a full breakfast and afternoon treats.
As for Camden in March? The Snow Bowl ski area might still be open in early March (especially this year, given the mega storms that have hit the coast), and there are plentiful and fun downtown shops. Nearby Rockland has the Farnsworth and Owls Head Transportation museums. Depending upon conditions, consider hiking or skiing/snowshoeing in Camden Hills State Park at Tanglewood.
NOTE: Copied here is my review of the Hartstone Inn, written in 2007 for the Boston Globe. Please note that prices and details likely have changed since it appeared.
CAMDEN—Fine inns are a dime a dozen in Camden, a seaside town wrapped around a way-too-picturesque harbor with a mountain backdrop. The setting for the old TV series Peyton Place, Camden has been a tourist-magnet for decades, and with keen competition between local lodgings, the bar is high. What sets the Hartstone Inn apart are its food and, in a business renowned for reeling in and spitting out corporate refugees, the longevity and professional training of its owners.
Michael and Mary Jo Salmon are the ideal B&B team. Both were educated in the hospitality trade. They met while working at a resort, Mary Jo on the management side, Michael, a Culinary Institute of America grad, in the kitchen. Since purchasing the downtown Camden inn in 1998, they've earned a reputation for providing an elegant retreat combined with excellent fare. It's an ideal base for exploring the plentiful antiques and specialty shops, boutiques, and bookstores, without the parking hassles.
The Hartstone actually encompasses three properties, the main Victorian-style inn, the adjacent Manor House, with two suites decorated in a more contemporary fashion, and The Hideaway (previously operating as the Nathaniel Hosmer Inn), about a block away in a residential neighborhood. The latter, added to the fold this year, has French-country flair and a massage room (expected to open by early November).
We booked the Arbor Suite, in the ell of the separate Manor House, but accessed through the inns parking lot and gardens. With king-size sleigh bed, love seat, flat-screen TV, DVD, CD player, gas fireplace, robes, and Jacuzzi bathtub, soft linens and fluffy towels, it came almost as described on the inn's web site. Almost, because I inferred that the sun porch was private and part of our room. It wasn't. It was shared with another room, and accessing it required going outside.
Still, we loved the suite's feeling of privacy. It was removed from the in-town action, yet steps away, and only a driveway provided access. A water fountain gurgling behind it masked any street noises, and high windows on the back wall and sky lights in the beamed cathedral ceiling let us draw the blinds on the front windows for even more seclusion, and still have plenty of natural light.
Speaking of light, I do have a few quibbles. The biggest: none of the room's lamps provided sufficient light for reading. Also, although the inn serves a nice selection of decent teas, along with decadent, house-baked cookies every afternoon, it doesn't service tea drinkers well. The in-room coffeemaker came with coffee, but no tea (and strangely, only one cup was provided). Thankfully I noticed that early enough to request both a cup and tea bags for the morning, since coffee (not tea) isn't available in the common rooms until 7:45. An in-room electric teapot would have been even better.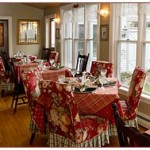 Back to the food. Michael came to Camden already having achieved notoriety as Caribbean Chef of the Year, during their years at a resort in Aruba, and earlier this month [October], he cooked at New York's Beard House by invitation. Every night, he prepares a five-course, set-menu, single-seating dinner. Advance reservations are essential for the $45 feast, which also attracts in-the-know locals. As advised, we made reservations when booking our room.
Tables aren't assigned, and we chose one in the dining room as opposed to the more crowded porch. The meal began with an appetizer of honey-seared duck breast with peppered papaya and a walnut-honey dressing that left us wanting more, despite the ample portion. Next came cream of carrot soup with nutmeg croutons and dill cream, sublime. A blueberry sorbet provided a brief respite and a chance to chill the tastebuds. The night's entrée, haddock Oscar, with Maine crabmeat and grilled asparagus served with wild rice pilaf, was divine, perfectly cooked and came accompanied by grilled red peppers, haricot verts, and carrots. Although determined to only sample my dessert, the Grand Marnier soufflé with orange creme Anglaise proved irresistible. We waddled out of the dining room and walked Camden's now-quiet streets and window-shopping, before returning to our stylish retreat.
Normally we rise and eat breakfast early, but after the previous night's indulgence, we appreciated that the first seating wasn't until 8:30 a.m. On this morning, we experienced a version of "life's too short eat dessert first." The first course, zucchini-walnut bread sandwiching vanilla pastry cream and topped with a mango-and-raspberry yogurt with citrus curd, melon and star anise, could have been a meal in itself, but it was the appetizer for cranberry-crunch French toast with bananas accompanied by Michael's house-made pork sausage wrapped in bacon. Sigh. One doesn't go hungry at the Hartstone Inn.
Those left salivating for more can register for one of the inn's "Fun for Foodies" packages, ranging from a day with a local cheesemaker or pastry chef to cooking classes and wine dinners.
NOTE: This was written in 2007, so expect prices and other details to have  changed.