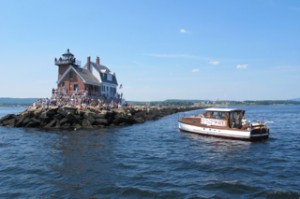 Rockland rocks. Named a Distinctive Destination by the National Trust for Historic Preservation, the small Maine coastal city edging Penobscot Bay retains the heart and spirit of a working town; buzzes with the added pizazz of excellent museums, a vigorous arts scene, surprising restaurants, and independent shops; and delivers a more than generous serving of lobster, lighthouses, and windjammers.
Plunk down in Rockland, for a few days, and you'll experience the best Maine has to offer—without having to put endless miles on your vehicle. Heck, thanks to air and bus service and a compact downtown, you can even get by without a car.
Why do I love Rockland? For so many reasons, I had to be a bit creative when naming my top 10.
Lighthouses, camera, action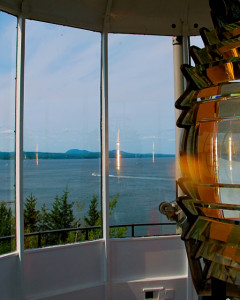 Begin at the Maine Lighthouse Museum, after soaking up the facts, legends, and lore, put on your walking shoes for the nearly one mile jaunt over the jetty to Rockland Breakwater Lighthouse at the tip (volunteers usually open it on weekends and for special events). Next hop in the car (or get on a bicycle) and mosey  to the Owls Head Light, then segue over and down the St. George Peninsula to Marshall Point Light.
Lobster!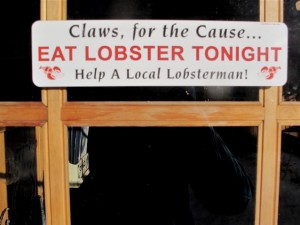 Oh, yes, Rockland, home of the Maine Lobster Festival, has you covered, with some form of the tasty crustacean on nearly every menu in town. Prefer to roll-up-your-sleeve and muckle on to one at an oceanfront picnic table? Yup, got that, too.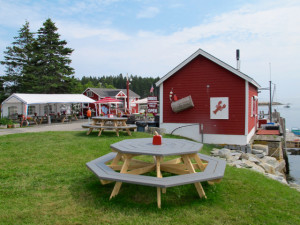 Two faves: Waterman's Beach Lobster, in South Thomaston (closing for good Sept. 4, 2016 sniffle, sniffle), and the it-doesn't-get-any-better-than-this McLoon's in Spruce Head, both within 20 minutes of downtown Rockland.
If you want to know the nitty-gritty about the tasty crustaceans, join Capt. Steve Hale aboard the Captain Jack, a 30-foot working lobster boat for a 1.25-hour hauling cruise.
Arts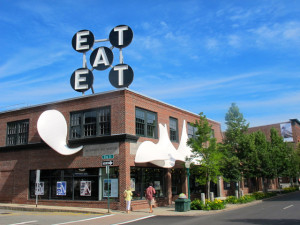 It wouldn't be a stretch to call Rockland Maine's most art-centric town, thanks to the fabulous Farnsworth Museum, the new in 2016 and fabulous Center for Maine Contemporary Art, and the galaxy of top-notch independent galleries surrounding them.
Take it all in on the monthy First Friday Art Walk, when participating museums usually offer free admission.
Catch a concert, lecture, performance, or film at the Strand, a beautifully restored 1923 theater downtown.
Shop
Lining Rockland's Main Street are independent shops, thrift stores, boutiques, and galleries l, like The Grasshopper (this, that, and everything inbetween), Archipeligo (made on the islands) and Fiore (extra virgin olive oils, mmm!), and branch out from there.
Puffins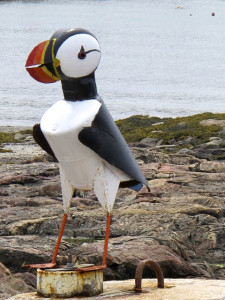 C'mon, you know you've always wanted to see these funny looking birds, a.k.a. the clowns of the sea. If you can't manage a trip to see the puffins, the Project Puffin Visitor Center will bring them to you. Watch live videos of nesting puffins, explore interactive exhibits, and view films highlighting the successful efforts to restore and protect them. On Wednesdays evenings during July and August, there's a weekly lecture series. And you can find out about seasonal puffin-viewing trips.
Trains, planes, cars, and boats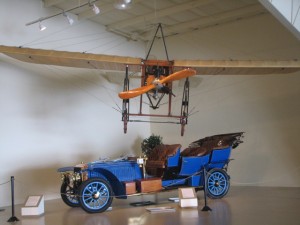 For transportation buffs, the choices are plentiful. The Owls Head Transportation Museum, just over the town line in Owls Head, is a must. Everything on view—wheels and wings—is in primo condition, and on special event weekends throughout the summer, the planes soar, the bikes role, and the cars motor by.
Newer on the scene is the waterfront  Sail Power & Steam Museum, where displays highlight Rockland's maritime heritage.
Windjamming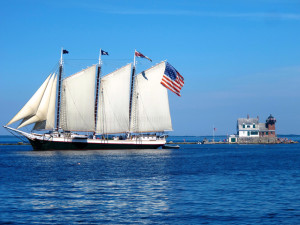 Rockland vies with Camden for the title of Maine's windjammer capital. About half of the Maine Windjammer Association fleet is now based here. If you can't get away for a few days, book a two-hour sail aboard A Morning in Maine, Capt. Bob Pratt's 55-foot ketch, designed by noted naval architect R.D. Culler and built by Concordia Yachts.
Best vantage points for viewing and photographing windjammers sailing in and around Rockland Harbor are the Rockland Breakwater  and Owls Head Light (Hint: Best photo opp is during the annual Maine Windjammer Association Parade of Sail event in July).
Eat!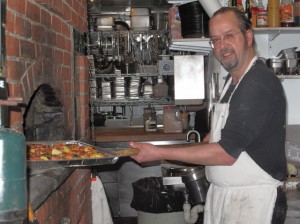 Portland may get all the attention, but Rockland's food scene is a sleeper . Start with two James Beard award winners: Melissa Kelly, who owns Primo, a farm to table restaurant on the southern edge of town, with her partner Price Kushner (be sure to tour the gardens and animal pens before dining in the restaurant or upstairs lounges), and Waterman's Beach Lobster, named an American Classic.
Stroll down Main Street, and the possibilities include the region's best Japanese, Suzuki's Sushi Bar, and best wine & tapas, In Good Company. For eclectic ethnic overload, Cafe Miranda rules. Indulge in breakfast at Home Kitchen Cafe (the huervos rancheros, with house-made corn tortillas, are a slam dunk) or Brass Compass. Not to mention Fog and 3 Crow, and the food trucks down by the harbor, and…and those are just off the top of my head.
Island hop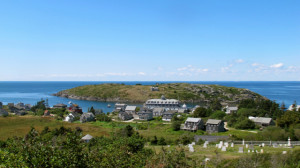 Ferries tether Vinalhaven, North Haven, and distant Matinicus to Rockland. Both Vinalhaven and North Haven are great day trips. Ferries are also the least expensive way to see the coast from the water. Don't even consider bringing a car to either island, unless you're planning a long stay and need it to get around (you can rent one on Vinalhaven); foot or bike are the preferred methods of getting around on both. IF you simply want to ride out and back for a quick look-see, ask for the excursion fee which allows you to return on the same ferry at a discounted fare.
The ferry to Monhegan departs from Port Clyde, about a half-hour's drive south from Rockland, and well worth a day trip.
Speaking of islands, make it a point to visit the Maine Coastal Islands National Wildlife Refuge Visitor Center, if only to check out the really cool map of the Maine Coast in the lobby, if not the handful of exhibits.
Sleep: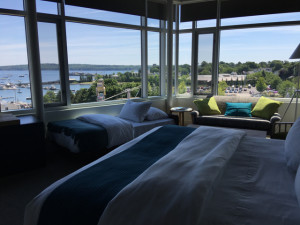 Rockland may not have a lot of lodging options, but it does have some stellar ones.
The three member inns of the Historic Inns of Rockland: Berry Manor Inn,  Granite Inn, and Limerock Inn are located in the city's historic district and within walking distance to all downtown sights; all three are elegant, and each has its own style.
Also intown are two boutique hotels, the historical Lindsey Hotel and the ultra artsy new-in-2016 boutique hotel 250 Main facing from Harbor Park.
The Rockland Harbor Hotel is a masterful renovation of a former lackluster property sited across from the ferry terminal.
The Samoset Resort, within walking distance of the Rockland Breakwater, is a full-service oceanfront property with golf course, spa, and all the other whistles and bells you'd expect.