Open Lavendar Farm Day
The "Purple to the People" folks at Glenvarragh Lavender Farm are inviting visitors to their annual Open Lavender Farm Day, Saturday, July 3, from 10 a.m.-4 p.m. in Appleton. Meander gardens and view plants in various stages of growth, learn about the new high tunnel, and mosey about the lavender fields, hayfields, and wildflower meadows and down to the St. George River.
"We have a limited number of English and French varieties on hand for eager gardeners and will be happy to discuss growing techniques with any and all. We'll also offer our lavender lotions, balms and pillows, in addition to lavender goodies from other U.S. farms and soaps from as near as Camden and as far away as Marseille, in a impromptu version of our Camden store set up in the barn. Let Them Eat Cake will offer their soon-to-be-famous lavender shortbread for sale."
Bring a picnic lunch and enjoy the farm's lavender lemonade.
Camden Garden Club House & Garden Tour presents Midcoast Decorator Showhouse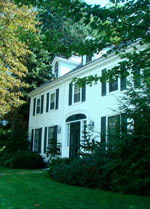 Camden Garden Club's 63rd (!) annual House & Garden Tour takes place on Thursday, July 15, 2010, and will include its first decorator showhouse, an 1863 Federal-style home and cottage in the High Street Historic District. A Gala Preview Party ($75, request invitation)  is scheduled July 14, and Twilight Night party and wine tasting is schedule the evening of July 15 ($20, tix at door) and the house will be open for leisurely tours on July 16 ($20, tix at door). Decorators will be on site to answer questions during tours and events.
The garden tour includes homes and gardens in Camden and Rockport, on the water, in town, and tucked in the hills. Complementary events include a container-gardening demonstration by Plants Unlimited. Advance tour tix are $25 and can be purchased on line or at local businesses; day of tour tix are $30.
Salt Water Farm's July Fests
Oh here's a treat, if you're quick to reserve: Salt Water Farm, in Lincolnville, is offering two feasts in July; both are limited to 20-30 guests by advance reservation. Fee for either is $50, plus a recommended $10 gratuity.
Menu for Full Buck Moon Supper, July 26:
A Taste of: Chicken Liver Toasts, Pickled Red Onions
First Course: Sweet Corn Soup, Sautéed Local Crab, Basil Oil
Salad: Garden Greens and Peas, New Potatoes, Farm Egg, Pickled Onions, Herb Vinaigrette
Second Course: Seared Halibut, Sautéed Royal Trumpets, Cipollini Aigre Dolce, Crispy Kale
To Finish: Raspberries Cooked in Chambord, Olive Oil Cake
Note: Full Moon Suppers are held monthly on a Monday. BYOB.
Menu for Sunday Supper, July 11:
A Taste of: Spread of Local Cured Meat and Cheese, Olives
First Course: Linguine with Fava Beans, Garlic, Tomato & Bread Crumbs
Salad: Roasted Beets, Greens, Gorgonzola, Pine Nuts
Second Course: Grilled Pork Sausage, Grilled Eggplants, Tomatoes, Red Onions and Squash
To Finish: Tiramisu
Note: Sunday Supper Club meals are served family style and offered on designated Sundays. BYOB.
Upcoming classes and events

You might also consider registered for one or more of the farm's upcoming cooking classes. And, for the true gourmand, consider the farm's Second Annual Maine Event: A Week of Butchering, Shucking, Roasting, Smoking, Pickling, Preserving, and Distilling on the Coast of Maine. (Now, that's a mouthful, and an adventurous and tasty one at that. See site for details.)