Ready to point and shoot? Maine has 14 sites designated as National Natural Landmarks, and the National Park Service is looking for photos. Winning photos in the 8th annual National Natural Landmarks Photo Contest will appear in the 2012 50th anniversary commemorative national natural landmarks calendar.  Cool, eh?
We're not just talking rock-bound coast and granite-nosed peaks, either. According to the NPS, natural features represented in Maine include classic and undisturbed sphagnum and kettle-hole bogs, one of the best alpine vegetation zones among New England's 4,000-foot peaks, and one of only six known coastal, raised plateau bogs in the U.S. Yessirree, folks, Maine is an environmental classroom, and a gorgeous one at that.
If this photo competition isn't an invitation to explore Maine's hidden natural treasures, nothing is, but please, do research each site first, as some are privately owned and not open to the public. Here's a condensed version of the NPS description of  each.
Among Maine's 14 National Natural Landmarks are icons: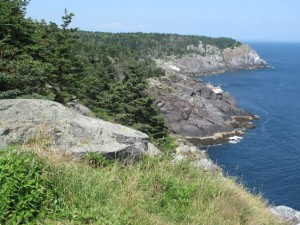 • Monhegan Island (The coastal and island flora here, considered the only sizeable example in near virgin condition in the northeastern United States, supports dense, almost pure stands of red spruce, more than 400 species of wildflower, and a variety of bird species)
• Mount Katahdin (The kames, eskers, drumlins, kettleholes, moraines, and erratics on Maine's highest peak provide a complete illustration of glacial geology, and the virgin forests, alpine-tundra ecosystems, and unaltered lakes and streams add to the scenic and scientific value)
• The Hermitage (One of the few undisturbed, old-growth white pine stands remaining in New England; trees reach 36 inches in diameter and 120 feet in height)
• Gulf Hagas (This steep-walled, youthful gorge, cut by a wild river through folded and tilted slates and siltstones, hs waterfalls, cliffs, and growth of spruce-fir forest on its walls)
• Bigelow Mountain (In terms of size, condition and lack of disturbance, Bigelow possesses one of the best alpine vegetation zones among New England's 4,000-foot peaks)
but don't overlook these less-known gems: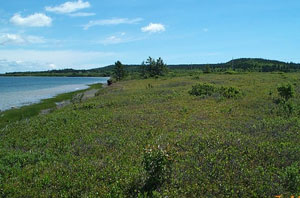 • Carrying Place Cove (This coastal, raised plateau bog is one of only six such fully-featured peatlands in the country)
• Colby-Marston Preserve (Home to a northern sphagnum bog with distinct and well-defined vegetation zones that's ocated in a deep kettle hole and exceeds a depth of 40 feet)
• Appleton Bog Atlantic White Cedar Stand (a large peatland with continuous forest cover and well developed hummock-and-hollow topography that's home to a large stands of virgin Atlantic white cedar—the most extensive growth of this species at the northeastern limit of its range)
• New Gloucester Black Gum Stand (This small, remnant, forested swamp dominated mostly by virgin black gum occurs at the northernmost limit for this species)
• Penny Pond-Joe Pond Complex (an intertwining network of eskers, this wetland complex comprising kettle hole bogs and ponds is part of the outwash plain of the Belgrade esker and supports a diversity of vegetative communities)
• Crystal Bog (This undisturbed, sphagnum bog, considered one of the largest and finest in Maine, has geologic features that include several eskers)
• No. 5 Bog and Jack Pine Stand (Comprising a large peatland exhibiting a diversity of boreal vegetation associations and well-defined, surficial glacial features and an adjacent mature stand of jack and red pine, this is the only large, intermontane peatland and one of the few expansive, virgin landscapes in the northeastern United States)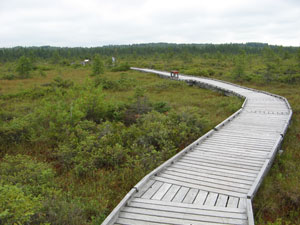 • Orono Bog (Occurring in a glacial depression, this classic, northern sphagnum bog illustrating zonation of flora from lowland and bog to upland forest is uniquely accessible to the public)
•  Passadumkeag Marsh and Boglands (One of the largest, unspoiled wetlands in Maine, this site contains a unique blend of bog and marsh communities: the marsh is partially bounded by eskers, including the classic Passadumkeag Esker, or Enfield Horseback, known world-wide as an example of glacial geology)
Contest entries will be accepted through June 30, 2011 and winners will be announced in September.