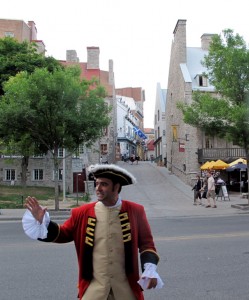 Since I live in Maine, I tend to consider Quebec City as my backyard. This 400+ year old walled city is Paris without jetlag, Europe without the Euro, and I adore it.
In summer, musicians, jugglers, bands, acrobats, and other entertainers are on nearly every street in the Old City; cafe tables overflow on the streets; flowers are everywhere. It's lively, energetic, fun, and festive every day. If that's not enough add Quebec City's renowned summer festivals, with nonstop music and French flair.
But don't rule out a visit in winter, especially for Carnival — nobody does a winter carnival any better than QC. Plus, the city makes a fine base for skiing at Stoneham, Mont Sainte-Anne, and Le Massif; there are shuttle services for all, and a gourmet excursion train that travels along the shoreline of the St. Lawrence to Le Massif (if you can swing this, don't miss it).
Thinking of visiting? Here are my Top 10 musts, none of which require a car as long as you're willing to hoof around the city's steep streets and up and down even steeper stairs: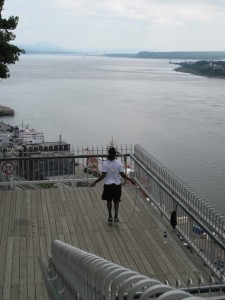 • Walk, walk, walk: The best way to discover Quebec City is to don walking shoes and go. Walk the city walls (this is the only fortified city north of Mexico); up and around the Plains of Abraham (named for an early settler),  along the Promenade des Gouvernors and Dufferin Terrace (views! views! views! That's where I saw the jump-roper pictured). In winter, don't miss the toboggan chute; it's a blast.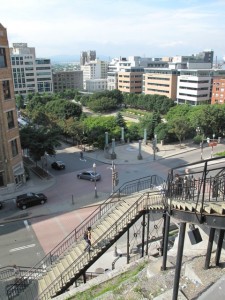 Next, head down the Breakneck stairs and through Petit Champlain, Place Royale, and out St. Paul Street to the Vieux Port, perhaps continuing on to Nouveau St. Roch, then up-up-up the stairs (pictured) and onward and upward to St. Jean Street, and returning through the St. Jean gate to the upper section of the old city. Along the way eat, enjoy street performers, eat some more, shop the boutiques, galleries, and antiques shops, visit museums, and simply feast on the city. If you get tired, hop aboard the Ecolobus ($1—a Loonie), which circulates on a 20-minute route through the upper section of the Old City and the Old Port.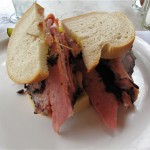 • Eat, eat, eat: Nibble your way through the Vieux Marche, in the Vieux Port area. It's filled with vendors selling their farm-produced goods from fresh fruit to smoked meats, ciders to face lotions. It's a sensual experience, rich in sights, scents, sounds, and textures. The frommagerie (that's cheese, folks) is one of the best in Quebec, if not Canada, and stocks all manner of cheeses not available in the states, and don't miss the market in the back that's filled with spices and teas.
That's not the only foodie must. Visit Brynd for a smoked meat sandwich and Chez Ashton for poutine; locals all pointed me to these two spots as musts. Stroll along St. Jean Street, both inside and outside the gates. If you're  tea fan, David's Teas is a wonder (I left with all  manner of teas and am thrilled it ships, too).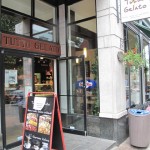 Outside the gate, the finds continue. Don't miss Moissan Market, the oldest in Quebec City: narrow aisles filled with all kinds of specialty foods and treats, cheeses and pates; Errico Chocolate, a museum and choclaterie where you can buy the most fabulous hot chocolates (try the Tanzanian, mmmmm);  Tutto Gelato, the owner came from Italy and imports most of his ingredients from there, delicious, authentic, wow; or Le Billig, for authentic Belgian crepes. And there are bakeries and meat markets and so much more.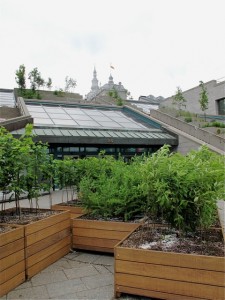 • Museum of Civilization: Down in the lower section of the Old City, facing Dalhousie Boulevard. It's an excellent introduction to Quebec's history, heritage, and culture with three permanent and seven changing, multimedia/interactive exhibits. Nice blend of old and new, historic and cutting edge, which carries into its architectural design and location.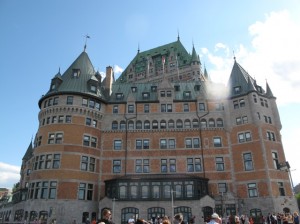 • Fairmont Chateau Frontenac: It's a city icon, and so rich in history. It's currently undergoing a $70 million restoration and will reopen in June. If you've visited previously, you'll find old favorites have undergone complete changes. The Champlain Restaurant and Bar St. Laurent have been gutted and completely renovated. Champlain will be less formal and focus on Quebec cuisine. Bar St. Laurent becomes the 1608 Wine & Cheese Bar, with a dedicated cheese room and a library décor; the adjacent lounge will be rechristened as Le Sam, a bistro-style restaurant with a mixologist. When it reopens, go to experience an important piece the city's history.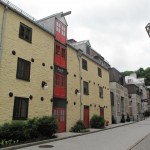 • Auberge Ste. Antoine: Adjacent to the Museum of Civilization in the lower city, the auberge houses one of my all-time-fave boutique hotels as well as one of the city's best restaurants, Panache, and a great bar/cafe, Artefact. Go for a drink and light fare in the cafe or go for breakfast in Panache if you can't afford to  stay or splurge on dinner, but do check the exhibits. It tops a 400-year-old archeological site, and artifacts found during excavations are displayed throughout the hotel. Artefact Lounge has a window to the underground; tres cool!
• Musee des Beaux Arts: Translation, the Quebec Art Museum, and it's a gem. Located on Battlefields Park on the Plains of Abraham, the museum houses the largest existing collection of Québec art, with nearly 35,000 works representing 4,000 artists, dating from the 17th century to the present. The original museum was housed in the ornate Neoclassical Gerard-Morisset building, opened in 1933. The museum expanded in 1991 to include the renovated  Charles-Baillairage building, the former city prison (kids love the old cells). The two are connected by the Grand Hall, an expanse of glass and granite. Note: Although I haven't dined here, locals kept telling me the cafe is fabulous.
• Ferry: For the best photos of the city, walk on the ferry that connects Quebec City to  Levis, across the St. Lawrence River. Better yet, rent a bicycle and pedal the bike paths on both sides of the river. It's an inexpensive way to enjoy a brief cruise—1 km, 10 minutes each way—on the St. Lawrence.
• Notre Dame de Quebec: The first Catholic parish north of Mexico and the Spanish colonies is celebrating its 350th anniversary this year and has opened a new museum focused on its history. This year  (2014), you can step through the only Holy Door in North America; it close at the end of the year not to be reopened for 25 years or unless the Pope allows it to be for a special occasion. It's the seventh Holy Door in the world (four in Rome, one in France, and one in Spain). The Holy Door is rooted in a ritual that dates back to Rome in the 1400s. The door is special, yes, but this church is spectacular inside. If you're a fan of European cathedrals, don't miss it.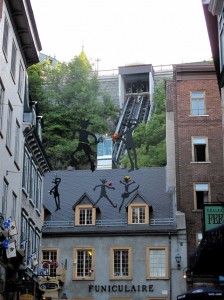 • Touristy Treasures: Yes, toursity, but worth taking the time to see and do. Rue du Trésor, the artists' open-air gallery; the Funiculair (see image) the funky, cliff-climbing glass-walled elevator linking Dufferin Terrace to Petit Champlain; the murals–one facing Cote de la Montagne steet near Place Royale, another at the end of Rue Petit Champlain (the latter is my favorite; I think it has more personality and attitude). I also love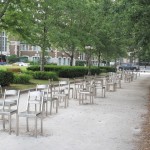 the poetry chairs, anart installation designed by Michel Goulet and located near the Via Rail Station in the Vieux Port area. It was a gift from Montreal for the city's 400th anniversary in 2008. Makes me just want to plunk down and relax. And the nearby fountain is a fine place for a picnic (perhaps with a smoked meat sandwich from nearby Brynd?).
• I have two faves tied for to round out my top 10: Montmorency Falls or Isle d'Orleans. Both are great bicycling trips, thanks to the city's biking paths. both worth visiting. The 273-foot falls, departure part for the Charlevoix gourmet excursion train, is a frozen confection in winter, a torrent in summer. The bridge-connected islands is rife with farmstands, artisan's shops, boutiques, wineries, a chocolatier, and a smashing summer restaurant overlooking a vineyard from the folks at Panache.
And really, I could go on and on about Quebec's calling cards. Just go, and discover them for yourself. You won't be sorry.
LODGING SUGGESTIONS: Where to stay in Quebec City, my faves.

• You often can find good packages at the Fairmont Chateau Frontenac. The Chateau has just completed a $70 million renovation that included all rooms. Some retain historical decor, others are more contemporary in style;  are tiny, others palatial, some have to-die-for views over the river and old city. Parking fees are very expensive, around $40 self park, per day. The public lot below on Dalhousie Street is far less expensive (when I checked, it was $18 per day), as is the garage off Cote du Palais (about $51 for three days). Still, it's the Frontenac, and it's a Fairmont, and it's humongous! Look for Santol, the hotel's canine ambassador lounging near the bell desk. $$$$
• Manoir Victoria: I stayed there this time courtesy of Quebec City tourism. Really liked it. Great location just off Rue St. Jean in the upper section of the Old City and B&B rates include a nice hot-and-cold buffet breakfast. It's an especially good choice for families. Rooms are quite large. There's an indoor pool and a small spa. Excellent moderate choice. Parking in its garage is $20 per day. $$$
• Auberge St. Antoine: Wow, just wow! Stayed here first a couple of years back while researching an arts story, and fell in love with the hotel. It's chic and sophisticated in the modern rooms, elegant and traditional in the historic-themed suites. See above for info on the lounge and restaurant. It now has a small, but lovely spa; the fitness room is a hoot, with aerobic machines arranged around an indoor birch tree. Definitely a splurge—this is a Relais & Chateau property—but rates drop in the off season.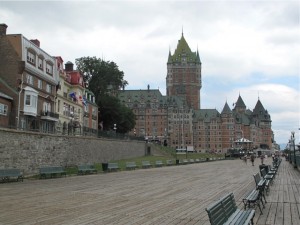 • Hotel Terrace Dufferin: I popped into this B&B tucked behind the Chateau Frontenac but facing the boardwalk and river, and I also chatted with some guests. For budget-minded travelers, this is a find. Rooms are nice, but not fussy; some have kitchens. A continental breakfast is available (but you'd do better elsewhere on that). Some rooms have balconies overlooking the river and Terrace Dufferin boardwalk.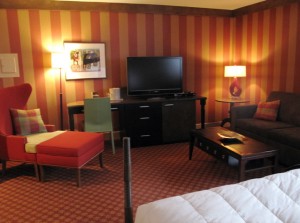 • Hotel Champlain: Stayed here during a winter visit in 2011 and loved it! So convenient. It's on a quiet street in the upper section of the old city, and everything is at your fingertips. Hotel has a hip decor, with  funky undertone, yet is quite comfy/cozy. The continental breakfast buffet includes hot eggs (nice!). Parking is available (reserve in advance, $15). Pricier rooms (like the junior suite, pictured) have views; some have fireplaces and whirlpool tubs; all rooms have free Wi-fi and a fridge.
• Ice Hotel: Swaddle yourself in layers and chill out at the ice hotel, a seasonal accommodation created from snow and ice. There are rooms, suites, even rooms with fireplaces, as well as a sauna and hot tub, and, of course, an ice bar. Definitely an adventure, and a brag-worthy one at that.
WHERE TO EAT: Some of my favorite restaurants in Quebec City
Truly, it's hard to get a bad meal. Do a little research, ask locals; everyone has some place to recommend. Here are a three, one in each price range.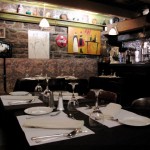 • Cafe Le St. Malo: Located on Rue St. Paul, amidst the arts and antiques shops, this little gem is so cozy, so comfy, so romantic, so tres French! It's tiny, so you'll likely want to make reservations during peak seasons or on weekends. In winter, ask for a table by the fireplace. The food is hearty and delicious: try the cassoulet, or the duck confit, or the mussels with frites. Prices are moderate.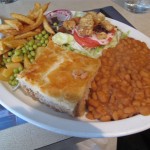 • Buffet de L'Antiquaire: Practically next door to Cafe Le St. Malo and a budget find. Expect humongous portions of good, hearty, Quebecois fare: meat pies are a specialty. Unless you have a huge appetite, consider splitting a main plate and pairing it with a soup, which comes with a plastic-wrapped roll (I'll forgive them, this place isn't about fine dining, it's more of a dinner). My lunch could have served a family of four. There's seating downstairs, at a counter, and upstairs, too). Expect it to be busy; it's a local favorite, but isn't really on the tourist radar screen. Serves breakfast, lunch, and dinner.
• Panache/Cafe Artefact: Panache, in the Auberge St. Antoine, adjacent to the Museum of Civilization, is one of the city's top tables, and well worth the splurge, not only for the food but also for the ambiance and service. Restaurant is in a 400-year-old building. Go for breakfast or lunch, if dinner is out of the budget. Still too pricey? Then consider light fare in the Cafe Artefact, which has a more contemporary decor; hint: in winter, especially, try to score one of the alcoves, with cozy seating by a fireplace.
DETAILS, DETAILS: Everything you need to know is on Quebec City's tourism site.