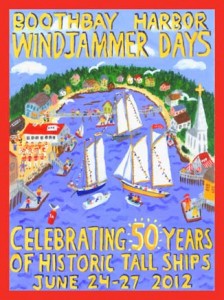 Windjammer Days, in Boothbay Harbor, Maine, celebrates its 50th anniversary June 24-27, 2012. A dozen members of the famed Maine windjammer fleet are expected to sail into Linekin Bay on June 26 and into Boothbay Harbor on June 27.
In addition to the usual hoopla and festivities (sailboat race, golf tourney, pancake breakfasts, waterfront concerts, art & craft fair, street parade, antique boat parade, and fireworks), the 50th anniversary of Windjammer Days promises some new and special events:
• Jammers & Joggers land-and-sea race, June 25: At 7 a.m., local physician Aquilino Alamo will begin running from Rockport, Maine, carrying the Windjammer Days torch. At the same time, schooner captains Joe Tassi and Bob Tassi, identical twins and both schooner owners and charter operators who live and work in Camden, will set sail from Rockport's harbor aboard the top-sail schooner Timberwind.
By land, it's slightly more than 41 miles—a daylong run; by sea, it's about it's about 45.5 nautical miles, depending on weather conditions and the route taken. Dr. Alamo will pass the torch to the Tassi brothers at the Whale Park in Boothbay Harbor to officially begin the Windjammer Days celebration.
• Artist Alley, June 26: A new event, during which Bridge Street and By-Way Street will be blocked for a street fair celebrating the arts, with performances and demonstrations.
• Commemorative pictorial postmark: available on June 27 at the post office and the festival's Whale Park, where special post cards will be available for purchase.