Hungry for something new? Consider one of these special-event dinners in Maine.
Nov. 11: Demonstration Wine Dinner at Five-0, Ogunquit
No, Chef Walter isn't demonstrating wine, he's going to show how to make one of his signature dishes, and guests will have the opportunity to try new techniques. Complementing the show are wine and antipasti, followed by a four-course dinner. $69 pp, includes tax and gratuity.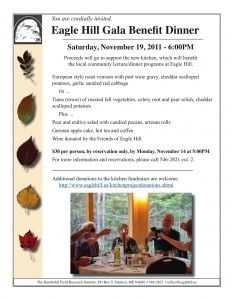 Nov. 19: Venison Dinner at Humboldt Field Research Institute, Steuben
The three-course dinner (with vegetarian option) is $30 pp, and reservations must be made by 5 p.m. on Mon., Nov. 14. Proceeds support a new kitchen, which in turn benefits the community, as it is used for public lectures and dinner programs presented by guest lecturers, authors, and scholars on wide-ranging topics covering natural history cultural history with a scientific focus. 
On the menu:
• European-style roast venison with port-wine gravy, cheddar-scalloped potatoes, and garlic-sauteed red cabbage OR Tiane of roasted fall vegetables with celery root and pear relish, and cheddar-scalloped potatoes
• Pear and endive salad with candied pecans and artisan rolls
• German apple cake, tea and coffee
Plus, wine donated by the Friends of Eagle Hill
Nov. 27: Chocolate Dinner, Natalie's Restaurant at the Camden Harbour Inn, Camden
Kate Shaffer of Black Dinah Chocolatiers (recently named on of 10 best chocolatiers in the country by Dessert Proffesional) and Chef Geoffroy Deconick (nominated Best New Chef in the USA by Food and Wine Magazine) are teaming on a three-course Au Chocolate dinner inspired by Shaffer's recently released cookbook Desserted. Cost is $57, including dinner, welcome reception, and a glass of Prosecco.
On the menu:
• First course: roasted lobster tail served with mango chutney and cacao-paprika sauce
• Second course: roasted chicken breast with rice pilaf and red mole sauce
• Third course: chocolate souffle, with pistachio ice cream and berries marmalade.
Finishing with coffee or tea and an assortment of Black Dinah Truffles