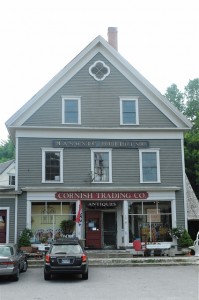 Oh here's a gem, a delightful Maine village that oozes New England charm. Folded in the foothills of the White Mountains, well seasoned Cornish is salted with architectural gems and peppered with antiques and crafts shops. Autumn, when the leaves are dazzling and both the apples and the antiques are ripe for pickin', is prime time for a visit, followed by a ramble through the countryside.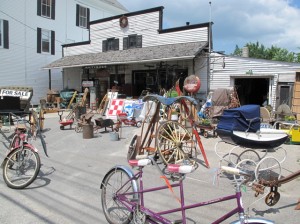 Downtown Cornish isn't big, rather it's more a bend in Route 25 that's lined with shops, along with a classic inn and a good restaurant, and accented with a town square. Park the car, and start shopping.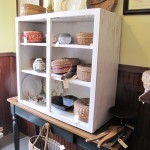 • Cornish Trading Company is a huge multi-vendor shop spread out on multiple floors of the former Masonic building. Every nook and cranny has finds, and just when you think you're through, there's another room, hallway, or staircase.
• Full Circle Artisan's Gallery, across the street, carries fine craft by Maine artists. This isn't your grandmother's craft shop; it's filled with unique and wonderful handmade works—think Christmas, and shop for everyone on your list.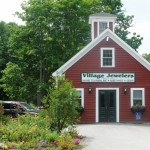 • Village Jewelers, which displays a drool-worthy selection of Maine gems (hint, hint: wish someone would shop for me, here).
• Evie's Eclectic Collections delivers on its name, with merchandise displayed in a beautifully restored mansion; go just for a peek inside, even if you have no interest in shopping.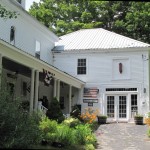 And that's just a taste; there are plenty of other folk art and funky antiques shops on the main drag. Once you've exhausted these, walk up (and I do mean up) High Street, behind the Trading Company to find a quilt store and a couple of more antiques and junktiques opportunities.
Ready to ramble? Mosey over to Parsonfield to view the Parsonfield-Porter covered bridge, a 152-foot double span over the Ossipee River dating from 1859, then on to  Apple Acres Farm in South Hiram. It's just the place to pick Macs, Cortland, Macoun, Spencer, and Golden Delicious varieties and purchase some fresh-pressed cider and perhaps a slice of apple pie.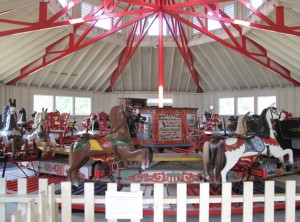 Or drive south along Route 5, the Sokokis Trail, through prime leaf-peeping territory to Limerick, then on to Newfield, for a bit of time travel, New England style. You can easily spend two or three hours poking aboud the Willowbrook Museum Village, a recreated 19th-century village; think Sturbridge without the pizazz.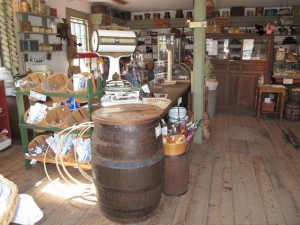 Don King (not the rock guy) and his wife Pan collected classic New England structures, relocated and restored them, and assembled this village comprising 25 National Historic Register buildings. Among the treasures on the lovely grounds are two historical homes, barns jam-packed with eclectic collections, a carriage house filled with restored beauties, a magnificent carousel, a one-room schoolhouse, print shop, and a country store. Really, you must go, if only to see the carriages and the carousel.
Where to sleep: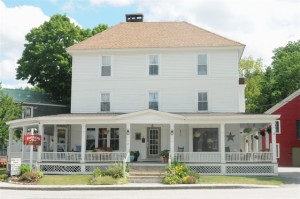 Smack-dab downtown is the delightfully old-fashioned Cornish Inn, a three-story gently updated classic with a wraparound porch; locals tell me the dining room is excellent, but I  haven't dined there. Rates include a self-serve continental breakfast.
Midway Country Lodging, a mile or two west of downtown, is a motel-like inn, or maybe an inn-like motel.
Down in Limerick, The handsome, brick, Greek Revival-style Jeremiah Mason Bed & Breakfast retains the elegance of a bygone era—and the price, with rooms beginning at $50. Spacious, antiques-accented rooms have chandeliers, marble fireplaces, and floor-to-ceiling windows.
Where to eat: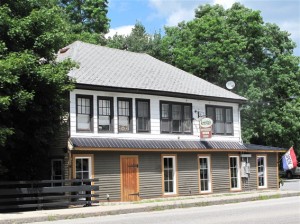 Krista's Restaurant, in downtown Cornish, serves fabulous, fresh fare in huge portions in its cheerful dining rooms and on a screened deck overhanging a stream. Dinner options range from burgers and salads to salmon and steak, all with a creative flourish. U
ltra-fresh seafood is served at Bay Haven Lobster Pound Two, operated by a fishing family.
Dress down and order the humongous fisherman's platter (and plan on sharing).
Good food at a good price, served in a pleasant country-style dining room across from Lake Sokokis has made The Peppermill Restaurant, in Limerick, a local favorite for all meals.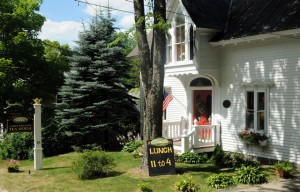 Now for something a bit different: Heather and Gary Labbe have turned four antiques-and-treasure filled rooms in their lovely Carpenter-Gothic home into the Clipper Merchant Tea House. Begin with the lavender lemonade, then opt for either lunch or, even better, the indulgent high tea.