Archives by date
You are browsing the site archives by date.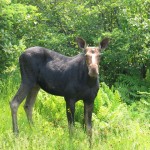 By Hilary Nangle on May 11, 2009 | Leave a comment
Wanna see a moose? This is the best time of year to do so, and the area around Moosehead Lake is prime moose-spotting territory. Head to Greenville, May 15-June 14, for the annual Moose Mainea celebration. Stop by the chamber to pick up maps and info sheet about the gangly critters and where their favorite […]
Posted in Birding/wildlife viewing, Cabins & Cottages, Events, Food, Inns & B&Bs, Lodging, Maine Highlands, Sporting Camps | Tagged Blair Hill Inn, Chalet Moosehead, Greenville Maine, moose in Maine, Moose Mainea, moose safari, Moosehead Lake, Moosehead lodging, Northwoods Outfitters, Pittston Farm, Rod-N-Reel Cafe, West Branch Camps, Wilson's on Moosehead | Leave a comment
By Hilary Nangle on May 11, 2009 | 4 Comments
Wescott Forge, in downtown Blue Hill closed in January, but don't sing the blues just yet. I tracked down rumors percolating about a new owner. Can't reveal more now, but trust me, this will be good news if it all comes to fruition. Keep your fingers crossed. Update here.
Posted in Blue Hill Peninsula & Deer Isle, Moon guidebook updates | Tagged Blue Hill Maine, Blue Hill restaurants, dining in Blue Hill, Maine dinig, Maine travel, Wescott Forge | 4 Comments