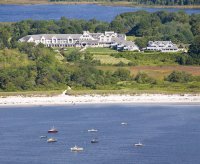 This spring, check into one of Maine's finer accommodations at a great rate, while supporting a worthy cause. Choose from participating Maine accommodations in more than a dozen locations, including Greater Portland (the Inn by the Sea in Cape Elizabeth, photo); popular coastal villages such as the Kennebunks, Ogunquit, Boothbay Harbor, and Camden; Acadia hotspots like Bar Harbor; and inland and stay at half the regular rate. Yup, you read that right, a 50% discount off what are usually off-season rates to begin with.
Wait! It gets even better.
Here's the deal: Check into a Maine lodging property April 17-May 25 and get 50 percent off the regular rate, courtesy of the Maine Innkeepers Association's annual Hospitality for Habitat program. The catch? You need to write a $35 (minimum) check to Habitat for Humanity, the organization that gives a hand up, not a hand out, to deserving working families. All monies contributed support nine Habitat chapters in Maine.
Participating properties range from B&Bs to fancy inns, chain motels to full-scale resorts. Some restrict the offer to certain rooms or dates or have a minimum stay, but in any case, what a deal! And one you can feel good about enjoying. For a list of participating property with links, go here. (Note: The list keeps growing as more properties participate, so check back often.)
Fine print: Advance reservations are required, and the contribution to Habitat for Humanity must be in the form of a check. Best advice: Book early, so not to be disappointed.
And if these dates don't work, check out my Cheap Sleeps options: Most aren't as fancy, but the price is right.