Here's a round-up of news items that have crossed my desk this week.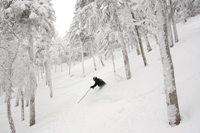 • Sugarloaf opens Brackett Basin Let's start here in Carrabassett Valley (the very snowy, and increasingly chilly Carrabasett Valley, I might add). Thanks to the abundant snowfall (close to two feet this week, along), Sugarloaf opened Brackett Basin, its new side-country terrain this week. Looks quite inviting, and as soon as the temps return to tolerable levels, I'll be checking it out myself (Go ahead, call me a wimp, but the weekend's forecast is brutal, and besides, I have pie to eat in Rockland). Next week is White White World Week, which means good lift-and-lodging deals and fun events.
Bethel's annual Winterfest celebration kicks off tomorrow, Saturday, Jan. 22, and runs through Jan. 31. In previous year's, Bethel has built a gigunda snowman and a snow woman; this year's gambit for glory is a 140-foot-tall ice mountain. Plentiful free, low-cost, and fun events all week long.
The Maine Beer Trail has grown, adding two new microbreweries to its roster, for a total of 25. This summer, visitors will be able to earn free prizes. For example, visit five locations, and you earn a free brewery hat; visit 10, and get a tee shirt; visit every location, and your reward is a Maine beer gear prize pack. Download the map PDF from the site.
Kudos to Planet Dog's nonprofit arm, the Planet Dog Foundation, for giving away $25,000 in grants to five non-profit canine service organizations across the country:  All Breed Canine Search and Rescue (ABCSAR); Assistance Dogs of America, Incorporated (ADAI); East Coast Assistance Dogs (ECAD); Paws for Friendship; and the Sherman Health Foundation.
Love your dog? Prove it and support the foundation at Planet Dog's 7th Annual Valentine's Day Canine Cocktail Party, Thurs., Feb. 10, 6-7:30 p.m. at the company store.  Free beer, wine, treats and water will be served and participants can enter a dog kissing contest.  The longest, sloppiest Buddy-to-Owner kiss wins an assortment of Planet Dog's best-sellers valued at $75; entry fee is $5, which goes to the Planet Dog Foundation. (Love my leos, Bernie and Dooley, but, aah, I'll pass on the slober kiss).
Three courses for $30 at The Salt Exchange, in Portland, where Executive Chef Jeffrey Hodgdon promises: "We'll be serving exceptionally hearty meals this winter with our prix fixe dinner menu—featuring mouth-watering soups for the first course, a wildly delicious spinach salad second and finally seasonal risottos, chicken or beef dishes as our main courses." The deal is available Tuesday, Wednesday, and Thursday nights, and includes a set first course and second course, but a choice from three entrées for the third course. The restaurant has free parking at night, and also offers free Wifi.
• The Lost Kitchen
Ever heard of The Lost Kitchen, a secret restaurant in Belfast, Maine? Neither had I until Nancy Harmon Jenkins dished about it on her blog.