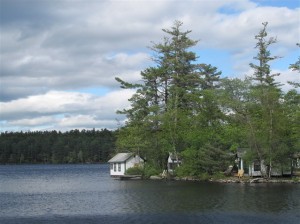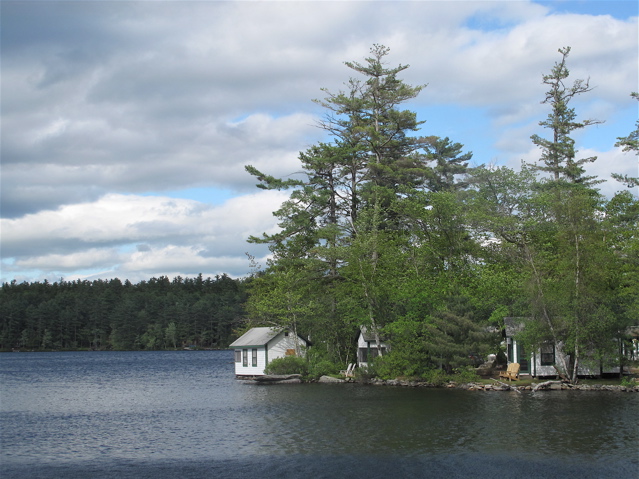 On Golden Pond, that dreamy sunset-of-life film starring Katharine Hepburn, Henry Fonda, and Jane Fonda, may have been filmed in New Hampshire, but playwright Ernest Thompson took his inspiration from Great Pond, the largest of Maine's Belgrade Lakes. A mailboat—not the lovely wooden launch of the film, but a modern pontoon boat—still plies Great Pond's waters, delivering mail dock-to-dock, during July and August. "It's one of the few inland mailboats left in the country," says Esther Perne, owner and editor of Summertime in the Belgrades, a biweekly summer newspaper. Her family roots here date from 1908.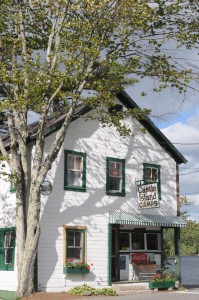 "Historically, what put Belgrade Lakes on the map was the fishing. Fishermen can't keep their mouths shut, and they started talking," Perne says. They began arriving at the turn of the last century to cast their lines for large- and small-mouth bass, northern pike, salmon, brown trout, brook trout, and other species. They returned with their city friends, some built summer cottages, others stayed at sporting camps. "People still come here for the fishing," Perne says. "They know they can give their children and grandchildren an On Golden Pond experience."
Once more to the lake…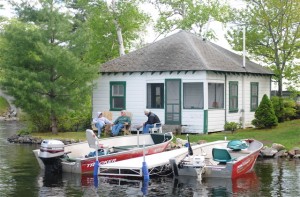 The mailboat and the endless stream of anglers capture the timeless allure of this region, a timelessness bred from familiarity. Beginning in 1904, writer E. B. White spent many an August of his youth here. When he returned with his own son many years later, he wrote of "there having been no passage of time, only the illusion of it as in a dropped curtain" in his 1941 essay "Once More to the Lake." White mused: "It seemed to me, as I kept remembering all this, that those times and those summers had been infinitely precious and worth saving. There had been jollity and peace and goodness. … The only thing that was wrong now, really, was the sound of the place, an unfamiliar nervous sound of the outboard motors."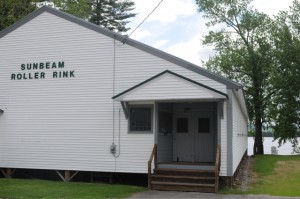 The Belgrade Lakes, Perne says, "is a bit of a time warp, there's still enough of the old that remains. People from away come and think it's heaven." Kids play with abandon, hopping in boats with no preconceived destination, no agenda but the pureness of play, no oversight other than the community of neighbors and families whose grandparents grew up together and parents played together. There are no supermarkets, box stores, or fast food chains. In these parts, general stores sell everything from hardware to trinkets, fresh meat to hot pizza. People leave their cars open and running when they dash in to pick up a few necessities. "The area is remote, but not removed," Perne says, but change, although subtle, is coming. "Augusta is galloping up the road," she cautions, pointing to the creep of progress northward.
Sum-sum-summertime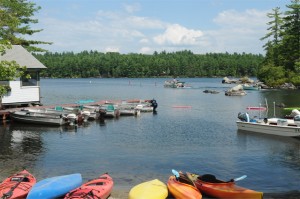 The sounds of summer drown out the hoof beats of development at Castle Island Camps, one of four traditional, American Plan sporting camps woven into the time warp that is the Belgrade Lakes. White stayed at Bear Spring Camps, but I've checked into the past at Castle Island, a blip on the causeway bisecting Long Pond. The camps, opened in 1929, after owner Leighten Castle trumped his formidable neighbor, cosmetics maven Elizabeth Arden, in a David-versus-Goliath lawsuit over property ownership pitting the Belgrade native and fishing guide against Arden and her Maine Chance, a farm-to-table spa-like experience patronized by wealthy and famous women.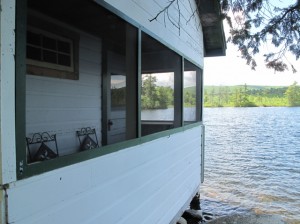 Fourth-generation owners John and Rhonda Rice now operate the camps, which comprise a main lodge, where all meals are served, and guest cabins fronting on—or in some cases actually built over—the lake, and a recreation hall.  It's not only fishing that attracts families to sporting camps these days, John says. Those seeking the ease of not having to prepare meals or desiring their children to discover life beyond Facebook, smart phones, and video games also fill the dozen simple one- and two-bedroom cabins. There is Wi-fi, but no TV on the premises. The recreation hall features Ping Pong, pool, board and table games, but no one comes to Castle Island or the Belgrade Lakes to play indoors.
Meandering the byways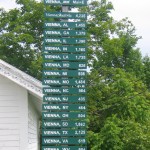 While I could ease the day away by simply gazing down Long Pond, attempting to hook a mega trout, paddling along the shoreline's nooks and crannies, or motoring a boat up to Day's Store for an ice cream cone, I've come here to noodle the rural byways around the lakes and foothills, to explore the shops, galleries, and farm stands splashed amidst the children's camps and summer cottages, and to hike the trails etched into the hills.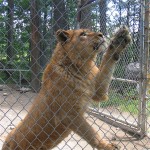 I came expecting deer and perhaps moose, but I find lions and tigers and bears, as well as hyenas, monkeys, zebras, and other exotic-for-Maine animals at D. E. W. Animal Kingdom (the D. E. W. stands for domestic, exotic, wild), in Mount Vernon. Julie and Bob Minor raise and rehabilitate exotic and animals and educate visitors about them on guided tours. The newest resident is Makeena, a female Bengal white tiger born on April 11, 2011.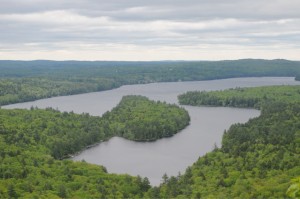 From protecting wildlife, I segue to protected wildlands with a hike up French Mountain, off the Watson Pond Road, a byway connecting Castle Island Road with Route 27, in Rome. The Belgrade Regional Conservation Alliance's long-term goal is to protect more than 11,000 acres in the Kennebec Highlands, but it's already managed to conserve more than 5,500, with another 1,000 in progress. It's a relatively easy jaunt to the summit ledges on the roughly one mile loop trail. The rewards far outweigh the effort, with views taking in Whittier Pond, Long Pond, Great Pond, Mt. Phillip and The Mountain.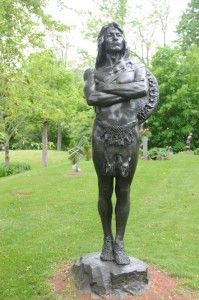 I devote another half day to art and craft, stopping by the Hutton Studios, in Vienna, where Hillary Hutton handweaves cotton rugs and potter Mark Hutton crafts porcelain and stoneware; Maine Bone Carving, Gerry and Val Hoff's Maori-inspired moose bone carving gallery, in Mount Vernon; and finishing at the Spring Gallery and Sculpture Garden, hidden behind Pete's Pig Southern Barbecue, in Belgrade Lakes Village. The latter, founded in 2000 by the New York-based Modern Art Foundry and now in its third generation of ownership, presents works by both local and world-renowned artists. Manager Susan McPherran tells me that second-generation owner Bob Spring is beginning to sell off some of the personal treasures he's collected over the years, many gifts directly from the artists, and these are on view upstairs.
I think the real treasure is downstairs. Two sketches by Bill Meyer, minister of the Union Church of Belgrade are exquisite in their detailed simplicity. Meyer transitioned to the ministry after a career as a landscape architect. He creates these sketches as a spiritual discipline, as a "visual anchor the spiritual content of a particular worship experience." They are taped on the wall behind him as he delivers his sermons.
Lakeside sonata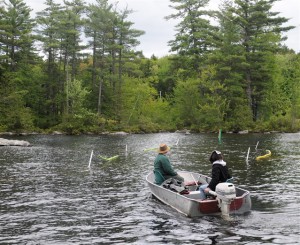 When I return to the camps, a guest is checking in. "Where's the moose?" he asks. "I've been coming here for 30 years, and there's always a moose." Rhonda replies that the moose is out for a bit of taxidermy assessment, as he was looking a little worse for wear. She fills me in on the back story: Over those 30 years it hasn't been the same moose, one was stolen during the winter (ponder that for a minute), another placed in a restaurant for safekeeping during the off season burned with the restaurant. Rhonda is hoping the curse has been removed with the moose.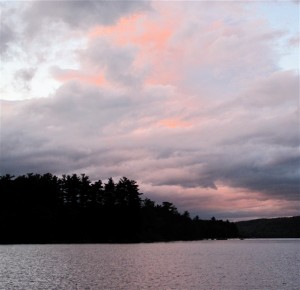 Back in my cabin, exhausted from my day's explorations and well satiated from filet mignon paired with potatoes and corn and chased by a brownie sundae, I watch a brilliant rose-colored sunset surrender to the smoky hues of dusk and listen as the joyful noise of day cedes to the silent symphony of nightfall. Water sings a lullaby and one loon, then another, add their choral voices to the song. I drift off dreaming about chasing fireflies, laughing and playing unencumbered by responsibility or worry, listening only for a bell to call me home.
***
Besides Castle Island Camps, other traditional American Plan, Maine sporting camps in the Belgrade Lakes Region include Alden Camps on East Pond, Bear Spring Camps on Great Pond,and Whisperwood Lodge on Salmon Lake. The per-person rate at each includes lodging as well as three hearty, homestyle meals daily; box lunches are usually available for those who don't want to return for lunch. Use of canoes and kayaks is often included for guests. Rental motorboats are available as are fishing guides for additional fees. Service fees/gratuities and taxes are not included.