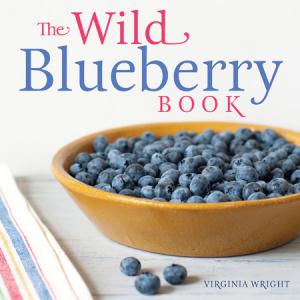 What's green, then blue, then red, then black all over? A Maine wild blueberry field through the seasons. Author Virginia M. Wright spills the berries about this delectable fruit in The Wild Blueberry Book. (Down East Books). Sure, the whoopie pie may have been selected Maine's official treat, but it's the wild blueberry pie that's the state's official dessert.
Here's a little teaser, a bit of trivia that I bet you didn't know: There's is no one wild blueberry, and that's why the flavors are so rich and varied. "One acre of wild blueberries typically contains well over one hundred varieties of the berry, each one as generically distinct from the other as a McIntosh apples is from a Delicious." It's that rich genetic diversity that provides the equally rich and distinctive flavor. "There are more than 6.5 million distinct wild blueberry clones in Maine alone." Now compare that with the uniformly sized cultivated or highbush blueberry, which has only a bit over one hundred possible variations.  No wonder the latter taste flat, downright boring, when compared with Maine's little gems.
Speaking of gems, this book is one. It's a treasure of Maine wild blueberry facts, legend, lore, stories, and, yes, recipes. Not just any recipes, mind you, but Blue Ribbon recipes from Maine's top wild blueberry chefs, winners in the Union Fair's Wild Blueberry Festival and Machias Wild Blueberry Festival annual cooking contests, along with others supplied by blueberry experts and cookbook authors.
Maine wild blueberries have long been prized by cooks because they hold their shape when baking. Recipes include: Faye Harvey's Blue Ribbon Blueberry Pie; Rose Skidgell's Blueberry Mountain Muffins; Andy Knoch's Blueberry Spice Whoopie Pies; Charles Urquhart's Blueberry Golden Been Salad; Wild Blueberries with Roquefort, Celery, and Cucumber; Wild Blueberry Daiquiri; and that's just a sampling.
There's even a recipe for an ultra-healthful Blueberry Breakfast Smoothie. This is a good place to note that Maine wild blueberries are rich in antioxidents. Studies have shown wild blueberries can help reduce the risk of heart disease by lowering cholesterol levels; protect against urinary tract infections; protect against eye diseases; and reduce some of the effects of aging. They may also ward off diabetes by improving blood sugar levels. So go ahead, and indulge in these ultra-sweeties.
I'll end with Catherine Ryan Quint's recipe, a prize winner at the Machias Wild Blueberry Festival that combines two of Maine's favorite foods, lobster and wild blueberries:
Baked Stuffed Lobster (serves 2)
Ingredients:
Two 1.5-pound lobsters, ready for stuffing
4 tablespoons butter or margarine
1 clove garlic
1/4 cup chopped onion
2 tablespoons dry white wine
1 cup blueberries
2 cups fresh bread crumbs
salt and pepper to taste
2 tablespoons chopped fresh parsley
1/2 cub crabmeat (optional)
Directions
Melt butter; add garlic and onion and sauté until soft. Stir in parsley and wine; cook 2 minutes more. Ad bread crumbs, crabmeat, and blueberries. Remove from heat. Season to taste. Stuff body cavity of ech lobster and place in shallow baking an. Bake in preheated 400-degree oven for 20-30 minutes.