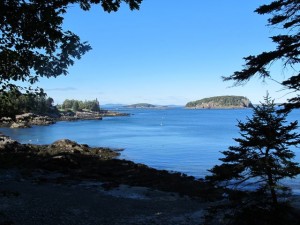 Shhhh, now don't tell too many people about Compass Harbor, a lovely little, relatively unmarked section of Acadia National Park that's an easy one mile stroll from downtown Bar Harbor, Maine. Whether you're coming in on a cruise ship and simply want a little quiet time or are intown and trying to escape the shopping/ice cream-eating frenzy, this little ocean-side park provides respite.
With the promise of two or three cruise ships in town yesterday, and not wanting to get back into the car after having just arrived on island, we walked out Main Street (after grabbing two scoops—salt caramel and chocolate wasabi—at MDI Ice Cream, of course) to Compass Harbor. To find it, pass the YMCA fields and keep walking. The sidewalk continues, passing private driveways that lead to oceanfront cottages. The parking area for Compass Harbor  is located on the oceanside of Route 3/Main Street, just after the Nannau Woods estate driveway. Look for a small patch of open dirt with perhaps a car or two and a small sign at the back indicating it's part of the park.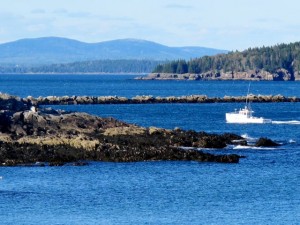 Walk down the woods road or split off onto one of the side paths (all easy)  that loop through this pocket part. At low tide, the gravel beach is quite inviting for a dip (for those who want to brave Maine ocean waters). At low tide, it's also possible to walk out onto the point, a jumble of granite rocks, for expansive views over the Porcupine Islands, Breakwater, and distant mountains. Perfect place for a picnic.
But that's not all that's here: Walk the side trails, follow the stone steps, and you'll discover the ruins of Acadia National Park co-founder George Dorr's home. Not much to see, other that a bit of foundation, those steps, and brickwork, but an interesting find in the woods. The trails here do connect to the rest of the park via the Schooner Head trail, so you could take that for a bit of exploration, too. Or do as we did, just find a nice rock with a vista and have a Zen moment. Heaven!