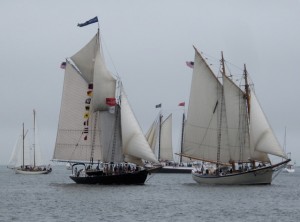 On a hot, muggy day earlier this week, I joined guests aboard the 95-foot ketch Angelique, one of the members of the Maine windjammer fleet, for a cruise from Camden, through the waters of Penobscot Bay. Our destination: the annual Parade of Sail by the Rockland Breakwater.En route, we shared the waters with lobstermen hauling their traps, pleasure boats out for a day sail, and playful seals who dodged and danced around the boats and buoys dotting the water's surface.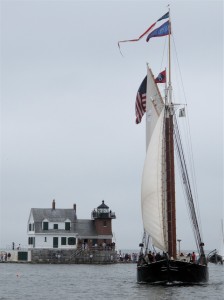 Ahhhh! Sweet relief. If you want to escape this summer's oppressive heat, head to sea. Cool breezes, brine-scented air, crying seagulls, the whoosh of wind in the sails, and the creaks of a wooden boat make it easy to forget the humidity.
Most of the windjammers in the Maine fleet are historic vessels. They arrived in Maine in the early part of the 20th century, delivering cargo to various ports of call. When steamships made sea travel faster, easier and less expensive, many of the schooners were left to rot where they last dropped anchor, but Maine's cold water helped preserve them.
In the 1930s, sensing an opportunity, Frank Swift began purchasing the old schooners. He fixed them up, swept out the cargo holds and began marketing windjammer trips to rusticators from Boston for $25 for a week. In the 1960s, other entrepreneurs began to join him, driven by their love of the sea and the opportunity to preserve a rich part of sailing's history. These newcomers not only renovated other old boots, they began to build new ones, such as the Mary Day and Heritage, in the same tradition. Today more than two dozen windjammers sail Maine's waters, with trips ranging from a few hours to a full week.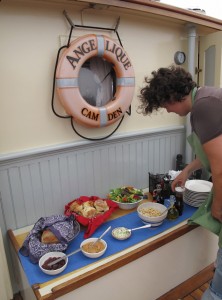 Jamming with the wind aboard a schooner is  a very wallet-friendly vacation. One fee covers everything: your cabin (no, it's not the Ritz, more like camping on the sea in most boats); hearty, all-you-can-eat meals (and always at least one lobster feast); the cruise, with visits to offshore islands and distant fishing villages; and all the fun you can muster aboard. You can even join in schooner aerobics, that's helping raise the sails or sometimes the anchor and coiling the lines. Heave a-weigh, ho a-weigh.
Leave the cell phone, computer, the watch, and your vanity at home. These trips go where tide and wind take them; there's no set course, no set schedule, no reason to get gussied up. They offer a rare chance to relax, unplug, and unwind.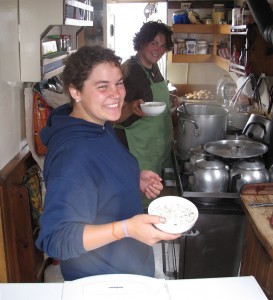 Even better, we're coming into the best cruising months of the year, August into early October. It's not too late to book a three- to seven-day trip aboard one of the schooners, and many are offering specials.
***
Here are some images taken from aboard the Angelique during the 2010 Parade of  Sail.