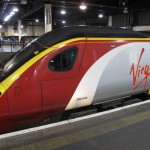 In late February, I spent the better part of a week exploring Great Britain by train. The last time I took trains through England, Scotland, and Wales had been way back in 2000, and I'd loved it. Don't know why it took me so long to answer that All Aboard call once again. Even better, now it's possible to book point-to-point tickets in advance through Rail Europe for the same prices locals pay; a good alternative to multi-day passes that can end up being pricey, if you're not going to utilize the full value.
Getting there: I flew direct from Boston to London, then took the Heathrow Express direct to Paddington Station ($56 round trip). Easy, even in my sleep-deprived state (I was seated next to a fidgeter on my flight, and not only did he fidget almost nonstop, he was also bottomless–two dinners + many snacks in crinkley bags). Yes, you can get there less expensively by using the Tube, but when you're tired and rolling luggage, zipping along to downtown London at speeds of up to 100 mph—and with Wifi—is worth it. From there, I used a Visitor Oyster Card, valid on the Tube, bus, Dockland light Railway, London Overland, and select National Rail routes.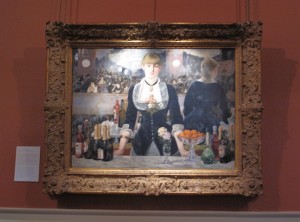 Courtauld Gallery: On the recommendation of a friend, I spent the afternoon at this small museum within the Somerset House, a stunning neo-classical building that doubles as an arts center and is  sited between the Thames and the Strand (a bit about its history, below). Through no prior planning, I arrived on a Monday, when admission is free from 10 a.m. –2 p.m. Otherwise its 6 pounds, and worth every pence.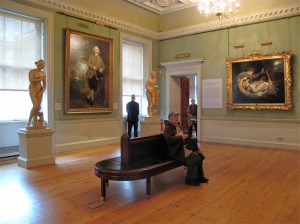 "The Courtauld is one of the finest small art museums in the world," says its director, Dr. Ernst Vegelin. "It was founded in 1932 as part of the Courtauld Institute of Art, which is one of the leading centers for the study of the history of art." Although best known for its Impressionist and Post-Impressionist holdings, the gallery's collection is far greater, spanning from the early Renaissance to the 20th-century Modernists. And it's still growing. Beyond paintings, it also comprises more than 7,000 drawings, prints, decorative arts, sculpture, and furniture.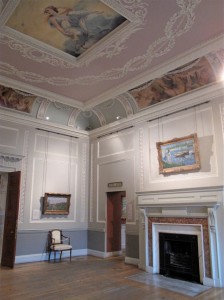 The icing on the collection's cake is the setting inside a spectacular work of architecture. Masterpieces are displayed in a series of rooms on three floors, connected by an impressive spiral stairway. Each room is personal and yet formal. Each room is a work of art in its own right, but none competes with the works displayed. Even better, works aren't crowded in displays; my eyes were able to concentrate on one work at a time. The whole is "a combination of outstanding works of art presented on a personal scale," Vegelin says, and he's right.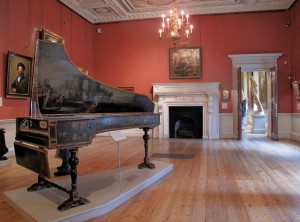 Samuel Courtauld, who acquired works in the early 1920s, sure had an eye for Impressionist and Post-Impressionist works. Vegelin says the collection is distinguished not by the number of works, but by their quality. Among the highlights: Renoir's Le Loge, van Gogh's Self-Portrait with Bandaged Ear, Manet's A Bar at the Folies-Bergère, and outstanding works by Cezanne, Degas, Monet, Seurat, and Gauguin. To these, add a world-class collection of Rubens, works from the Renaissance, Gothic, and Medieval periods as well as 20th-century paintings.
I went through it all, then did so again. If I hadn't been so tired from travel, I would have spent another hour or so there, and if I'd realized there was a cafe on the premises prior to arriving, I would have had lunch there, too. Next time, I will.
A bit of history re Old Somerset House: I had to add a bit about Somerset House's history because, well, it's so classically British: The history dates from 1547, when Edward Seymour, uncle of Edward VI, had himself declared Lord Protector and Duke of Somerset on the death of his nephew's father, Henry VIII (It's okay if you start humming the old Herman's Hermits song, I did). Of course, Seymour needed a suitable residence in keeping with his new title, so in 1547 he began building himself a palace on land he owned between the Thames and the Strand. Construction didn't sit well with the Privy Council, and Seymour was arrested and briefly imprisoned in the Tower of London in 1549.
Seymour's new home, which neared completion in 1551, was a bit of an architectural mishmash combining a Tudor-style courtyard, gatehouse, and great hall on the river side with Doric and Ionic pillars adorning the classical facade facing the Strand. The cost: 10,000 pounds to create what's been called one of the "most influential buildings of the English Renaissance." Too bad he didn't get to enjoy it for long. He was arrested for treason in 1551, and executed on Tower Hill in January 1552. The Crown took over ownership, with construction completed in 1553. Princess Elizabeth used it as one of her homes until ascending to the throne in 1558.
Without getting into all the nitty-gritty of British royal history, Somerset House endured through the centuries, undergoing redesign, reconstruction, and remodeling, with each change in crown. By the late 18th century, though, it had fallen into serious disrepair. King George III agreed to give the site over to public offices, and demolition began in 1775 and construction began on the current building, designed by William Chambers.