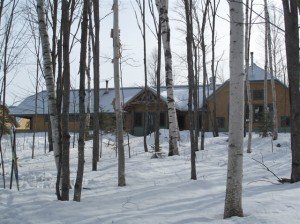 Skiing or snowshoeing hut to hut along the Maine Hut Trail isn't for everyone, but just about anyone can enjoy walking into the Flagstaff Lake Hut for lunch. The Flagstaff Lake Hut, the middle of three along the trail, has an enviable setting on the shores of Flagstaff Lake. It's remote, wild country, and in winter, when blanketed in white and shimmering, it's positively magical.
Free recreation
The free trail network is designed for hut-to-hut skiing and snowshoeing, but you don't have to ski or snowshoe, nor do you have to bunk in overnight to enjoy the trail or hut experience. It can be a pleasant day trip and a relatively easy one requiring no special equipment.
The trail extends from Carrabassett Valley to near The Forks, with three overnight lodges with dorms en route. The Poplar Falls Hut is a 2.5-mile mostly uphill trek from Carrabassett Valley; the Grand Falls hut is way out in the williwacks, 8.6 miles from the nearest trailhead and nearly 13-miles from Flagstaff Hut. But the Flagstaff Lake Hut is just 1.7-miles from  the trailhead parking lot on the Long Falls Dam Road (off Route 16 in North New Portland), making it an easy half-day trip.
Four of us walked in a few days ago wearing winter boots. A short spur connects the parking lot (where there's an outhouse) to the main trail, an eight-foot-wide corridor that's groomed and tracked for Nordic skiing. (We were careful not to step in the tracks). En route, we passed snowshoers and skiers, families and couples. The trail is mostly level, with a few ups and downs, but nothing too steep or long. If we'd been wearing snowshoes, we likely would have ventured onto one or more of the rustic side trails that veered closer to the lake; instead, we enjoyed the occasional distant views.
Lunch!
We made it just in time for lunch, served 11:30 a.m.- 1 p.m. in the big dining room, with cathedral ceiling and walls of windows taking in the woodsy views. The day's menu offered a lentil soup or vegetarian chili each accompanied by a chunk of homemade bread or cornbread; simple sandwiches, such as tuna or chicken salad, BLT, or grilled cheese; and a nice array of homemade sweets, including maple walnut pie, brownies, and just-about-to-go-in-the-oven chocolate chip cookies. Prices were reasonable, around $6-7, or we could opt for a $10 special including soup or chili, hot drink, and dessert.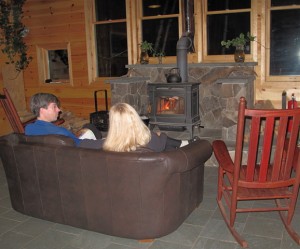 We all opted for the lentil soup, a big bowl thick with ingredients; nothing watery or weak about this flavor-rich soup. And we each opted for the cornbread, a big, warm hunk that managed that delicate balance of being both moist and crumbly. Despite being full, I couldn't resist the just -out-of-the-oven cookies. Maybe it was the place or the perfect timing, but these are in my top five for Maine's best. I would return for these alone.
After taking a tour of the hut, we lingered by the woodstove, and trust me, the comfy leather sofa and the rocking chair made it hard to get moving again. But we eventually rallied, but before trudging back to the car, we took a short detour down a side trail to a vista point. The location on a finger of land reaching into the lake provided views of the Bigelows that made us vow to return not only in winter, but also in summer.
A GOOD DEAL: This year Maine Huts is offering a season pass, which is a heckuva deal for those who enjoy skiing and snowshoeing. The winter pass costs $379 adult, $199 kids 12 and younger, and covers unlimited stays—including breakfast and dinner—of up to five nights through June 30, 2011. Advance reservation and a $5 p.p. reservation fee is required, but the pass covers your bunk along with breakfast and dinner. As always, trail access alone is free.