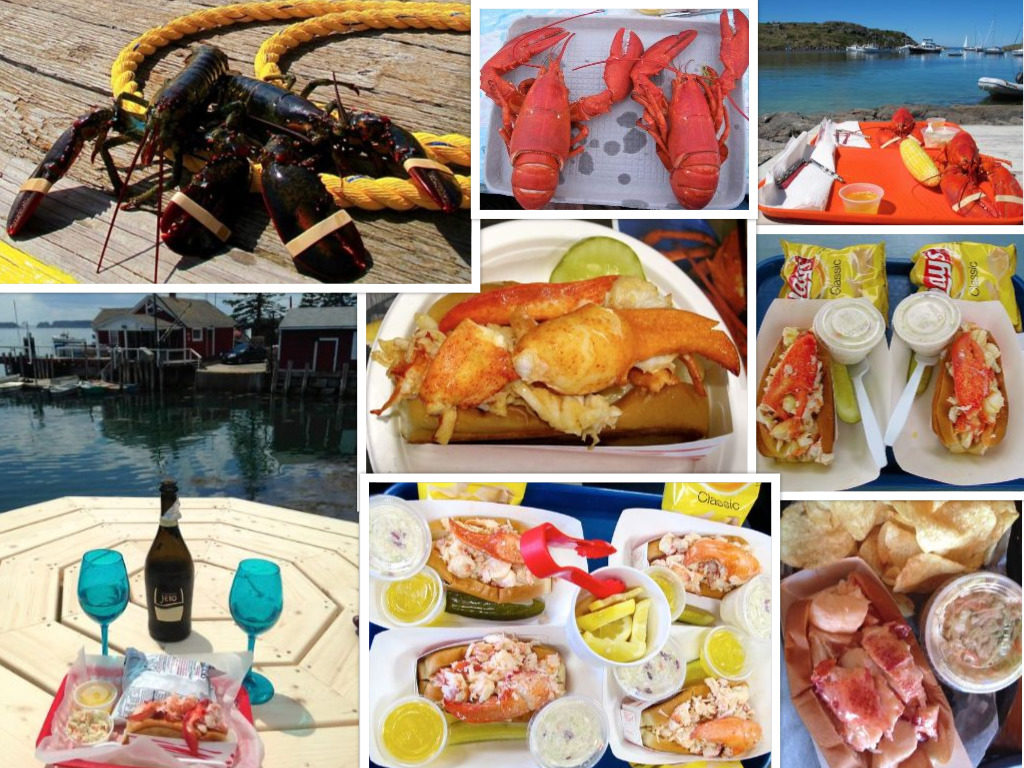 When I eat lobster, I take no prisoners. All that's identifiable in the carnage left behind are the eyes, antennae, swimmeretes (those feathery appendages on the underside of the body), and dismembered carcass. Finished, I'm literally dripping in lobster juice and goo. The only place for such a messy operation is a classic Maine lobster shack, a sometimes rough-and-tumble operation that's usually within sight and scent of the ocean.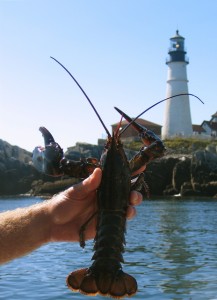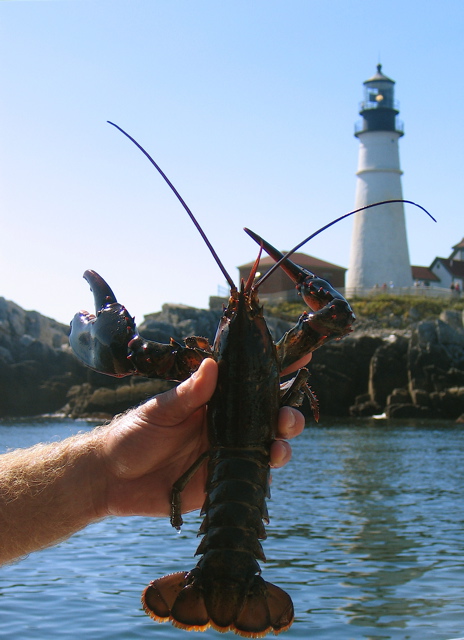 I've dined at lobster outposts from Kittery to Eastport. Some serve only lobster, others a full menu ranging from hot dogs to blueberry pie.
I favor the in-the-rough, order-at-the-counter, eat-out-on-a-picnic-table shacks. These are usually pet friendly and often come with free entertainment: You can watch lobstermen unload their catch and refuel and restock their boats. No need to dress up — better to dress down so you can skip the bib. Another plus: Most allow you to bring the go-withs; think cheese and crackers, salads and rolls, wine and beer, even tablecloths and flowers.
And remember that while lobster prices reflect market conditions, the farther you travel from the trappings of civilization and the deeper you get into bona fide lobstering territory, the fewer frills and the less costly the goods. (Updated May 29, 2018)
These are my favorite lobster shacks from south to north:
Chauncey Creek Lobster Pier, Kittery Point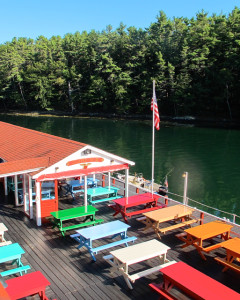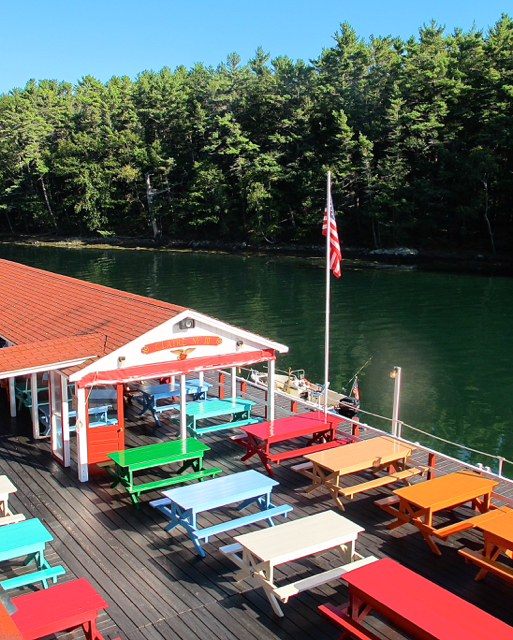 Chauncey Creek Lobster Pier (16 Chauncey Creek Road, Kittery Point, 207-439-1030), overlooking tidal Chauncey Creek, has been satisfying lobster lovers since 1948. Aim to arrive at high tide, when the view is nicer and the pier seems to float on the water. You'll find outdoor seating on the deck as well as sheltered seating (heated), all at brightly colored picnic tables.
Lobster is the main attraction, but the menu offers choices for landlubbers — chicken dinner, hot dog — as well as mussels, oysters, cherrystones, tuna roll, and even shrimp. Be forewarned: It can be very crowded, parking is a nightmare, and bug spray is a must.
Cape Pier Chowder House, Cape Porpoise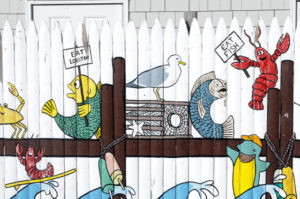 The scenery is top notch at the Cape Pier Chowder House (79 Pier Road, Cape Porpoise, Kennebunkport, 207-967-0123), which tops a pier in a traditional lobstering village. The views (bring binoculars) extend to Goat Island Light House. There's inside seating, so it's weatherproof, which gives it a longer season than most; it opens in April and goes to November. The menu has a lot more than lobster, and it's open for breakfast on weekends.
The Lobster Shack, Cape Elizabeth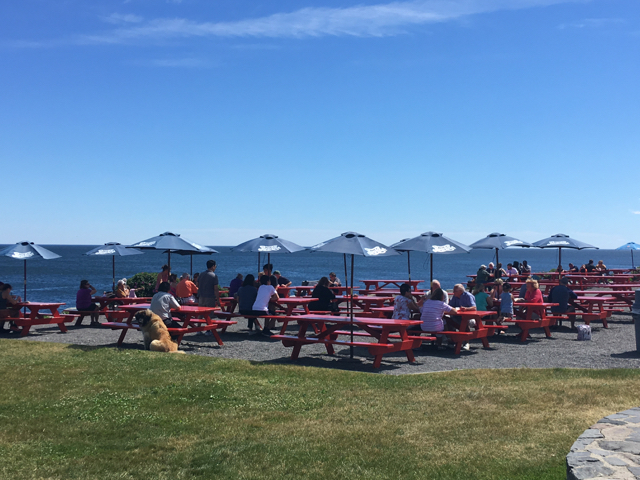 If you've had enough of quaint fishing village vistas, head to The Lobster Shack (222 Two Lights Road, Cape Elizabeth, 207-799-1677) for bold ocean views. It has everything: rocky ledges, tide pools, crashing surf, a broad menu, dive-bombing seagulls, and a lighthouse (with foghorn – avoid on a foggy day or bring earplugs). It's a classic—in biz since the 1920s—with frills: dining inside and out and a menu that includes sandwiches and fried seafood.
Harraseeket Lunch and Lobster, South Freeport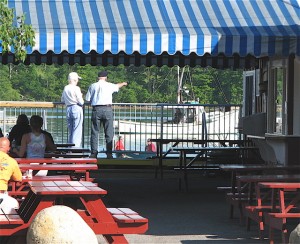 Take a break from power shopping L.L. Bean's and the outlets and head to Harraseeket Lunch and Lobster (Main Street, Town Wharf, South Freeport, 207-865-4349), a popular spot on the working harbor.
Not much fussiness here; picnic tables on pavement and a tiny dining room are the seating options. The menu, however, is pretty extensive for a lobster joint. You can decide for yourself whether fried clams are better battered or breaded.
Erica's Seafood, South Harpswell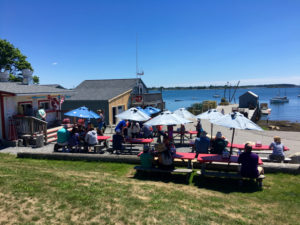 Although somewhat off the beaten tourist track, Erica's (Basin Point Rd., Harpswell, 207/833-7354) is no secret.
This family operation comprises the seafood stand (lobster rolls, fried seafood, burgers, desserts) and the adjacent lobster shop, where you order your lobster (priced by the pound + $1 to steam it). It may sound complicated, but just head to the seafood stand, and they'll make it easy.
Prices are low; service is friendly; views extend over Pott's Harbor to Casco Bay. Seating is available picnic tables, mostly outdoors, but a few additional ones are in the lobster shop. Cash only.
Holbrook's Lobster Grill, Cundy's Harbor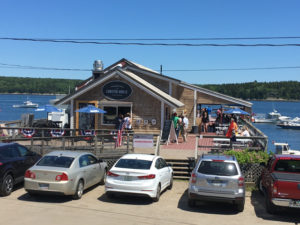 Holbrook's Wharf & Grill is owned by the not-for-profit Holbrook Community Foundation, which leases out the operation. It's had up years and down years, but new leasees, food-service professionals, in 2018, have committed to three years and breathed new life into this eye-candy complex. Also on the premises are a General Store with ice cream and real penny candy and Hawk's lobster and store.
This is another order-at-the-counter spot with sheltered and open seating on the wharf, but the menu is a few notches above traditional lobster shack fare. The menu includes the usuals, as well as great salads, sandwiches, and burgers. Like Erica's Seafood, it may be tucked well off the major roads, but locals keep it hoppin'.
Five Islands, Georgetown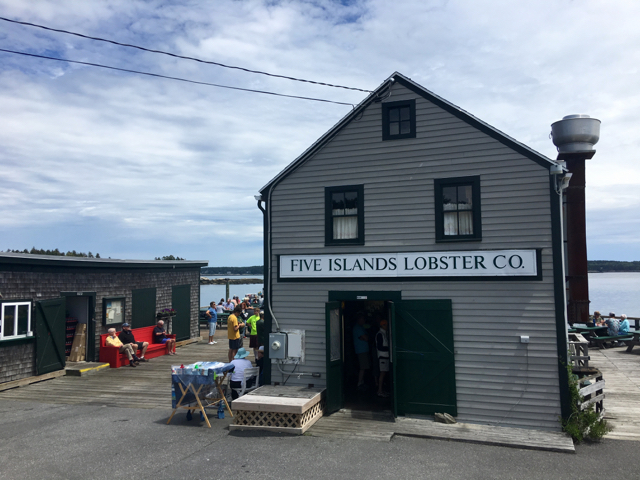 Five Islands (1447 Five Islands Road, Georgetown, 207-371-2990) tops a lot of lists for favorite lobster shack, and for good reasons. For starters, the idyllic setting tips a finger of bridge-connected islands. Sit on the wharf — that's the only choice — and watch sailboats play hide-and-seek amid the spruce-fringed islands in the harbor and lobster boats chug to and fro pulling traps.
The headliner is lobster, but there are plenty of other options, from chowder and fish 'n' chips (hand-breaded) to burgers and chicken tenders. It earns points for making its own tartar and mustard dill sauces and cilantro mayo. You get the idea: These folks are passionate about their products.
Round Pond Lobstermen's Co-op, Round Pond
When given a choice, I opt for simplicity: If the joint does only one thing, there's a better chance it's doing it right. Take Round Pond Lobstermen's Co-op (Round Pond Harbor, Bristol, Pemaquid Peninsula, 207-529-5725), a more-rustic-than-most spot overlooking a picture-postcard harbor. Buddy Poland serves lobster, steamers, corn-on-the-cob, and chips. Period. When he runs low on lobster, he saunters down the dock, climbs into his dingy, putt-putts out to a lobster car — that floating crate where the crustaceans are stored — and brings back reinforcements.
Muscongus Bay Lobster, Round Pond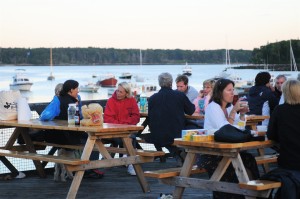 For those who don't like lobster, just steps away is Muscongus Bay Lobster (Round Pond Harbor, Bristol, Pemaquid Peninsula, 207-529-2251), a larger and wee bit fancier place with a bigger menu.
I have friends who favor this spot not only because of the expanded choices — lobster and crab rolls, stews and chowders — but also because it offers some sheltered tables, a big plus if the weather looks threatening. It also serves fresh Pemaquid oysters, which gives it points in my book. And it earns extra points for having a touch tank filled with all manner of slimy and spiky sea critters for the kids.
Miller's Lobster Pound, Spruce Head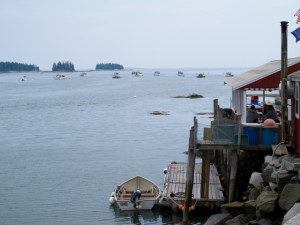 If the line's too long, or you prefer something a bit more remote, segue over to nearby Miller's Lobster Pound (Eagle Quarry Road, Spruce Head, 207-594-7406) on quiet Wheeler's Bay.
Millers occupies a working wharf, and if you time it right, you can watch lobster boats unload their catches. The emphasis is on lobster, but Miller's serves other shellfish, hot dogs, and homemade pies, too. There is some sheltered seating. Beer and wine are served.
McLoon's, Spruce Head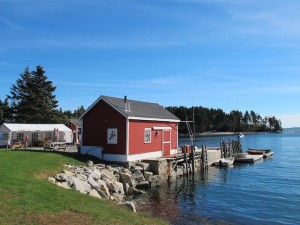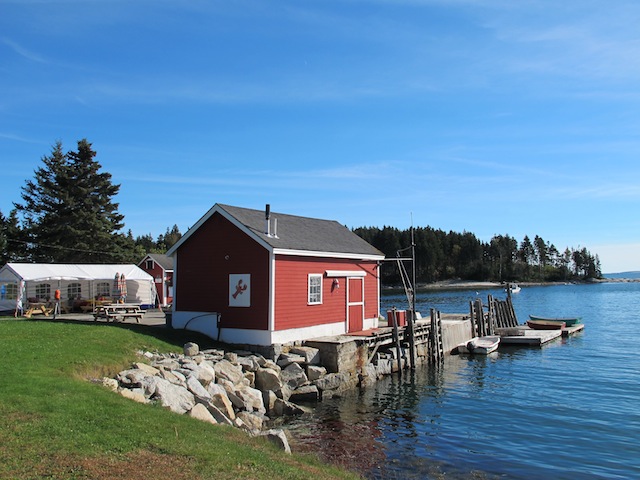 Dreamy, spruce-fringed island views are alone worth the trip to this off-the-beaten-path shack, but McLoon's also dishes out mighty fine lobster, lobster rolls, lobster stew, and house-made desserts. And yes, there are choices for any landlubbers traveling with you.
This adorable, red, wharf-side shack has picnic tables both outside and under a tent. The views are mesmerizing and you often can watch boats unloading their catches. Trust me, it's worth the extra effort to find this gem.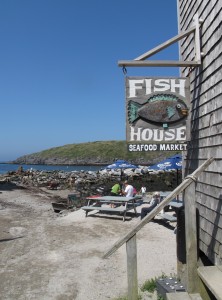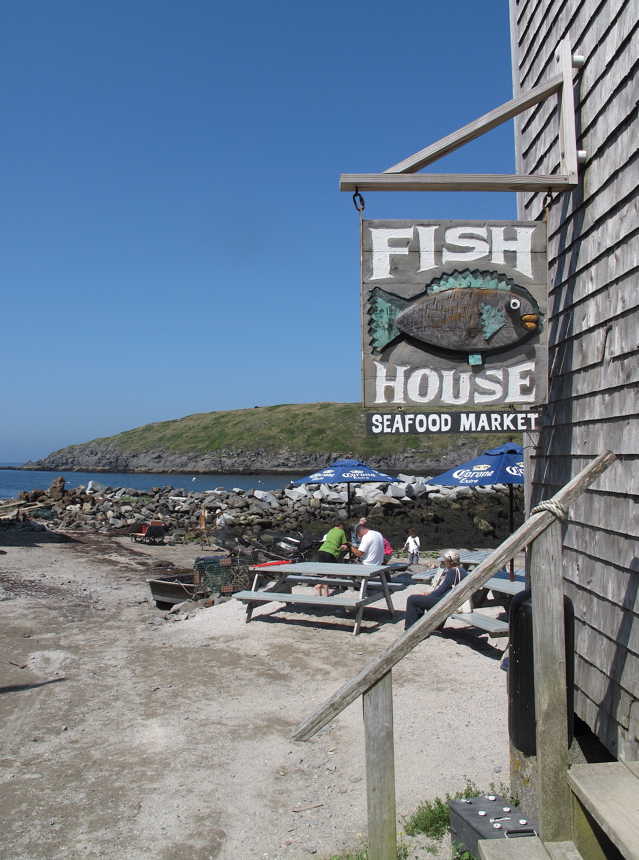 Fish House Fish, Monhegan Island
Lobster doesn't get much more in-the-rough than Fish House Fish: a fish shack on a beach on Monhegan Island. Perfection!
You can get boiled lobsters as well as lobster rolls, crab rolls, seafood stews and chowders, and even appetizers in the form of local smoked fish. Take it all to a picnic table on the beach, overlooking Monhegan's lobsterboat-filled harbor, with Manana Island as a backdrop.
Monhegan-bound passenger ferries depart from Boothbay Harbor, New Harbor, and Port Clyde.
Young's Lobster Pound, Belfast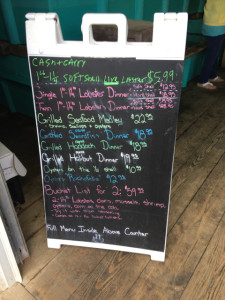 Sure there's seating upstairs, which comes in handy on an inclement day, but the best seats at Young's Lobster Pound (2 Fairview St., Belfast, 207-338-1160) are the picnic tables on the deck hanging over Belfast's harbor. This barn of lobster shack, under fourth-generation ownership, is the real deal: Order at the counter, find a table, set up your spread (tablecloth, flowers, hors d'oeuvres, wine, whatever), and wait for your number to be called.
Watch boats to-ing and fro-ing in the harbor while you wait — I watched a small cruise ship back into the harbor. Oh, and don't miss the lobster roll: You can get it with mayo or plain, but either way, generous chunks of lobster overflow from the hamburger-style bun.
Perry's Lobster Shack, Surry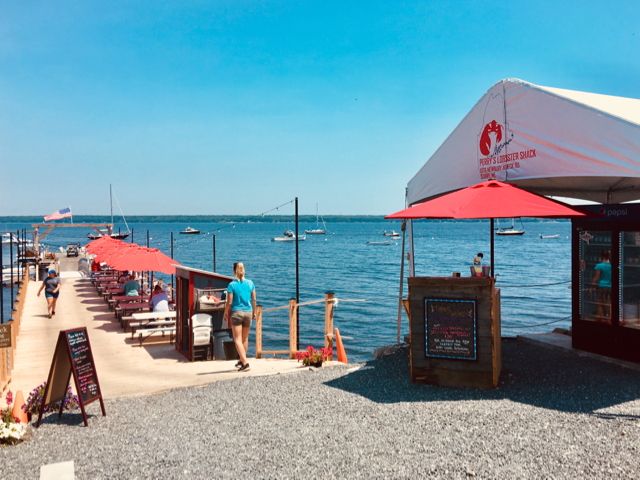 Way, way off the radar screen (and the highway) is Perry's Lobster Shack (1076 Newbury Neck Road, Surry, 207-667-1955), created by the late Perry Long and now run by his grandson Seth Cote. Snag one of the  handful of picnic tables on a pier, and wait for service; yup, this place actually has wait staff.
The menu is limited; it serves lobsters, mussels, corn-on-the-cob, lobster rolls (1/4 pound premium lobster meat on a fresh, chewy bun), crab rolls, and—for the kiddos—corn dogs. And the views? Over the waters of East Blue Hill Bay to Mount Desert Island's glacier-sculpted peaks.
Thurston's, Bernard (Mt. Desert Island)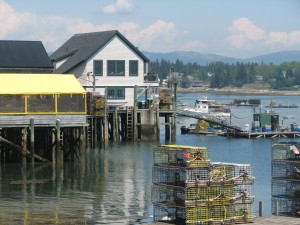 Everyone knows Thurston's Lobster Pound (Steamboat Wharf Road, Bernard, 207-244-7600) is an idyllic lobster spot on Mount Desert Island. The two-story, screened-in dining area occupies a wharf above lobster boat-clogged Bass Harbor in a classic fishing village.
Perhaps because it caters not only to tourists but also to the island's well-heeled summer residents, Thurston's is quite a bit snazzier (perhaps pricier, too) than most lobster spots. Still this fifth-generation shaque (shack is too pedestrian), remains an order-at-the-counter place — just be sure to read the rules before doing so. In 2014, Thurston's added a full bar, with a fireplace, screened roll-up walls, and a deck adjacent to the main dining room. Great spot!
Beal's Lobster Pier, Southwest Harbor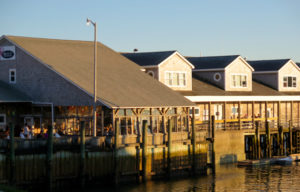 Since coming under new ownership a few years ago, Beal's Lobster Pier  (182 Clark Point Rd., 207-244-3202) has steadily improved, and shows no sign of stopping. Lobstermen unload their catches at the back dock, and guests dine at the wharf-top restaurant, with indoor and outdoor seating. There's more than lobster on the menu, and even a full bar. Aim for sunset to savor colorful views over Southwest Harbor.
Lunt's Dockside Deli, Frenchboro Island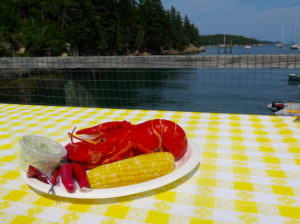 For the real deal, take the Bass Harbor Cruises lunch cruise to tiny Frenchboro, on Long Island, eight miles off Mount Desert Island, in Blue Hill Bay. This cruise includes a stop for lunch at Lunt's Dockside Deli (207-334-2902).
Lunt's tops a working wharf over a harbor that's filled with working boats, not yachts. En route back, Captain Kim or Eli Strauss not only share lobster lore, but also haul a trap or two and explain the whole process. That insider knowledge makes you appreciate the bugs even more.
Wharf Gallery & Grill, Corea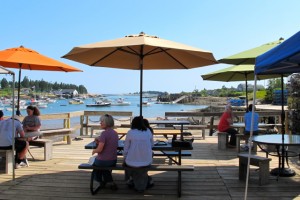 A relative newcomer in the world of lobster shacks, Wharf Gallery & Grill (13 Gibbs Ln., 207/963-2633) began in a wharf-top fishing shack, where Joe Young displayed historical photographs of Corea, taken in the 1940s-60s by his aunt, Louise Z. Young, born in Corea in 1919. Louise was a friend of painter Marsden Hartley, and snapped many candids of him around the area.
A few years ago, Joe, a sixth-generation lobsterman and descendant of Corea's original settlers, began serving lobsters, lobster rolls, and lobster-grilled-cheese sandwiches (delicious!). Every year, the menu expands a bit (now there are crab claws, baked beans, haddock chowder, and landlubber fare (hot dogs, sausage, steak'n'cheese) and the wharf-top seating gets a wee bit nicer. The views, however, never change. Corea is a very protected working harbor, edged with trap-lined wharves and filled with working boats. Perfect! Note: Joe's a great storyteller; be sure to ask him about his aunt and his family's relationship with Hartley (more here).
Quoddy Bay Lobster, Eastport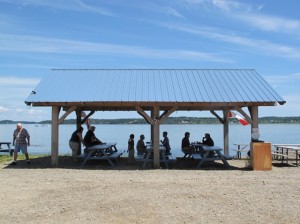 When the weather's clear, there's nothing finer than lobster at Quoddy Bay Lobster (7 Sea St., 207/853-6640), in way, way downeast Eastport. There's inside seating, but outside, you can watch boats unload their catches, the tide change, and simply soak in the views over Passamaquoddy Bay. I especially love the lobster rolls here: Every one is topped with the meat of a full claw. Heaven!