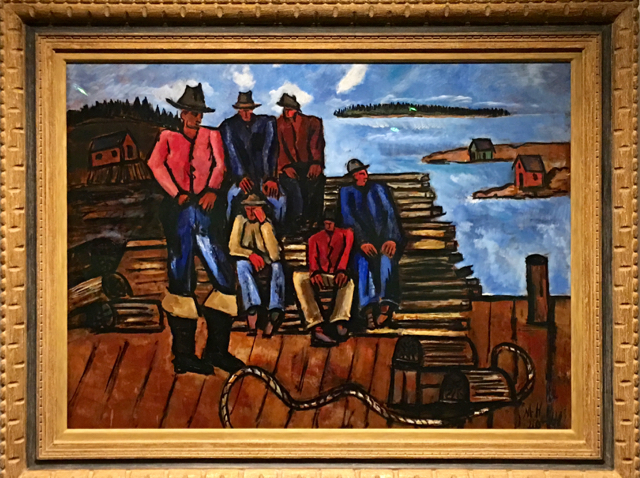 I recently toured Marsden Hartley's Maine, on view at Colby College Museum of Art in Waterville through Nov. 12, 2018. The exhibition, which first showed at the Met Breuer in New York, is a Maine travelogue via the works of Hartley, a master American modernist and the Painter from Maine.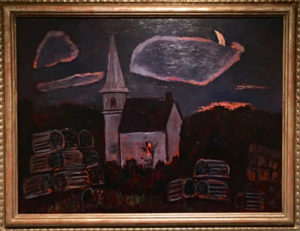 One way to experience the Hartley show is to visit some of the locales depicted in his works.
For starters, let's drop into Corea, Maine.
Marsden Hartley and Corea

Sixth-generation lobsterman Joe Young, a descendant of Corea's original settlers, owns the Corea Wharf Grill & Gallery (one of my favorite Maine lobster shacks). From 1940-1943, Hartley lived with Joe's grandparents Forrest and Katie Young.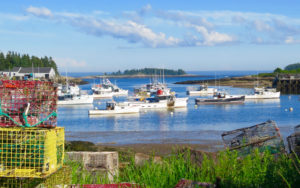 Hartley's Lobster Fishermen is the image topping this page. According to interpretive signage: "Hartley incorporated into this painting of lobster fishermen on break the panoramic harbor view he would have seen from his makeshift studio on the second floor of Corea's abandoned Baptist church."
As you can see from my photo, if you go to the wharf today, you'll see pretty much the same dreamy view. Corea's harbor remains lined with trap-topped wharves and filled with lobster boats.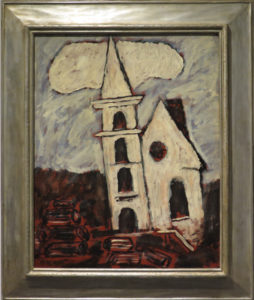 Hartley used the church as his studio until moving into a chicken coop the Youngs rented to him. The church, as seen in Lobster Fishermen's hurch by the Barrens, above left and Church at Corea, right, also served as a subject.
Family stories
The last time I visited Joe, he was kind enough to share a few stories. In the first video, Joe shares a story about his aunt, photographer Louise Z. Young, and her interaction with Hartley. Joe sells prints of images taken by his aunt in the gallery on the wharf. Be sure to browse through, when you stop in for a lobster roll.
In this video, Joe shares a story from when his grandparents when to New York to view a Marsden Hartley exhibition.