Miyake has barely been in its new location in the Portland Harbor Hotel building on Fore Street for a week, but judging from my lunch there earlier this week, Chef Masa Miyake and his staff are already feeling at home. I met two friends (a food writer and a newly minted culinary school grad) there for lunch, and between us, we sampled a small, but representative, selection of the fare, although none of us opted for the tasting menus. Nor did we imbibe from the wine, beer, and sake menu, a new addition with this space (previously, Miyake was BYOB).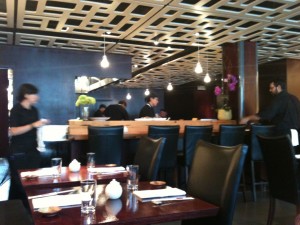 Let's start with the space. It's chic, sophisticated, sleek, and comfortable, decorated in earthy tones heavy on charcoal and natural woods. The tables are set with stoneware accents and chopsticks rest on small stones. Chairs are supportive and comfortable. Adornments are few; the patterned ceiling adds texture without being obtrusive. It's a down-to-business decor that tells diners (or at least me) they're in the right place for a serious food experience, a restaurant that's in the hands of a professional who values local and natural and understands that simplicity can be complex.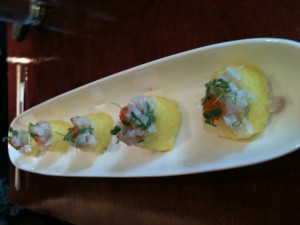 That decor complements the fare. Chef Masa Miyake skillfully blends techniques and flavors gained from his background cooking in New York and Tokyo in Italian and French restaurants when creating his style of Japanese cuisine. The results are unexpected pairings, innovative ideas, shockingly fresh, and unquestionably delicious.
I kept it simple, ordering a luncheon special that came with the daily miso soup, a house salad (mixed greens and vegetables topped with a homemade miso dressing), and the salmon lady ($15). My friends began with the marinated salmon (thinly sliced raw salmon served with capers, mustard vinaigrette and obba; $12), hamayaki (local lobster,crab,and scallop on sushi rice and coated in spicy mayonnaise; $10); and ceviche (Japanese snapper diced and tossed in lemon, lime juice, cilantro, truffle oil and obba, rolled in a soy aper wrap with tobiko and radish sprouts; $18. Presentation on each was superb, with ceramic and stoneware plates that enhanced the artistic assembly of each.
We did a bit of tasting and sharing, so I quickly realized my salmon lady Miyake-style roll was kind of an introductory choice. While I enjoyed it, it didn't have the finesse or complexity of the ceviche Miyake-style roll. The flavors of the ceviche were as complicated and yet harmonious as the jazz playing softly in the background, they danced over my tastebuds, developing and changing as they touched the varied triggers: sweet, salty, sour, bitter, and umami.
Bottom line: I loved the space and the food, and my palette (which is, honestly, rather unsophisticated, especially when it comes to Japanese fare) got an education. Now I'm saving up so I can splurge on one of the tasting menus ($35 four-course vegetarian; $50 five-course, add$35 for sake pairing, $50 for wine pairing; seven-course $75 or seven-course chi-muuwa-ku $90, add $45 for sake pairing, $65 for wine pairing). I suggest you treat yourself, too.